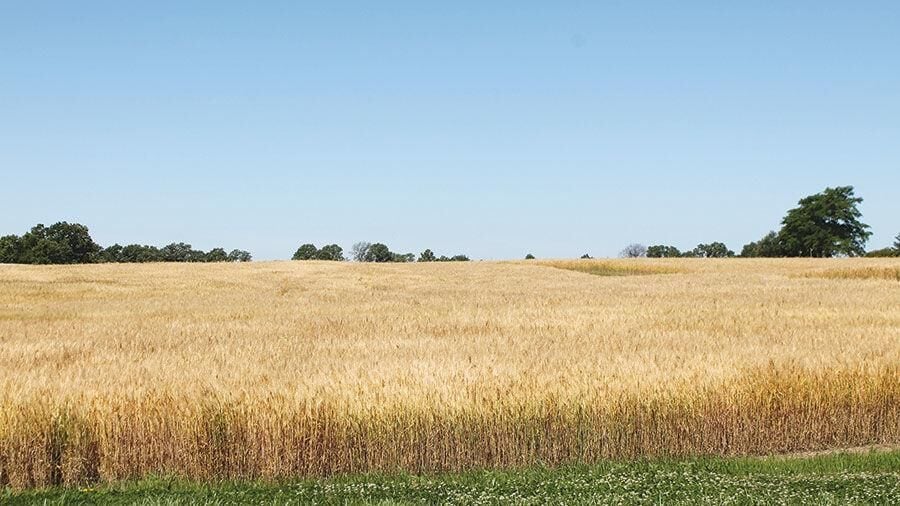 Spring wheat prices have been on the move over the past few weeks due in part to a fairly bullish Prospective Plantings report the end of March, and also because of concerns about the dry conditions in the spring wheat region.
"Compared to two weeks ago, Minneapolis futures are up about 40 cents," said Erica Olson, market development and research manager for the North Dakota Wheat Commission, adding that as of April 12, when she gave her report, they were trading at $6.43. That put cash prices between $5.75 and $6.05.
Looking at the Prospective Plantings report, Olson noted the "really the big surprise" was in the U.S. corn and soybean numbers. The corn estimate came in at 91 million acres, which was about 2 million below the average trade guess. And the soybean number came in at 87.6 million acres, about 2.5 million acres below what was anticipated.
The total wheat acreage number in the report was 46.4 million acres, an increase of 5 percent over last year, and a bit higher than expected. Spring wheat acreage was estimated at 11.7 million, which was down 4 percent from last year.
"At first that number was actually higher than what was expected, but then after looking closer at those numbers it makes a little more sense," she said, adding that USDA has acres down slightly in Minnesota and South Dakota. Acres in Montana are projected down 400,000 due to the fact they planted more winter wheat and also higher acreage to pulse crops. North Dakota spring wheat acres are down 100,000.
"We initially thought it might be lower than that," she said. "USDA still has corn and soybeans for North Dakota increasing by a combined 2.6 million acres over last year. The reason we didn't see a lot of that come from wheat is that we had about 3 million acres of prevent plant that will likely come back into production.
"Honestly, the numbers for wheat were neutral to bearish, but the bullish corn and soybean numbers obviously pulled wheat up with them," she added. "Obviously, wheat prices are going to have to increase if we want to see more acres."
Olson noted the other big focus of the market has been on planting conditions, specifically dry conditions with the majority of the spring wheat region in some level of drought. In North Dakota, a significant portion is classified as being in extreme drought.
"We have gotten some precipitation this past week, but unfortunately, only a small area got measurable amounts," she said. "Some areas got more, maybe a fourth- to a half-inch, but the far western part of the state is still missing out. We are getting some snow now and cooler weather, and at this point, producers will take whatever moisture they can get."
Planting has begun in the region with North Dakota reporting that about 8 percent of the spring wheat has been seeded. That compares to 2 percent on average. Unfortunately, with the cool and wet conditions in some areas that were taking place the previous week, that was likely to delay any additional planting.
"Up to this point a lot of producers have been planting into very dry soil and hoping for moisture to germinate the crop. This week will help a bit, but about 80 percent of both the subsoil and topsoil moisture is rated as being short to very short on moisture, so we're going to need to see some additional precipitation," Olson said. "They're seeing a similar scenario up in Canada, as well, with fairly dry conditions and receiving some snow right now."
USDA did come out with its April WASDE report (World Agricultural Supply and Demand Estimate), but there were no huge changes for wheat.
Looking at the world numbers, USDA did raise the export forecast a bit for Russia and the European Union, and increased again the feed number for China.
"The end result of that is lower ending stocks again, so we are down to 10.9 billion bushels, which is now lower than last year's level," she said, adding there were some minor adjustments for U.S. numbers, including a lowering of exports by 10 million bushels (MB) and also a lowering of feed use by 25 MB. The net result was an increase in ending stocks which are now at 852 MB, but that's still 17 percent below last year.
For spring wheat USDA lowered imports by 5 MB and made a couple minor adjustments to use numbers, so the ending stocks for spring wheat declined by 3 MB. That ending stocks number is now 255 MB.
On the demand side, the export pace for spring wheat now stands at a total of 277 MB. That is slightly ahead of the 270 MB figure from a year ago. The USDA estimate is 285 MB and Olson feels the U.S. should be able to reach that goal.
"Looking forward, the big thing right now is the dry conditions. Of course, now we're going to have a bit of a pause in planting, but it is only mid-April, so we still have time to get the crop in, hopefully get some additional precipitation," she said.
"The other thing, too, is that we still do have decent supplies of spring wheat, so even though it is dry, that alleviates some of the concerns from buyers," she continued. "But if we continue to see these dry conditions across the whole region, we know that is going to have an impact on the market. The market is trying to make sure that the intended wheat acres and maybe more get planted and so that is helping pull up prices a bit."