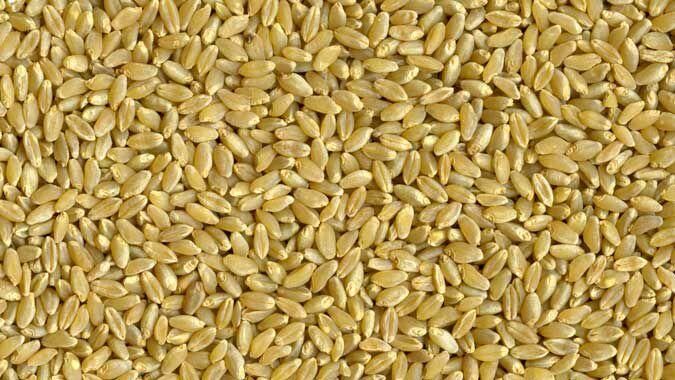 Durum prices have rocketed higher as producers move into the latter stages of harvest, but at current price levels there hasn't been a lot of buying or selling as producers, elevators, and customers are taking a "wait and see" attitude.
"We've now seen bids hit $17 at some locations. That's even a couple dollars higher than last time for top milling grade durum," said Erica Olson, market development and research manager for the North Dakota Wheat Commission, adding that even bids for some of the durum with lower quality discounts are still bringing $11-$12.
"Somewhat surprisingly, we're not seeing a lot of buying or selling at those price levels," she said. "From the producer side of things, a lot of them seem to be content to wait and see where prices go. And, of course, many are still harvesting."
Another issue that may impact prices is that the region has gotten some rains late in August, which has caused some harvest delays and may cause some quality problems.
"We've gotten some rain, which obviously was beneficial, but unfortunately, for that crop that was still out in the field, it will likely downgrade some crop quality factors," she said. "(There are) some concerns about some lower test weights and lower color, specifically. We'll see how that shakes out, but that could impact prices, as well.
"A lot of producers are just waiting to see where they sit. But also they know that supplies are short and they know the next durum harvest anywhere is half a year away, so a lot of producers are just waiting it out," she continued.
"For buyers, it's the same thing. Most mills had pretty good supplies through most of the year, but with these high prices they're not in a hurry to buy up supply levels and they're waiting to see what the final harvests look like in both the U.S. and Canada," she added.
According to the latest USDA crop progress report that came out on Aug. 30, harvest in North Dakota is about three-fourths complete. That's ahead of average. Typically by the end of August harvest is about half done.
Olson noted that crop samples are coming into the NDSU quality lab. Although the lab has only about 25 percent of the expected samples, at least in the first part of the crop there is very high protein, very good color, and high falling numbers. And although there have been slightly lower test weights, it's been nothing significant.
"I think we are going to have two types of crops – the (crop) that was harvested before the rain and the (crop) that was harvested after," she said.
On Aug. 30, Stats Canada released its first production estimates, which showed durum production at 147 million bushels (MB), which is a 40 percent decline from last year. The estimate is significantly lower than the expectations earlier this summer, but it was within what the trade was expecting after weather and crop conditions deteriorated in Canada.
On the demand side, exports, "quite frankly, have been pretty dismal." As the end of August approached, the U.S. had sold just under 2 MB of durum this marketing year. That is well behind last year's sales pace of 17 MB. U.S. sales are basically down to all of its export markets, including Italy, our largest (customer), where sales have been quite slow.
Looking at Canadian numbers, durum sales there are higher than a year ago, but not significantly.
"It's kind of slow everywhere," Olson said. "There are a couple reasons for this. With those high prices, buyers are pretty hesitant to make big purchases at this time. I think they're just buying a little as they need it and are waiting things out.
"The other thing is that while world durum production is at a 20-year low, that's primarily due to the North American issues," she added. "In other places like Italy and North Africa they actually have higher production this year, so the expectation overall is for lower trade."
In the most recent report from the International Grains Council (IGC), the IGC is estimating North African demand will be down 42 percent and European demand will be down 23 percent.
Olson also noted that ending stocks values continue to decline and that at the end of 2022 they're expected to be 20 percent lower and hit a 14-year low.
"Obviously the world durum situation will be quite tight going into the next year," she said.
Although production challenges that have impacted the durum crop this year have been a big reason for the high prices, Olson said we also have to consider that right now there's not a lot of trading at those levels.
"That's one thing we need to consider about these prices. I'm not sure how much higher they can go, but obviously, at these levels we're seeing demand rationing from all of our buyers at this time," she continued. "I think we're definitely going to see some substitutions, (with pasta manufacturers) maybe using less durum in some pasta products. The market is sorting it out."