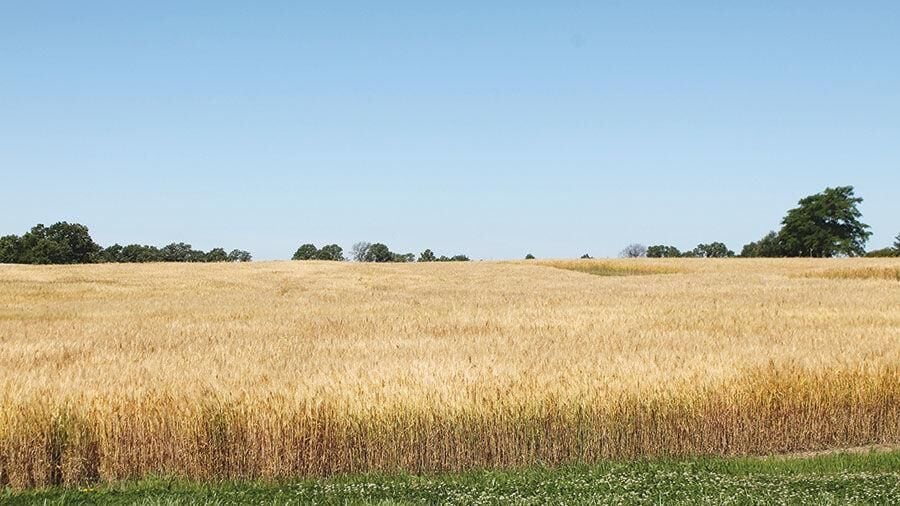 The wheat market has come down from its lofty heights of over $10 a bushel in October and early November, but it's hard to scoff at local cash prices that are still in the mid-$9 range.
One development with the recent spike to higher prices was that buyers kind of balked at the market run-up, according to Jim Peterson, market director for the North Dakota Wheat Commission.
"Toward the end of October, we had a pretty good rally in futures going, with December Minneapolis trading to a high of $10.86 in early November," he said. "Then we saw a pretty rapid selloff down to about $10.10, so we lost about 75 cents in a few days. But we're still higher than we were at harvest."
Peterson pointed to a number of factors that contributed to the decline, but probably the bigger reality was that for the level of price run-up, the demand just wasn't there to support it, at least in the short-term. Not just in Minneapolis wheat, but overall U.S. wheat.
"On exports, we've been challenged pretty hard. And I think rail freight costs, especially with fuel prices the way they are, they're starting to bite into the market, as well," he said. "Some of the commercials also likely let go of their stocks that producers delivered at harvest time but hadn't priced. They probably viewed that as an opportunity to move some of those stocks. And there likely was some increased producer selling at those elevated cash levels to take advantage of that opportunity."
As the dust has settled, prices and the market have stabilized some. Minneapolis December, Peterson noted, seems to want to hold above that $10 level. But one thing that's happened is there was a significant inverse in the market, meaning the December futures had gotten to a 25-30 cents a bushel premium to the March futures, and so there was some talk of some increased interest in deliveries that might take place in December futures.
"Some of that wheat was of lower quality, lower falling numbers, so I think that took some of the momentum out of December futures, and as we get to mid-November now, we're back to a 12-15 cent premium, so I think the market is feeling more comfortable at that spread," he said.
Demand has to be a key factor going forward. With the supplies of both soft white wheat and U.S. hard red spring wheat being pretty limited, Peterson says there was a realization there would be some demand rationing among some of the markets, at least for the first few months.
"Demand has been more tepid than what was anticipated. That has had an impact on the local basis level, as well. The cash basis wasn't strengthening alongside the futures market in the recent run-up," he said. "As we go forward, hopefully this fallback in cash prices will bring more buyers to the market."
The next thing for the market to consider was the upcoming USDA supply and demand report on Nov. 9. Peterson said data on the world factors would be important, as will what USDA does with the overall U.S. export projections. USDA is currently projecting 875 million bushels (MB) in total U.S. wheat exports, which would be down from 992 MB a year ago. The current U.S. all wheat sales pace is at 478 MB compared to 615 MB a year ago, which is off about 22 percent.
Typically, by November, the U.S. historically has sold about 60 percent of its final year exports, or more. "Obviously that's not set in stone because this is an odd year with the severity of the drought and some of the world logistical issues, so we could see better exports in the second half this year," he said. "Nonetheless, if we take that sales pace and look at traditionally what we'd sell, that comes to a little over 800 million bushels, so if the current projection is 875 million, we may see (USDA) lower that export total a little in the November report."
By class, hard red winter wheat has seen some recent improvement in sales, but it's still running about 15 percent behind a year ago with about 191 MB in sales on the books. Hard red spring wheat has 125 MB in sales on the books, which is off 28 percent. For white wheat, which was also severely impacted by drought and has some very high prices, sales are running 45 percent behind with just 84 MB in sales.
"Obviously, it's still a reality that we're going to have pretty limited supplies going forward, which is supportive to prices. But if demand is cut back more than anticipated, that will lessen that impact some," he said.
On the domestic milling side, especially for Minneapolis spring wheat, in domestic mill grinds we are seeing more hard red winter wheat being substituted for hard red spring.
"There are certainly some unique aspects of spring wheat that can't be replaced, but I think with some of our shift in varieties in recent years, we've probably lost a little bit of that unique advantage for hard red spring that we've had traditionally," he explained. "Nonetheless, we'll maintain a premium, but the extent of the premium seems to be about $3 per bushel recently."
Looking at the current futures spread by the classes of wheat, hard red spring is still over $10 a bushel; hard red winter is at $7.80; and Chicago is at $7.70, so that's back to about a little over a $2 spread to hard red winter wheat. Peterson said that had been as high as $2.15 in early November and about a $2.50 spread to Chicago and it had been $3 in early November.
"We're going to need the other wheat classes to rally, as well. I know a lot of producers have expectations of some pretty lofty price expectations based on what happened in 2008," he said. "We've got some dynamics that are different now. World inventories are double what they were back then and U.S. inventories are also running higher."
Peterson also pointed out that buyers are paying some hefty freight costs for ocean freight and some of the supply chain bottleneck costs, although on a positive note, ocean freight has backed off some.
"I think the energy from the buyers at this point is probably not there like back in 2007-08, and then just with the COVID slowdowns, the economies are still struggling to get back on their feet. There are just some different variables at play. Still many supportive variables for prices, but it's a bit different compared to that period."
Canada, too, is also seeing a sharp slowdown in exports. Their non-durum exports through the month of September are off 30 percent from the previous year. Canada is seeing slower demand to China, Mexico, and Nigeria, but they were doing better with sales into Italy and Japan, a couple markets the U.S. has struggled with recently.
"One interesting thing looking at some of the Canadian movements, they've faced some port issues, which has slowed their rail velocities some," he said. "But they're still seeing some pretty good domestic demand and unusually strong feed demand for both barley as well as wheat, and now, as we're wrapping up the U.S. corn harvest, we'll see if that cuts into that consumption a little bit if U.S. corn becomes a little more competitive in that market."
Local cash prices are ranging from $9.20 to $9.50 with an average of $9.40. Some locales had reached more than $10 cash, Peterson said, adding that prices have retreated about 50-60 cents or more since then.
From the world perspective, all eyes are on Argentina and Australia, since those are the only two countries that can still influence production for the current year. Both countries have a big crop in the making. Australia's concerns are they're starting to get some ill-timed rains and a portion of their crop is already looking at lower protein just because of some pretty good yields.
"If they start getting some rain on that crop, that could benefit us in the Asian theater for demand," he said.
In Argentina, one of the factors to watch is they've planted some biotech wheat and they will be harvesting that and have made efforts to try and segregate that in the market. "We'll see what the buying appetite is for that, especially in markets where there's concern about biotech wheat or regulations, whether they're able to keep that segregated or not and if they see their buyers back off pretty strong," he said.
He also noted the world market has had some big tenders from Egypt and Saudi Arabia recently, so there is world demand out there waiting to come to the market.
"The Russian export tax is still benefiting us. That continues to work higher, so at some point they're not going to be the lowest priced wheat in the world market. Europe has some quality issues on a segment of its crop," he said. "There are some factors out there that will support better U.S. demand going forward, but hopefully we'll see that come out on paper."
The other big thing is the 2022 crop and the fact winter wheat plantings are nearing completion. Planting is running a bit behind in some of the soft red winter wheat states – Indiana, Illinois, and Ohio – due to a late row crop harvest, some rain, and wet soils.
"Early expectations for an increase in soft red winter wheat plantings have shifted, and now they may only hold steady to a year ago, but we may see some declines," he said.
The other factor is the condition of the crop. It's still pretty dry in parts of Montana, Texas, and Oklahoma, and close to 50 percent of their winter wheat crop is rated in poor-to-very poor condition.
"Obviously we're going to go into winter freeze-up soon, but still some segments of the crop are needing some moisture. We hope the last half of November leads to a more stable price environment and we can get back on track to the rally we had started in October," he concluded.