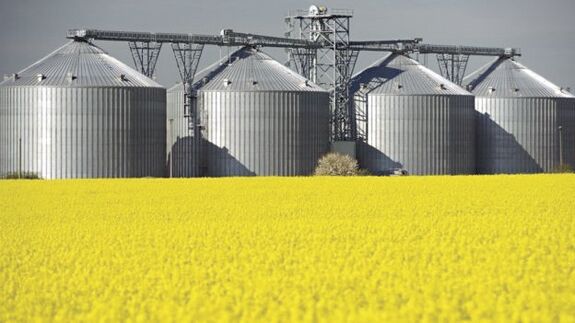 Canola prices dropped in mid-September, along with the entire oilseed complex, but have since recovered. ICE November canola futures have bounced around from $900 per metric ton (MT) to $852 MT recently, closing at $878 on Sept. 15. The soybean market was hit with concerns about delayed exporter shipping from the Gulf Coast from Hurricane Ida and favorable weather that may help a strong finish for the crop, driving soybean oil futures lower, but those concerns have since faded. Shipping has resumed for the most part from the Gulf and end of season weather has not been conducive to a strong finish.
The Farm Service Agency issued an updated acreage report in early September, and it shows canola at 1.715 million acres in North Dakota. These numbers will be updated in October. Also, in early October, USDA will release its initial estimate of U.S. canola acreage and production.
The Sept. 13 NASS report showed that 72 percent of North Dakota canola was harvested, ahead of 66 percent last year and near 71 percent average.
Statistics Canada issued another estimate of 2021 Canadian crop production in two weeks, which showed, as expected, further declines. Canola production is expected to fall 34 percent to 12.78 million metric tons (MMT) in 2021, down nearly 2 MMT from the Aug. 30 report, due to the drought. These are the lowest yields in a decade. Market forecasters have indicated they think this production level is still too high and predict a further cut of nearly 1 MMT. The reasons for this are due to provincial yield reports that are much lower than the Statistics Canada numbers imply. Further cuts will not likely be reported until Dec. 3, when Statistics Canada issues its final crop report. Industry observers expect the oilseed markets to be in a harvest lull until late September/early October when prices are once again predicted to strengthen.
The latest data from the USDA shows U.S. crush of canola was 146,000 tons in July, down 10 percent from June and down sharply from last July. Tight canola stocks are to blame.
Global vegetable oil demand remains strong according to the latest USDA figures. Total demand for vegetable oil is expected to increase by 11.6 MMT from last year. Meanwhile, global canola production is expected to drop to 68 MMT as Canadian and European Union canola production was reduced to 14 MMT and 16.8 MMT, respectively. The figure of 68 MMT will have to be reduced further given the latest production figures from Canada.
The canola industry has been working to get canola included in a pathway for Renewable Identification Numbers for the Renewable Diesel market as it submitted a petition to the Environmental Protection Agency. Just announced last week was a White House plan, the "Sustainable Aviation Fuel Grand Challenge" to ultimately make the industry carbon neutral by 2050. Sustainable aviation fuel can be made from soybean oil, canola oil and other oilseeds as well as grease and waste fats.
The goal of the challenge is to reduce costs, enhance sustainability, and expand production and use of sustainable aviation fuels (SAF). The White House plan calls for the Environmental Protection Agency to 'speed up' the regulatory approval process for new fuel and feedstock pathways that can qualify for Renewable Identification Numbers in the Renewable Fuel Standard program. The canola industry is awaiting confirmation that this plan will increase its chances of being included in a pathway for renewable diesel as well as sustainable aviation fuel. One thing that is certain is that the increased use of all types of fats and oils in these two sectors will benefit the vegetable oil industry for years to come.
As of Sept. 15, canola prices at area crush plants ranged from $30.67 to $31.93 for September delivery. October prices ranged from $31.39 to $31.93. These prices are down from the $33.00 to $34.00 seen in July.