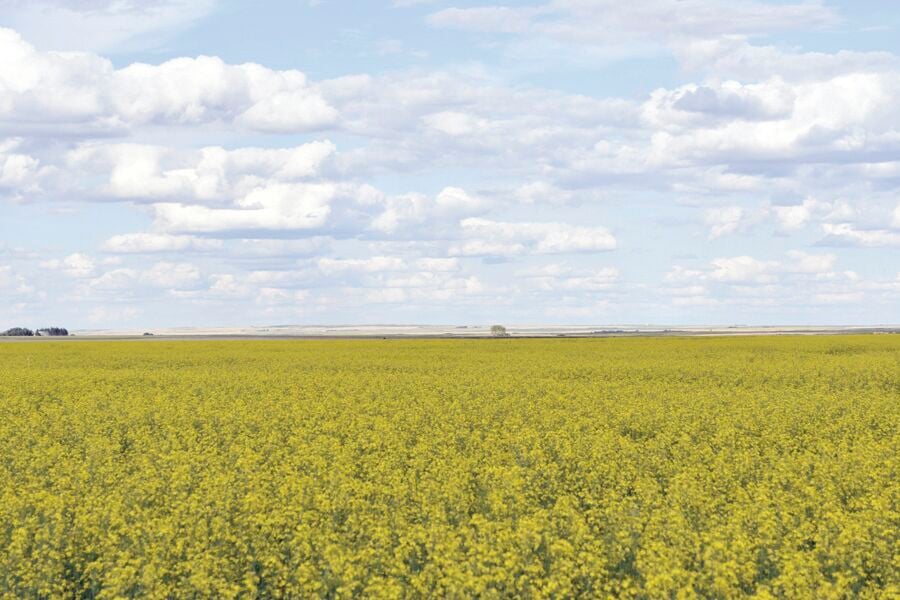 Canola prices have recently reached into the stratosphere, with the price spread between the seed value of canola and soybeans hitting a level of $370 per ton. This is the largest premium on record and is indicative of the shortage of canola oil at a time when vegetable oil demand is at record levels. MarketsFarm.com reported this level is over double the previous high of $177 per ton set in 2008.
As of Oct. 27, nearby canola prices at area crush plants ranged from $35.11 to $35.95 per hundredweight for October and November deliveries. New crop 2022 contracts are being offered at $25.50 to $26.32 per hundredweight. Many producers are reporting aggressive bids being offered for canola picked up off the farm in North Dakota.
ICE November canola closed at $983 on Oct. 27, up $21 on the day and up $68 over the last two weeks. This is a fresh contract high for the November canola futures. The January contract was up $6 to $960 per ton and the March contract was up $1.30 to $938 per ton.
While the trade is grappling with a sharply reduced crop of canola in the U.S. and Canada, it is worth noting that the drought has taken a hit to canola oil levels. The average reported levels are 41.2 percent, down from 43.3 percent last year. From an oil standpoint, this is the equivalent of another 1 million tons of canola production lost just from the lower amount of oil, although meal content will be correspondingly higher. This shows the continued shortage in the vegetable oil segment, which is the most demanded component in the oilseed sector for the foreseeable future. One market advisor said a 1 percent drop in oil content is equal to 75,000 metric tons (MT) of canola oil.
The canola market continues to be well-supported by the world vegetable oil market, as well as European rapeseed and palm oil, both of which have been near record price levels. Reports out recently by major crush plants indicated strong third quarter profits in their oilseed segments due to the continued push for renewable diesel, which has provided strong crush margins.
Agriculture and Agri-Food Canada left canola ending stocks unchanged in its latest report at 500,000 tons. It also left exports and domestic crush unchanged at 6.5 and 7.5 million metric tons (MMT), respectively. The USDA put out its report of oilseed crushings for October in the U.S. on Nov. 1. For Canada, it was reported that 778,402 MT of canola was crushed in September, up over 116,000 from August. This crush volume is well above the pace needed to reach the total estimated crush for the year of 7.5 MMT.
The Northern Canola Growers Association will hold its 24th Annual Canola Expo on Tuesday, Dec. 14, in Langdon, N.D. Those interested in attending can get more information at www.northerncanola.com.