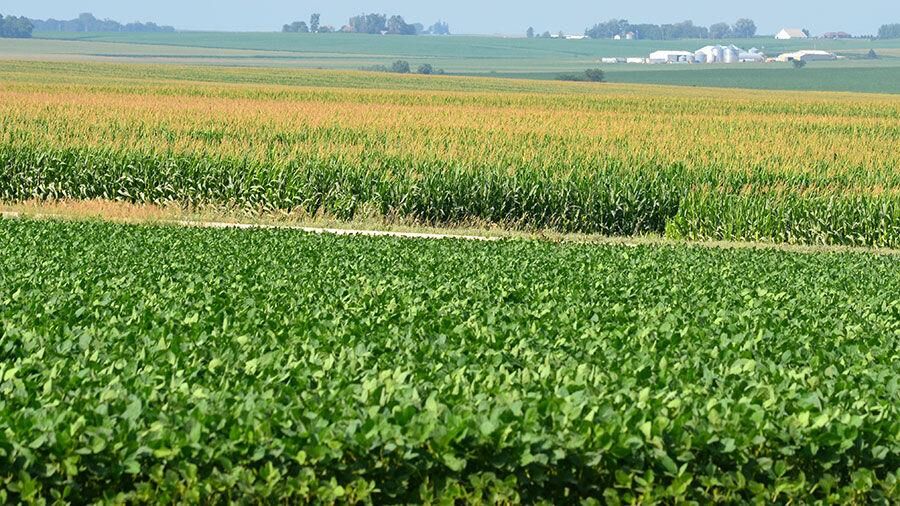 In an interesting development on the soybean side of the market, the U.S. is getting some more sales out of China. But typically, China begins to source its soybeans from South America this time of year.
"We're still seeing 'unknown' and officially Chinese labeled demand coming through," said Luke Swenson, president of The Money Farm, West Fargo, N.D., on Dec. 6. "The question is: is it going to be enough to really mess with what's left for stock? We're looking at a tight stocks number already.
"I don't think anyone is going to go out of their way to really absorb everything out there in the market in the near-term," he added. "They're going to let Brazil's weather play out a little bit more."
As he said, China has been buying beans from the U.S., but it's also beginning to make purchases from Brazil.
"It's just been a relatively quieter month (for the U.S.)," he said. "They picked up a lot from us going into harvest. We had one of our bigger export programs during the last quarter of the year than we've ever had.
"(But) it's not like there are big holes for them to fill. We're still moving a good couple million tons of grain out a week between the different commodities," he continued. "Our ports are running at a pretty good clip despite the shipping container situation being completely wrecked. (U.S. exports) are not completely wrecked and out of sync. The grain world is moving along pretty good, so it's not like we've got a lot of capacity that's just sitting there waiting to be used. We are moving some good amounts of grain."
Swenson noted there are rumblings that Brazil might be dry or that Argentina is dry. However, at this time, the market is not paying a lot of attention to it yet because we haven't seen enough fundamental backing of it.
Nearly every year the market is going to hear of issues in parts of Brazil or Argentina. With a growing area that's basically the size of the U.S. scattered around, there are bound to be different areas that are dry.
"Overall, the estimates and the analysts out there are still looking at a record crop for Brazil. There's no reason to think that will change," he said. "And when you couple that with the fact that we're probably going to have a lot of bean acres in the U.S., I think I'm okay selling a bunch of beans, maybe even being a little more aggressive into 2022 with the great prices we've got."
Currently, local prices are pushing $12.50. Looking at local prices, at one local elevator in west central Minnesota regularly followed in this column, as of Dec. 6, the December cash price for soybeans was $12.68 and basis was -15 cents under. The February 2022 futures price was listed at $12.98 and basis was at -5 cents under.
"These numbers here (are) great starting prices for next year," he said.
As the end of 2021 approaches, producers begin to think about next year, but also about taxes. Swenson said he is a proponent of moving cash forward and paying a little extra tax.
"The tax advice generally hits across anyone. You look at your cash position, your ag position as a whole. I don't think that changes regardless of what crop you're in, or if you have livestock, it doesn't matter," he said, adding that we know where tax rates are going to be for this year, but we don't know for certain what will happen next year.
"We know we're also in an inflationary environment which, in that case, it probably pays to get some more cash in your hand rather than try and do anything that you want to use and try and monetize off of, because if you roll a million dollars to grain for two years and (with) that liability, well, hey, you're buying power might drop to $800,000 by the time you actually get it used," he said.
"I'd be more cognizant of that this year than in recent years," he continued. "With everyone sitting on a pretty hefty cash position overall, if we have another good year next year, you're going to have some really big rolling incomes issues to deal with, and, like I said, with rates where they are right now, they're not perfect, but they're not terrible either, I'd realize some and just keep moving forward.
"If you are going to plant some extra bean acres next year, really make sure you go out and get some of them priced. Don't go long an extra 500 acres of beans and have nothing priced and then all of a sudden you find out every single one of your neighbors and in every state are going to do the same thing," he concluded.