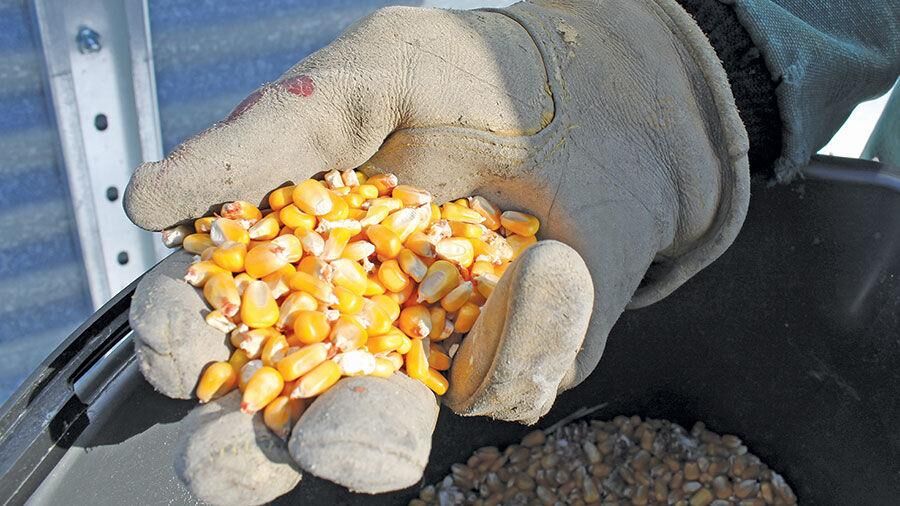 China continues to purchase large amounts of U.S. corn, which is positive news for exports. But demand on the domestic side is lagging a bit with less ethanol production. Although it is rebounding some, it is not yet back to pre-coronavirus levels.
The Chinese buying, which is a strong market influencer, is one of three overarching issues that are driving both the corn and soybean markets. The other two are the weather in South America, especially in Brazil, and harvest progress in the U.S., which has a lesser degree of impact.
"The markets are still watching those, but it's just not as dominant as it was a few weeks ago," said Frayne Olson, grain marketing economist at North Dakota State University. "There's a lot of discussion taking place at this time about not only the current level of Chinese imports of corn, but also whether or not if that will continue moving forward."
Olson said there are several pieces to this discussion, including the underlying demand for corn or feed products in China, which is the main influence. Several factors contribute to this, he said, one being that China's total corn production this year "will be good but not great."
"They had an okay year on corn production, but it's not a bin buster," he said.
He explained that the demand for feed products is coming from pork as the Chinese are rebuilding their pork herd. Although China is still dealing with African swine fever with hogs still dying from it, they're rebuilding the herd much faster than the hogs are dying. And based on the most recent internal Chinese reports, they're almost back to the hog herd levels they had prior to the African swine fever, according to Olson.
"That's driving a big chunk of it," he said. "But, as a substitute, when African swine fever came in, China started expanding its poultry sector, and that's not only meat, but also eggs. They've also been trying to grow their dairy industry, as well as aquaculture, although that's not as big, but it's still important. So the demand for animal protein and protein products like dairy, cheese and eggs, is very strong in China right now."
On top of that, Olson noted there are multiple signals that the Chinese are getting short of corn. One of them is they had government-owned reserves and they've been auctioning off and reducing those levels over time and prices at the auctions have been very strong.
The other thing is there's a futures market in China for corn on the Dalian Exchange and that recently reached a record high level of $9.78 (U.S.) per bushel on Oct. 14 of this year, he pointed out.
"For comparison, the record high for U.S. corn futures was $8.43 per bushel on Aug. 12, 2012, a difference of $1.35 higher," he said. "That also shows that not only is there some speculative activity going on, but that there's just very, very strong demand for corn."
Olson also noted that China has been buying much larger quantities of corn off the global market than they have been in the past. A significant portion of that has been from the U.S., but they've also been buying from other countries, including Ukraine.
But there is a good deal of debate about whether and how that continues. Olson explained that China regulates its corn imports through their tariff system, noting they have an import tax, which is 65 percent of the purchase price if it's not within its quota system.
"The Chinese government, which has regular tariffs and also low-tariff permits, regulates imports by issuing these low-tariff permits," he said, adding that the limit for the calendar year 2020 is 7.2 million metric tons (MMT). Based on U.S. records, he said the U.S. has already sold more than 12 MMT to China. The difference between the two numbers, he noted, is the U.S. numbers are based on a marketing year basis, which goes from September through August, and China's numbers are based on the calendar year.
"So there's a timing difference. The Chinese's low-tariff permits are in a calendar year and we're measuring it on a marketing year," he said. "There's a debate going on in the market right now because it's a misunderstanding about this difference in timing. How many more low-tariff permits will China issue? There was an official announcement that they were going to issue more, we just don't know what their new number is."
And while China only has so many permits available for this reduced tariff rate, because of this "timing problem," there is a debate about whether China will continue to be an aggressive buyer of corn.
"From my assessment, and from the assessments of a lot of market analysts and others that know the system really well, I think that yes, China will continue to be a pretty aggressive buyer of corn on the global market," Olson said. "The question is will they continue to buy from the U.S., or will they go to other countries and source it from, for example South America, or will they get it from the Black Sea region?
"My bias, based on what I see in the market right now, is that their purchases of U.S. corn will continue to be strong for the next several months because Brazil won't have any major exportable stocks for a while," he continued. "(Brazil has) got some now, but they've been very aggressive in their selling, so the U.S. right now is really the lowest priced source for corn in the global market because we're in the peak of our harvest. So I do expect continued strong buying from the U.S."
Although we understand that while this is positive, we also have to understand that the ethanol industry is not buying as much corn as it normally does. Olson explained that the increase in U.S. exports is about enough to offset the reduction in ethanol consumption because Americans are not driving as many miles.
"Our consumption of motor fuels is lower because of the coronavirus and therefore we don't have to produce as much ethanol. So the amount of corn going into the ethanol industry is lower than what we've seen in several years," he said, adding that after falling during the onset of the coronavirus it's starting to recover, but the recovery is not back to the levels we saw pre-economic shutdown.
"There's a balancing act here. The amount of corn going into the ethanol industry is much lower than what we normally see because of COVID, but our exports are much, much higher so they're about balancing each other out," he said.
"The part farmers have to realize is that yes, it sounds very positive that China is coming in and buying all this corn, but a lot of that is corn that normally would have gone into an ethanol plant," he said. "So we are seeing a nice recovery and rally in corn, but it's not been nearly as aggressive as what we saw in soybeans because of that."
Looking at local prices, at one local elevator in west central Minnesota regularly followed in this column, as of Oct. 26, the November cash price for corn was $3.71 and basis was -46 cents under. The April 2021 futures price was listed at $4.20 and the basis was -2 cents under.