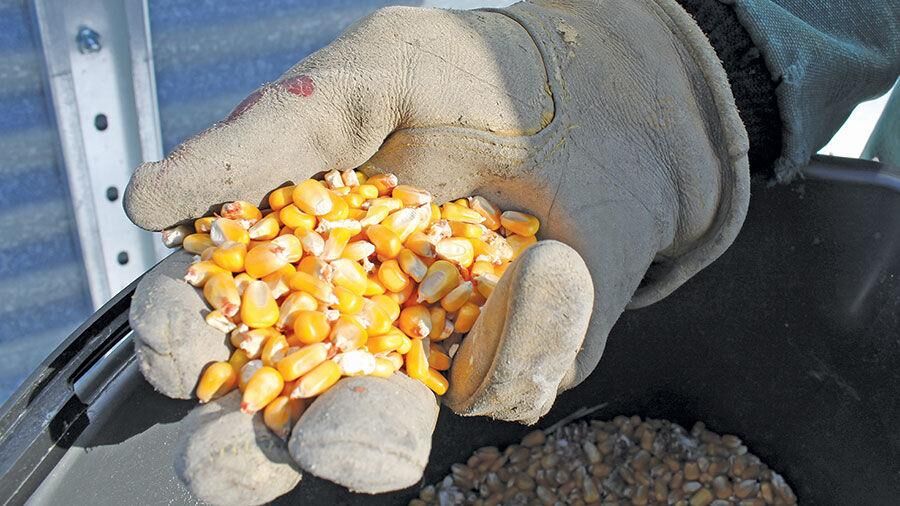 The corn market had been trading in a sideways pattern of sorts in recent weeks, but it had a favorable response to the USDA's updated WASDE report (World Agricultural Supply and Demand Estimate), which came out Nov. 9.
At mid-session of the market, shortly after the report was released, the December corn futures were 10 cents higher at $5.61, March futures were 10 cents higher at $5.71, and May futures were 10 cents higher at $5.76.
At one local elevator in west central Minnesota regularly followed in this column, shortly after the report, the November cash price for corn was $5.34 and basis was -20 cents under. The April 2022 futures price was $5.69 with the basis at +3 cents over.
"For reports like this, you get the sense that people are anticipating possibly a little larger yield number, maybe even an uptick in demand numbers, so both supply and demand could get a little bump and that could be a surprise," said Ed Usset, professor emeritus and grain marketing economist with the University of Minnesota, prior to the release of the report.
According to the USDA report, U.S. corn production is up less than 1 percent from the October forecast. Corn production for grain is forecast at 15.1 billion bushels, up less than 1 percent from the previous forecast and up 7 percent from 2020. Based on conditions as of Nov. 1, yields are expected to average 177.0 bushels per harvested acre, up 0.5 bushel from the previous forecast and up 5.6 bushels from last year. Area harvested for grain is forecast at 85.1 million acres, unchanged from the previous forecast but up 3 percent from the previous year.
"Corn had been on a helluva rally and it's still in pretty good shape price-wise," Usset said. "I'm looking at the December 2021 futures hanging around that $5.50 mark. That's pretty good stuff (and) I look ahead to the December 2022 futures contract at $5.40.
"For corn producers looking at the new crop selling opportunities a year in advance or 11 months in advance, they'd have to go back 8 years to find a similar opportunity like this – $5.40 December corn," he continued, adding that nearby basis in corn is very strong in Minnesota and is even stronger than many parts of Iowa and Illinois, which is "odd."
"Of course, we had the supposedly poorer crop (because of the drought). Basis for delivery in the fall of 2022 is more normal. I'm looking at farms bidding -50-55 under, which is nothing special to write home about," Usset added.
Prior to the Nov. 9 WASDE report, corn had slipped into a sideways trading range, not really having a direction, and everything indicated soybeans were in a downward trend or at least looking that way on a chart. Wheat, on the other hand, seems to be on an uptrend even though it lost about 70 cents in early November on the nearby contract, according to Usset.
"New crop bids that wheat producers would look at today are the best we have seen at this time of year since 2013," he said. "There's a common theme here, that new crop opportunities for next year look awfully good.
"People are going to want to talk about higher fertilizer prices and input costs – all true – but the new crop pricing opportunities are also way, way up," he continued. "I'm not sure that I buy into this idea that high fertilizer costs will drive people away from corn. The corn price – the opportunities are pretty good. You have to have a strong incentive to break up a person's rotation and I'm not sure it's there yet. That debate is ongoing right now."
In other news, the South American corn crop is coming in and after some earlier harvest rain the crop is looking good. Usset said it looks like everything is normal or close to normal.
He is interested to see how USDA is handling its projections for Chinese imports of corn and soybeans, too, "because up until a few months ago we were still assuming that they would do in the year ahead what they did last year, which was pretty aggressive," he said. "I don't know if they'll do that. I'd like to know if USDA is changing their mind on that. They may or may not, it's still early in the game. USDA is very conservative and they don't make quick changes."