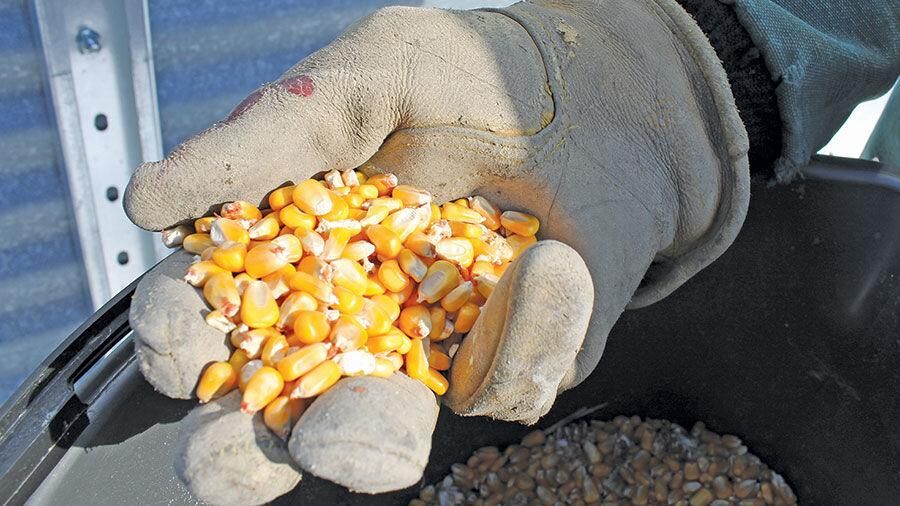 As winter sets in and with the new year about to begin, basis levels for corn were still hanging in there and there was still good demand for U.S. corn.
"That's a positive thing," said Betsy Jensen, Northland Farm Business Management and a producer/marketer from Stephen, Minn., explaining that corn sees a lot more domestic demand than soybeans. Most U.S. soybeans leave the country while more U.S. corn is used domestically than is exported.
"For corn, we have domestic demand and that demand is still really good right now," she said. "So that's giving me a little bit of hope that corn prices are going to at least be able to maintain these levels. Between ethanol and feed production, corn is looking pretty good."
On the export side, sales were projected to be worse than they were last year and that's the case. U.S. corn sales are performing at a worse pace than they were a year ago and are falling into expectations.
"We're not exporting as much as we did a year ago, but that is what we anticipated," she said. "Right now, when it comes to food use, ethanol use, all feed, that's all doing really well. There's still good demand.
"We have a large supply of corn. We had a huge corn crop this year, but our demand is eating it up. The demand is still using it, which at these (price) levels is a surprise. It's mostly domestic demand," she added.
Looking ahead to 2022, Jensen feels that current economics favor corn over soybeans and there will likely be more corn acres than beans next year. However, there's still the one big thing that could throw that off and that's fertilizer. The concern is not just about the price of fertilizer, but also its availability.
"The cost and supply of fertilizer is a concern. That could be the one thing that is a hiccup for this spring's planting. Right now, the price ratio favors corn, economically it favors corn. But if you can't get the fertilizer you certainly don't want to be planting corn," she said. "If you don't have access to fertilizer in the spring, are you going to want to gamble by putting corn in the ground?"
Jensen said there's not a major reason for a short supply of fertilizer, but rather a lot of little reasons, including political as well as domestic reasons.
"We're reliant on a lot of foreign countries for fertilizer and maybe they're not our best friends anymore. So we have political reasons, we have domestic production reasons, there's just a lot of reasons why we're short on fertilizer," she said. "Costs for fertilizer are going higher and it's hard to even get a bid at this time. I don't even know if you could get a price."
Trying to figure out what fertilizer costs are going to be is a huge concern for producers.
"That is one reason why maybe you don't want to forward contract for 2022. What if your fertilizer cost does double? You certainly want to get something sold for 2022. I mean, we're at $5.50 futures. It's hard to pass that up," she said. "But you might anticipate planting a thousand acres of corn and then you find out you're only getting fertilizer for 500 acres. That is also something that could be happening this spring."
Between now and spring planting, producers should be planning ahead as much as possible. Jensen tried looking at put options, but those are really difficult to do and you're going a long way out for 2022, she explained. Plus, those are very expensive options at this time.
"We just have to have patience. That's the worst part with corn," she said. "It will be nice to get a handle on our input costs before we sell too much, and until we know some of those, it is a little nerve-wracking to make too many sales."
Jensen pointed out that 2021 started off with prices in the $4-$4.35 range and producers were pretty excited about that. Now, the year is ending and prices are close to $6.
"So it's been a good year for corn," she said, adding that local prices are still doing great. "The basis for corn is staying in there, so U.S. corn cash prices aren't quite to $6 right now, but they're pretty close."
As of Dec. 21, at one local elevator in west central Minnesota regularly followed in this column, January cash corn prices were listed at $5.93 and basis was -4 cents under. May 2022 corn futures prices were listed at $5.98 and basis was +6 cents over.
"It's easier to market old crop than it is new (crop) because old crop, it's in the bin, everything was paid for, you know you can make money at it," Jensen said. "It's scary to market new crop right now. We gave a presentation about 'big numbers, big problems,' and that's what we have. The numbers are so high, but it's also causing a lot of problems because our input costs are also so high."