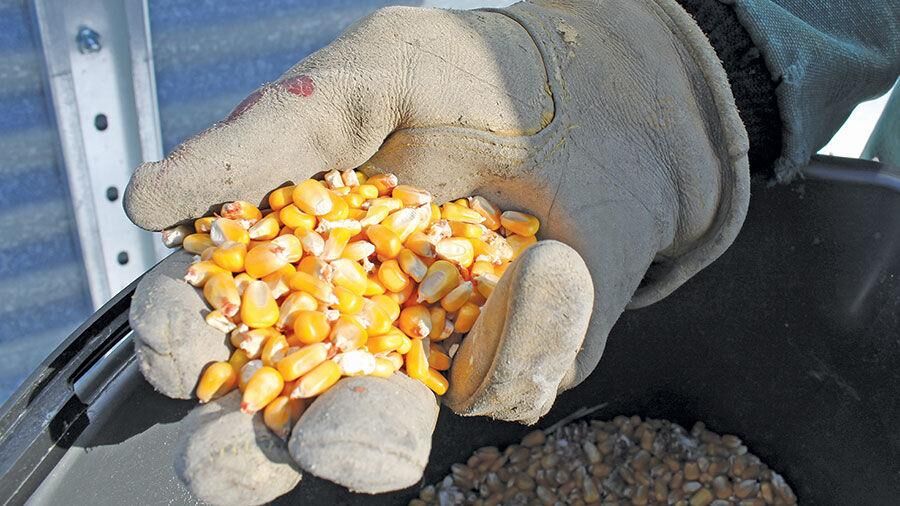 Corn prices may not have ended the year at its highest point of the year, but over the past two months of 2021 prices had improved by 10 percent.
"We've had a helluva strong rally since harvest. We've done this before. It's not uncommon for harvest prices to be lower, but we're up over 10 percent the last two months," said Ed Usset, professor emeritus and grain marketing economist with the University of Minnesota. "That's a big move. I have a sense of what's driving it. We're worried about weather in South America (and) demand is pretty good."
To check out how often the market finished this strongly, Usset went back to 1980 and picked out every year since when cash corn prices had risen 10 percent or more from harvest to the end of the year. What he found is that it's not a rare thing. In fact, he found 12 years like 2021.
"You would expect to be higher. It's the 10 percent or more that makes this different. It's a big move."
After finding those 12 years, he also wondered what happened in the first half of the following year – January through June.
When he started this research, he thought he could flip a coin and would find that in some of those 12 years prices would have gone up, and in others they would have gone down, that the rally didn't necessarily continue in all those years. But that's not what he found.
"Out of those 12 years, nine of them continued higher into early June. The other three years, two of those three years the market was relatively flat. It went down, but just a percent or two," he said. "Only one year went down what we'd call 'a lot,' and that was 2000-01, the good ol' days of $1.80 corn. I just found that interesting. In fact, some of these years – half of them – the rise in the first half of the year was really big – 15-20-30 percent or more. There were some strong years there.
"What I was asking myself is, well, that's up 80 cents since harvest. Do you dare hold on longer? That was the point of my (research) and, well, it looks like it could hold on longer," he added.
However, looking at these findings, Usset said there is no guarantee that will happen this year.
"What I would add here is, past performance is no guarantee of future results. I'm not sure if that will keep going," he said. "But at the same time, it surprised me, and for your readers who have unpriced grain in the bin, corn in the bin anyway, it's an argument that says 'well, if you want to hang on a little longer it might work out for you.' No guarantees, but the past performance looks good there."
He took his research a step further and continued to follow those years all the way to the next new crop, looking at cash corn prices. What he found out was another bit of a surprise.
"I found it interesting and surprising that the market was as strong as it was in the first half of the year following the strong end of year movement," he said. "However, as good as it was in the first half of the year, (I found) it's not good holding on to the next harvest, that it doesn't pay to hold grain too long, unless you've got a drought or something like that," he added.
He's planning on doing the same analysis on soybeans to see if there are any similarities.
Looking at local prices, Usset noted that most are still in the upper $5 range. In southwest Minnesota, the price is really close to $6 a bushel – $5.85 to $5.95 in some places, and at some ethanol plants the price is over $6.
At one local elevator in west central Minnesota regularly followed in this column, as of Jan. 4, the January cash price for corn was $5.80 and basis was -13 cents under. That's about a 50 cent improvement since early November. The May 2022 futures price was $5.94 with the basis at +4 cents over.
Usset noted that the ethanol market has also been strong of late, explaining that the margins in ethanol production have turned around.
"Three, four months ago, it started to get better and now they're very good. They're very, very good," he said.
That wasn't always the case as ethanol margins often have not covered all their costs. Usset explained that in the past the margins were perhaps able to cover variable costs, but not fixed costs.
"You can't go on like that forever," he said. "Well, now margins are well above variable and fixed costs. It's the most profitable they've had, I want to say since 2014, and it's all happened in the last three, four months."
In discussions with a long-time player in the market, that person indicated the margins now are really good.
"He said 'the only thing that bothers me is that I don't fully understand why. I'm not quite sure why, but it is very good.'" Usset said. "All this speaks to a strong market. It speaks to the fact that it might even get stronger in the first half of this year.
"So $6 corn is wonderful, maybe it's heading to $6.50 – I don't know. It's good stuff right now," he continued. "My only cautionary thought on everything is I wonder if the basis will soften here in the month of January, only because I think part of the reason basis has been so strong is producers had a very good year last year; they made money; and they had storage available so they were reluctant to sell because they put it in the bin. They didn't want any more income last year. Now we're in a new year and they can take income. I just wonder if some grain will start to loosen up, and that will impact basis as much as anything."