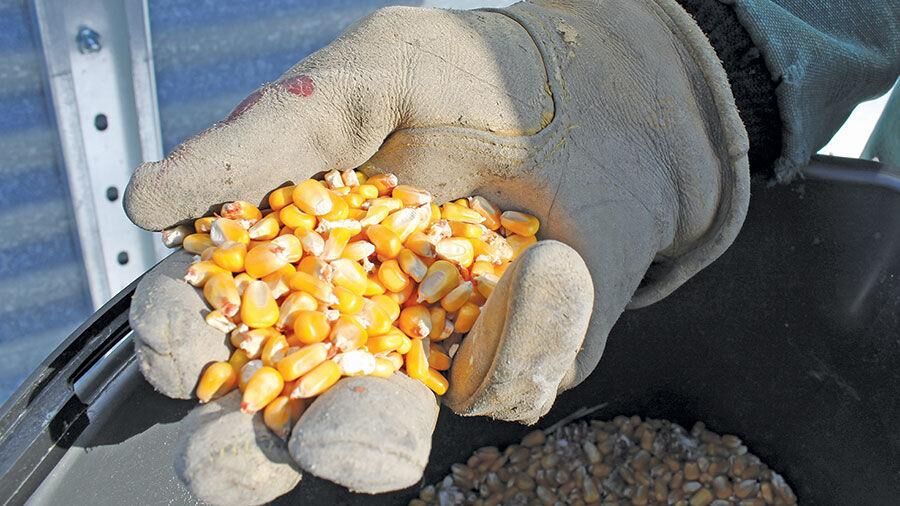 It's not necessarily a battle between the eastern and western Corn Belts, but corn production in the two regions is certainly shaping up to have a big impact on the market.
The main thing influencing the corn market right now is the weather and crop progress, according to Luke Swenson, president of The Money Farm, West Fargo, N.D., giving his report on July 19. He pointed out the last 10 days of the month were forecasted to be hot and dry and the market is trying to assess what it actually has to take for risk going into the new year.
"We've got people on the insurance side that are talking how North Dakota's yield could be off 30 or 40 bushels to the acre," Swenson said. "Well, how does that account when you've got Iowa, Illinois, and others that are looking at possibly close to (record yields)? With the drought issues in the northern and western Corn Belt, could that be offset by the eastern Corn Belt? Well, the more states that get hit by little issues the more effort it's going to take to actually offset this.
"We're in the camp (where) we don't think the 179.5 (million bushel figure) is fair, but, that being said, we also think you shave a couple bushels off of this and it's not going to send us to $7.50 either," he continued. "We're high enough on prices that a little bit of increase is probably going to give us some rationing, but at the moment, I think it's just giving us a tighter reason to be in this $5 to $6 range to maybe fighting a little higher on that range if weather continues to be an issue going into August."
Swenson noted the U.S. corn export pace has been slow recently. There was a flurry of buying in late spring and early summer when China was buying a lot of corn that they knew they weren't going to get out of Brazil, so they were basically just pre-buying for this harvest.
"So you're probably going to see the PNW (Pacific Northwest port) get a lot of pull from the corn market, probably even quicker than the soybean market this year at harvest because they've got beans coming non-stop," he said. "They're going to need to fill the gap (and) the safrinha (corn) crop is left behind."
That said, he doesn't feel China will be in a hurry to rush in and buy, especially when considering they're looking at a U.S. crop that could be good, or could be pulling off a few bushels.
"If it's pulling off a few bushels and they come in buying early, this thing might kind of get a fire under it and get going a little more than what we'd like to see. So it's kind of in their interest to sit back and to see how the market reacts in the near-term and probably not buy much as we go into these issues," he said. "If it comes out that there's going to be a big crop, maybe we get a pullback close to that $5 mark, and they can value buy a little bit. However, if it gets to be a production issue, well, they know they're not going to be pulling much more anyway if that's the scenario, so the risk/reward of them doing a bunch more buying in the interim seems relatively small in our opinion."
On the ethanol side, plants are still crushing away, running at about 106 plus/minus million bushels (MB) a week, which is well ahead of pace. Swenson feels that will be adjusted up a little before the end of the marketing year and that's going to be something that will probably reduce carry-in a little more going into the 2021-22 marketing year.
He feels the bigger concern is people getting nervous about how the Biden Administration is going to handle these refinery waivers that have been debated back and forth on the Supreme Court level.
"The refineries are asking for more and every year everyone in the biofuel industry is going to say they shouldn't be getting them, so seeing what line the Biden Administration takes going forward, if they're going to grant extra or just leave them as is or however they handle it, that's probably going to be one of the bigger headlines," he said. "I don't know if you'll see E-15 going for a big swing or any forced changes there in the near-term, however. The hard thing is changing our infrastructure to make that work (and that) is going to take some effort.
"If there's going to be a push, it's probably up in the E-30 range sometime a couple years from now more so than today," he added.
Looking at local prices, at one local elevator in west central Minnesota regularly followed in this column, as of July 19, the August cash price for corn was $5.92 and basis was +40 cents over. The January 2022 futures price was listed at $5.55 and basis was -4 cents under.
"Right now… bouncing around you've got December corn at around $5.50. Harvest basis around here is pretty solid. You're still sitting at negative 30, negative 40 (cents) range," he said. "Old crop basis varies vastly depending on where you are. In northwest Iowa, you're at plus $1, $1.10-$1.20. Around here, if you're an ethanol plant that's pulling for it, you're paying plus 60, plus 70 (cents), somewhere in that neck of the woods."
Swenson said at current price levels there are marketing opportunities for producers.
"Don't be afraid to take sales up near the top of this $5 to $6 range. And, if they want to look for some re-ownership, don't be afraid to go out and try and buy some in the lower, closer to $5 mark," he suggested.
"This market might be relatively range bound until that big piece of news comes, whether or not that's Chinese buying, or it's something surprising on the demand side – both bullish or bearish, or they actually come out and chop yield off a couple bushels," he continued. "So be prepared to take some solid cash sales, look for an opportunity to re-own some and just don't think twice about it.
"These are great prices. You can lock up some great revenues if you've got the moisture to get a yield, so don't hesitate to make some good early sales because they make the rest of them easy to make going forward," he concluded.