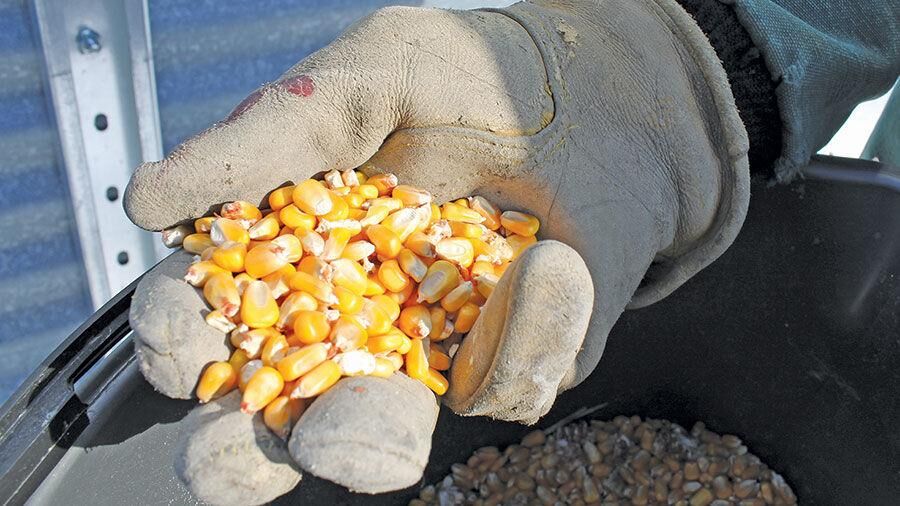 Soybeans prices are riding the wave of a bullish rally in early January and corn is being pulled along, though not quite as bullish.
"Corn is mildly bullish. It's being pulled up by soybeans," said Betsy Jensen, Northland Farm Business Management and a producer/marketer from Stephen, Minn. "That's a huge issue."
Jensen noted that the same issues that are in play in terms of weather for soybeans in South America are also somewhat in play for corn, though not to the same degree.
Due to drought conditions across much of South America, the soybean crop there is now being called into question, she pointed out. The market is keeping a close watch on South American weather, trying to figure out how bad the drought is going to be and how it will impact both crops, though corn to a lesser extent as it follows soybeans.
"South America has a huge latitude to it and so they have a very diverse crop … but the drought isn't affecting (corn) quite as much. We're still probably going to have some respectable production when it comes to corn," she said.
"The bullish South American forecast is mostly bullish for soybeans and not quite as bullish for corn. Corn isn't out of control bullish like soybeans are, but it's certainly going along for the ride," Jensen continued.
"So with corn we're not quite as bullish. We still have respectable stocks of corn and our export sales are okay," she continued, adding that current sales totals are lagging behind USDA's projection, but the gap is closing. We're not on track to meet USDA's projection in regard to corn exports. We're going to be short," she stated, adding that corn exports are short roughly 125-130 million bushels.
USDA will be coming out with a new supply and demand report in January and it's unsure whether the agency is going to start to reduce the size of the export sales.
"So we're going to have to wait to see if they make any revisions on their supply and demand report in January. Right now it's possible we could see exports get cut in the January report," she said.
In other news, a recent strike in Argentina with port and grain workers had some impact on corn, but not as much as on the soybean market.
"Argentina is going to want to export corn, as well, but not as much as they export soybeans," Jensen said. "Soybeans are very dependent on Argentina and export corn not as much. There is a lot of domestic use for corn in South America."
Jensen said there's also fear regarding ethanol in the U.S. and she wondered "are we killing some ethanol demand?"
"Remember, the point of high prices is to reduce demand, and that could be a big possibility right now," she said. "We definitely have high prices and oil prices are very low, corn prices are very high, and it's difficult to meet those ethanol margins at these levels."
At one local elevator in west central Minnesota regularly followed in this column, as of Jan. 5, January cash corn prices were $4.53 and basis was -40 cents under. April 2021 corn futures were $4.94 and basis was plus 10 cents over.
"Corn is a little bit unique. The basis has stayed strong for corn," Jensen said. "Basis for soybeans has weakened, but we still have a normal basis for soybeans whereas corn has remained exceptionally strong. In our area we're seeing a basis of (25 cents) under, which we generally do not see. So you're looking at cash prices of $4.60-$4.70 depending on where the market is going.
"It's hard to believe we have those price levels," she added. "And then we also have delivery for next fall ... you're looking at $3.70 if you want to deliver off the combine next fall, which is a pretty good place to start making sales."
That means the corn market, like soybeans, is also inverted and Jensen feels it will stay inverted.
"I really don't see a scenario (in) 2021 where that gap closes or that we go back to a full carry even," she said. "We started off the year with a full carry and now we've gone to an inverse and it's probably going to be staying that way."
Jensen said she wants to be bullish on corn, but it doesn't have the fundamentals of soybeans and she hopes farmers can separate the two.
"They're cousins, but they're not the same crop. They do have different fundamentals," she said. "Your corn plan and your soybean plan do need to be different.
"Take advantage of the good basis. I would talk to your elevator manager and maybe do a basis fix contract because we do have these phenomenal levels," she suggested. "And if corn can continue to rally, you can take advantage of the higher futures price with your basis fix contract.
"For example, you could lock in 25 under today for your cash price. That gives you a little bit of time to deliver your corn right now, but gives you a little bit more time to price it," she explained.
"Definitely, call the elevator, talk to them about the basis fix ...that's probably one of the best things to do for corn right now and go ahead and set your price targets. We haven't quite broken $5, but by the time this goes to press, maybe we will. It's a crazy time to watch these markets right now," she concluded.