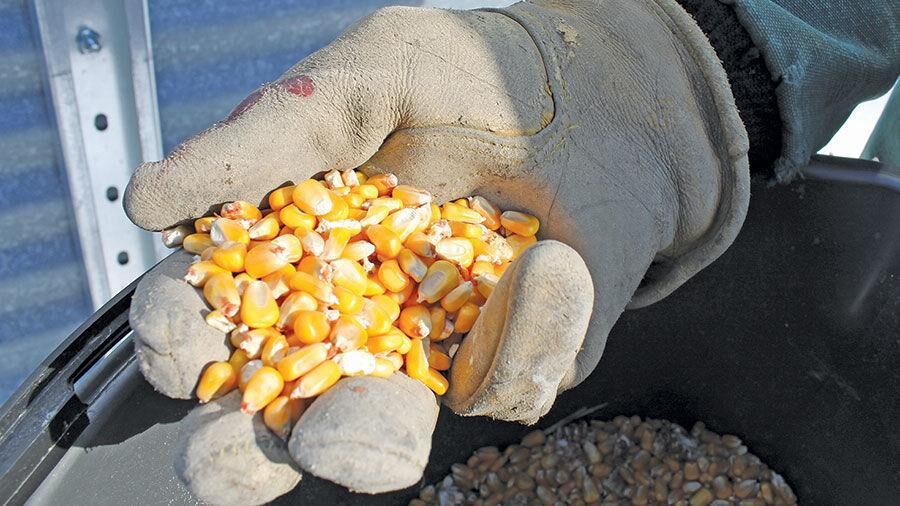 Although there is some volatility in the corn market with prices moving up or down, sometimes by as much as 40 cents, overall prices have remained above $7 and that's a good thing to producers.
The swings are coming as a result of different factors, such as the weather, planting progress, South American production, and demand, according to Luke Swenson, president of The Money Farm, West Fargo, N.D., giving his report on May 11.
From a fundamental standpoint, the market is going to take anything to give it a push. That includes a recent weather event that came with a shot of rain that hit parts of the Dakotas, although most of it hit in the Corn Belt states of Illinois, Indiana, and Iowa.
"That's good for production there for the most part," Swenson said. "But, overall, you didn't really alleviate a lot of the issues in the Dakotas."
He added that much of the Dakotas and north western Minnesota remain dry.
Swenson also noted that spring wheat, which has been following corn and experiencing a price rally of its own, is battling for acres.
He likened spring wheat to being "kind of a tail that's getting wagged by the dog (corn) a little bit."
"But it's definitely got some power, and you wipe a few million acres out and they replant to corn, that's something the market is really paying attention to," he said.
But from a fundamental standpoint, going into the May reports, the market is looking at some of the tightest stocks to use numbers we've ever seen, and if there's any little deviation that's supportive at all, that will impact producer decisions and the market.
"With that, you've got everybody out chasing, trying to protect everything they can through summer to get them into harvest," he said. "And then you start looking at a very tight 2021-22 scenario already, with China making multiple purchases this last week and more to come as they're just starting to protect for next year and managing their cost basis and playing between the two years.
"From a fundamental standpoint, it's really supportive. From a technical standpoint, it's supportive but scary, as well, because you're really in no man's land," he continued. "There's nothing above us up to the $8.50 highs of 2012, and on the downside, you've got 50-cent down strokes that you can take as we saw on May 10. You can pull 30 cents out of the market without so much as a hiccup, and then the next day turn around and throw more than that right back in just because the market is so thin and it's just fund trade because the physical activity is all but gone."
The market price had approached $8 in the first week in May, but then dropped about 40-45 cents on May 10, partly due to the rain event, but there were other factors, as well, according to Swenson.
Swenson said he's telling people that the market is really a four-legged stool, not a three-legged stool. The four legs include domestic demand in North America, international demand, which is obviously China and others, and then there is North American weather and South American weather.
Regarding South America, he said corn production there is basically going to be determined in the next month or so. There's also a lot of dryness that remains out there and there are a lot of concerns that ripple through with that.
"So, even if they get rain at this point, and you cut that leg out of the stool, we don't necessarily tip over because we still have demand in the U.S. and overseas and we have uncertainty around U.S. production," he said. "You really need to cut two of those legs out of the stool to actually get that taken care of and to slow up the market.
"With that piece of it there are things you can chew through without actually ending the market," he added. "But I think from that standpoint, the problem is there's really no one in this market. So a move that can be a 10-cent move turns into a 30-cent one because there's no commercials. There are no orders sitting out there from growers at these levels, so if you start selling you just hit a waterfall of stops and you sell at 45 cents in three hours. But realistically there's no farmer trading in this whole thing at all. It's just pure funds fighting against each other."
Looking at local prices, at one local elevator in west central Minnesota regularly followed in this column, as of May 11, the March cash price for corn was $7.25 and basis was +5 cents over. The September 2021 futures price was listed at $6.35 and basis was +6 cents over.
As of May 11, North Dakota cash corn prices were sitting around the $7.50 for July. "(That's) unheard of. You've got people getting close to locking in $6 corn off the combine and everyone's tended to do it just because they're all worried this thing is going to run (higher)," he said.
"Well, we may go up making highs this year, but if you're a third or half sold at $7 and it runs to ($9 or higher) hey, more power to you. Lock up the rest and call it good. But don't get overly greedy fighting at 100 percent of these bushels into the summer.
"I made the statement that if someone says we match the old high of $8.46, I don't know which side I'd bet – over or under. I think we've got a chance of testing it and taking it up," he concluded.