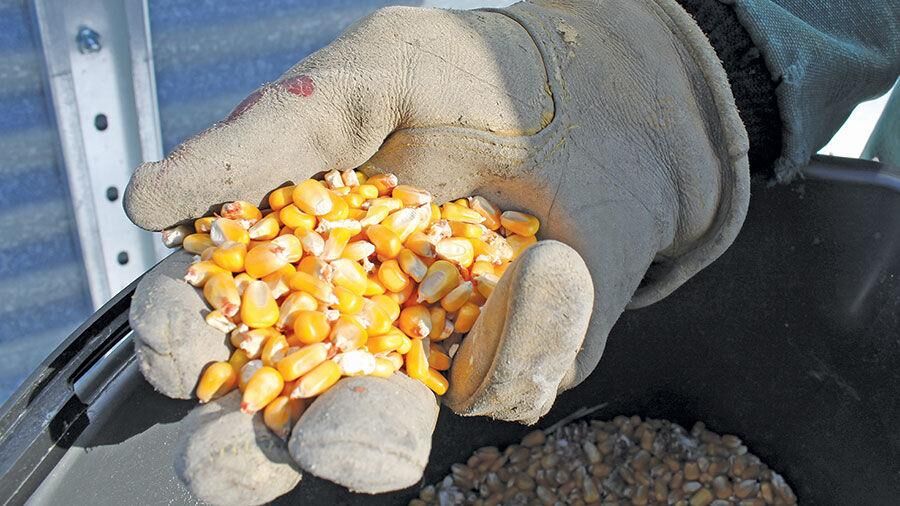 After enjoying high prices of over $6 earlier this year, corn prices fell about $1 lower before recovering about half that loss to where prices are now averaging close to $5.50 as harvest in the area is just getting underway.
"Corn, we're sitting here, technically, on a little short-term buy signal this morning as we finally broke above moving averages, which we haven't been over for a long time after coming down from our $6 and change high earlier in the year and going down to test around $5," commented Luke Swenson, president of The Money Farm, West Fargo, N.D., on Sept. 28. "We're trading around $5.40 this morning. From a technical standpoint, we're kind of on the upper end of a range but hitting some near-term buy signals."
On the fundamental side, Swenson feels corn yields may be less than what many had anticipated or hoped for.
"People are concerned … we've got yields out there that, from what we've heard so far, we're not seeing much of the big record yields people need for the U.S. to hit a record crop," he said.
On the other side of that is demand and the expectation of China continuing to make large purchases of U.S. corn. But what happens if the U.S. corn crop isn't as large as projected, or prices continue to go up? What will the Chinese do then?
"If China doesn't come in and really start buying up this export anticipation... well, if we shave a couple bushels off the crop it probably doesn't matter and we stay relatively where we are," he said. "I think everything is going to roll up to China (needing) to buy some corn. If that isn't the scenario, you really need to have a yield fall off for markets to move from here.
"We still think these are some great prices. You've got very tight basis (and) $5.15-$5.25 cash off the combine and then you have places down in the (Red River) valley where you've got better basis than you do down in the 'I' states," he continued. "Obviously, they've got more yield and we've got a little bit of export pull. You're going to see that playing in our favor more this year more than most."
Looking at local prices, at one local elevator in west central Minnesota regularly followed in this column, as of Sept. 28, the October cash price for corn was $5.31 and basis was -7 cents under. The January 2022 futures price was listed at $5.46 and basis was -1 cent under.
Swenson suggested producers take advantage of the marketing opportunities presented to them.
"Same thing here as on the bean side. Realize some cash, keep moving forward, make sure you're caught up on sales once you're in the field and know where yields are," he said.
"Put it in your pocket. Roll up some equipment. Do whatever you need to do, but don't get too greedy," he added. "Always manage capital first, and that's across the board, that's corn, beans, wheat, canola, it doesn't matter what crop it is. Stay within your marketing structure."
As far as where yields are, Swenson said he's talked with different agronomy groups and various growers, including some in the 'I' states, and the reports are "all over the board."
Some growers in the 'I' states may be seeing 220 bushels instead of 250.
"That's a big hit when you're looking at 10 million acres bouncing out of those states," he said.
Up in the hard hit drought areas of the Northern Plains, early yield reports are much less.
"So, North Dakota falling off is one thing, but those guys (in the 'I' states) not reaching the top end of their yields, that is a much more concerning statement because they're the ones that actually do support us," he said. "You come in at that 170-175 (bushels per acre) yield numbers, North Dakota is not going to do that. We're going to help buoy them in a good year, but we're not really going to support them when they come in and miss and it looks like, from what we've seen from early numbers, it's going to be a miss for them this year."
The question on the demand side is whether China will continue to make large purchases in an effort to rebuild its hog herd as China is having another flare with African swine fever, which decimated its hog herd two years ago.
"The thing is whether or not they buy. I think they do, but when you look at it from the fundamental standpoint, coming into this fall you have prices sitting at very high levels for harvest for any given year, and near record crop predictions," Swenson said.
"Well, if we come in with good yields and China is buying, it supports where we're at and the market stays strong and might even get a little stronger than where we are now. If they come in disappointing, say as we're seeing in Illinois right now and China is buying, it rallies markets because, hey, it's a fact. It's here, we're going to have tight stocks and we don't have a record crop," he explained.
"However, if China holds off on buying, and we either hit a record or don't hit a record, it causes people looking at the (supply and demand) sheets to get a little bit nervous and maybe they'll pull this thing back a little bit. Maybe it'll go under the $5 mark," he continued. "I personally think from an economic standpoint it makes sense for them to hold off on buying as long as they can. Get the true picture of the crop and then quietly come in and try and gobble up a ton really fast to get there.
"I think they'll buy, whether or not it's everything USDA has anticipated – I default to the crystal ball on that one."
As for harvest progress in the Northern Plains, Swenson feels the majority of the soybean harvest will be finished off by the beginning of October barring a big moisture issue anywhere. Corn harvest will be in full swing real fast after that.
"I think you're going to fly through a very quick harvest this year. There's not much to slow us up out there," he said. "Bins are empty. Everybody's ready to run. Export pace is running and you're going to have to capacity in these elevators. They're going to get it done quickly."