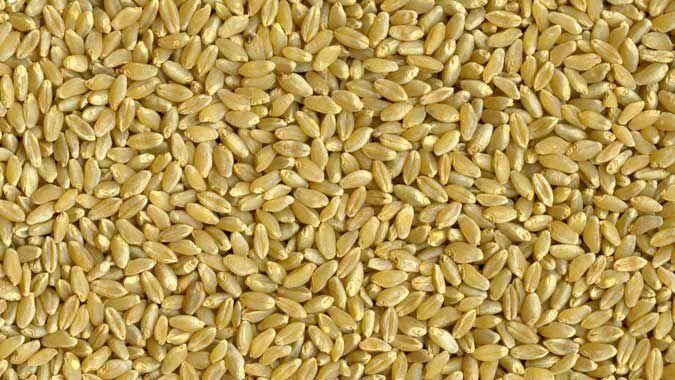 As temperatures reached into the 90s and even triple digits in some places, and with little rain, durum prices rose slightly in early June.
"With the durum market we did see a little bounce back in prices. Buyers may be a little bit on edge with the dryness and then the recent shift to some pretty hot temperatures for the early part of the growing season," said Jim Peterson, marketing director with the North Dakota Wheat Commission. He added that some nearby bids are back up to the $7.50 range after they had fallen off a little in May when the region did get some rain. New crop bids are back up to $7.25 in some areas and $7.50 in others.
"Buyers may be a little on edge, and obviously, producers are not looking to sell as uncertain as the moisture patterns have been this spring," he said. "Anytime you get an extended period of 90-degree temps on a wheat crop, no matter what stage of development other than harvest, it's typically not a good thing for yield potential."
Peterson pointed out that the durum crop in North Dakota and Montana is not rated as low as the North Dakota spring wheat crop yet, which is some of the lowest condition ratings since the 1988 drought.
For durum, in the first rating report for the current growing season, the most recent ratings for North Dakota were 52 percent good-to-excellent. About 15 percent of the crop was rated poor-to-very poor. In comparison, the North Dakota spring wheat crop is down at 30 percent good-to-excellent.
"For this time of year, this early in the growing season, we should be 70-80 percent good-to-excellent," he said, adding that both rain and hot conditions are in the forecast for the next couple weeks. Whichever forecast comes the closest to reality will likely show what crop ratings will be going into the rest of June.
As far as development of the durum crop, 97 percent has been planted in North Dakota with similar numbers in Montana. But only about two-thirds of the crop has emerged. Some of it was planted into dry soils.
"Fortunately, where most of the durum is grown, that was an area that did receive some better rains toward the end of May. But obviously, they're going to need some very timely big rains going forward," Peterson said.
"The current forecast for mid-June is calling for some decent moisture. But I think most of those weather forecasts have been busts in terms of their broadness of coverage," he continued. "By and large (predicted precipitation events have) missed a majority of the region. We'll see if that's the case with this latest forecast. Hopefully it's a much broader, deeper coverage and producers can get some relief if we catch some rains, otherwise it will be a long summer."
Peterson noted that production potential is obviously the big variable driving the markets now.
"Canada is also on the dry side, but it's not nearly as critical as the U.S. market, so that's maybe been a little bit of a buffer to further price gains. But with acres being only up slightly in North America from a year ago, there's not a lot of room for error," he said. "The next two weeks will be critical whether we take this market sharply higher or continue to hold near current levels."
On the demand side is probably where there is a little bit of concern going forward. Peterson said he's starting to see a little setback in U.S. pasta sales and pasta demand with the opening up of the economy in more states, and less hoarding by consumers and probably a little less pasta consumption during the summer months.
"That's starting to be a little bit of a headwind on U.S. demand," he said.
On exports, with the run-up in prices and lower prices in parts of Europe and North Africa, the U.S. has really struggled to be competitive on the export front, according to Peterson.
"I think even U.S. exporters have been hesitant to be aggressive on offers until more of the crop is secure," he said. "At the end of June we'll get the updated acreage estimate, and we'll also have a better feel for where this crop is in terms of yield potential."
Peterson also noted that the U.S. has probably got some of the lowest export sales on the books in a number of years with just 300,000 bushels of new crop sales going largely to Panama and Japan and no new demand from Italy or North Africa thus far.
"We are starting a new marketing year and if buyers get concerned about crop prospects they will be more aggressive in paying the higher prices, but as of right now they've been reluctant," he said.
In terms of the world crop, in its most recent production estimates, the International Grains Council did raise the Moroccan crop slightly, but also lowered the Canadian and Italian crops. The net effect is a bit smaller world crop than expected a month ago, but still larger than a year ago. There has also been some recent dryness in Europe, which has taken the top off some of the crop in terms of yield potential, primarily in Italy and Spain.
Looking at the latest production numbers, Peterson said they may be a little more price positive than a month ago, but there may be more comfortable supplies from a world perspective than a year ago with production up 6 percent and ending stocks projected to grow about 5 percent from last year. But that would still be historically tight. Overall use is projected up 3 percent with gains in both food and feed demand.
"Over the next few weeks the market will catch its direction based on whether the projected rains materialize or if we can catch some relief from this early heat that the region has been experiencing, which has not been positive for yield potential this early in the growing season," Peterson concluded.