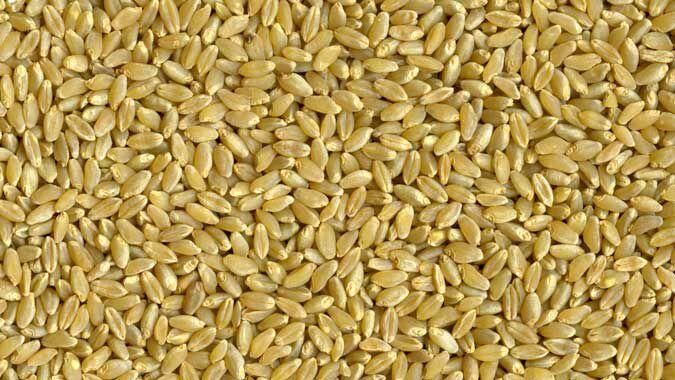 After watching spring wheat prices rally in the upper $7 range at one point, durum prices are now picking up some steam, as well.
"With durum we're starting to see more strength in the market than what we've seen for a while," said Jim Peterson, market director for the North Dakota Wheat Commission. "We'll see how sustained that is with the market wanting to retreat based on some of the recent rains that have fallen in parts of the area.
"That's a big thing that hopefully the market can come to grips with," he continued. "The rains we've gotten are not drought-busting by any means and much more of the region missed the rains, than received moisture."
Since mid-April Peterson noted that the durum market has rallied about 70 cents a bushel based on the Minneapolis durum index.
"We're up to $7.50 in some bids out in the country, but a lot are still down in the $7-$7.25 range. But it's certainly positive to see that," he said.
There are several reasons that are driving the current rally, but two in particular have had more influence. One, Peterson noted, is that durum needs to do some work to catch up with the rally that spring wheat has had since mid-April. While durum has rallied about 70 cents a bushel, spring wheat has rallied $1.50 in that time, and not just in the U.S., but in Canada, as well.
The second factor that helped rally prices, especially since the first part of May, was the Stats Canada report at the end of April that only indicated about a half a percent increase in durum plantings in Canada.
"I think a lot of the end-users of durum were under the impression that we would get a rebound in durum acres, and even though the U.S. survey in March showed a decline, I think they were holding out that Canadian producers would respond more strongly," he said, adding that similar to the U.S., canola, barley, and soybeans are all competing hard for acres.
"Since the first part of May, spring wheat has had a pretty sharp rally up until the recent rains we got. And now that corn and wheat have had a setback, we'll see if that affects durum prices going forward," he said.
"I think for durum they need to continue to push for acres through May just because it's extremely dry in the majority of the durum region," he continued. "The recent precipitation is probably just enough to take care of some topsoil moisture concerns and by and large 'drought' is still the dominant word. Even so, areas that missed the recent precipitation have even looked at halting planting just because it's so dry for either fertilizer applications or getting seed to germinate."
The current planting progress report, as of May 9, indicated that 39 percent of the durum acres in North Dakota had been planted. That's ahead of the five-year average of 25 percent. In Montana, planting is running slightly behind with 30 percent complete compared to the five-year average of 36 percent.
Like North Dakota, Montana is battling cooler soil temps. Montana did have some snow in a few areas, but has generally had good planting conditions. However, they've also had enough adverse weather to slow the planting pace.
About 5 percent of the crops in both states have emerged. Peterson expected emergence to be slow because of the cool soil temps and the overall dry soil conditions. In areas that did plant earlier, there are reports of some spotty germination.
"We certainly need more rains in a short period for the balance of the region, otherwise, I think the market will have to continue to try to garner strength to pull in additional acres in both Canada and the U.S.," he said.
Peterson also noted that domestic mills in the U.S. are getting a bit more coverage out to the summer months, but probably not as much as they would have liked.
"I think that's positive for producer prices going forward, especially if the weather remains adverse or acres remain quite uncertain going into the final stages of planting," he said. "I think if they want more coverage, the domestic industry is going to have to be at a higher price level than they currently are."
On the demand side, exports have been a little bit of a negative. Export sales have remained at 24 million bushels (MB) for a couple months now and there are very few new crop sales on the books.
"I think it just shows that the U.S. prices and Canada are a little bit of a price island right now relative to Europe and North Africa and so we're probably not as competitive," he said.
Looking at the world durum crop, the latest report from the International Grains Council estimates world production up 7 percent at 1.3 billion bushels. That's an increase of about 90 MB from a year ago. All of that increase is split between Morocco, Tunisia, and Italy, with smaller crops expected in the U.S. and Canada.
"The European prices have been under a little pressure due to the more promising North African crop, as well as their local crop. But they did receive some frost damage in parts of France and Italy, which may have tightened up their market a bit," he said. "We'll see going forward if Europe remains cool and has those cool weather threats. That could trim the expectations for the European crop.
"With our local crop here, we're in desperate need of rain in a lot of areas and hopefully we'll get more rains like the southwest part of the state received over Mother's Day weekend," he added. "Hopefully we'll receive more of those across a much bigger part of the region in the next few weeks or so."