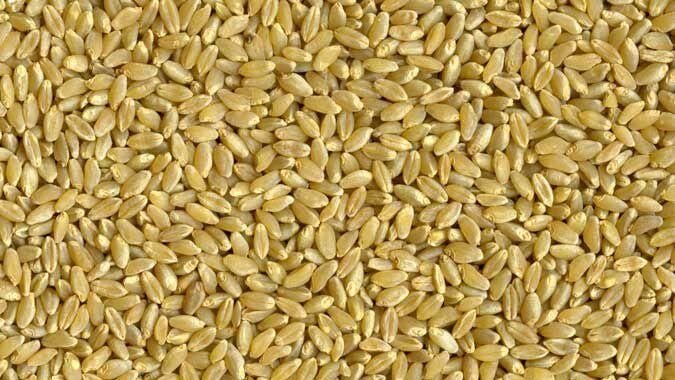 With harvest progressing at a rapid pace due to the drought and a projected smaller crop, durum prices have kept moving in an upward pattern.
"In general, prices continued to march higher. We've exceeded $14 a bushel for durum bids in some locations and a lot of others are still at the $13 range," said Jim Peterson, market director for the North Dakota Wheat Commission. "As has been the case for the last few weeks, there's not a lot of depth of trading at those levels, so they're kind of a benchmark. Once domestic mills and international buyers feel comfortable starting to lock in at some of those values – just with the reality of what the Canadian and U.S. northern crops are going to bring them – then we may see some consolidation in bids.
"But until then, I would expect to see a pretty wide range and some periodic volatility just until we get a better handle on what the 2021 crop is, not just in North Dakota and Montana, but certainly in Canada, as well," he added.
Looking at the crop progress numbers in the latest USDA report, producers are moving at an incredibly fast harvest pace.
"That typically indicates probably not super robust yields in a lot of areas, and also just the results of the extreme heat and dryness we've had through July," he said.
In North Dakota, 32 percent of the durum crop had been harvested as of Aug. 16. That compares to 11 percent a year ago at this time. In Montana, 31 percent of harvest was complete, which is double the pace from a year ago.
Even though there has been 32 percent harvested, Peterson noted there's not a lot of quality analysis on the crop just yet. Similar to spring wheat, there are pockets with some lighter test weights due to the stress the crop has been under.
As far as the latest production outlook that came out on Aug. 12, USDA lowered the U.S. durum crop from 37 million bushels (MB) in July down to 35 MB in its August report based solely on reducing the Montana crop. USDA took the expected average yield in Montana down to 18 bushels per acre from 22 bushels per acre and left yield in North Dakota at 22 bushels per acre.
"The odds are certainly there that the final yields for Montana and North Dakota could come in higher than that, but it would take a significant increase to offset potential abandoned acres," he said.
Peterson explained that of the 1.48 million acres planted to durum, USDA is saying only 1.44 million will be harvested.
"USDA is still only using about 40,000 acres that won't be harvested for the whole U.S. While the level of abandonment in durum won't be as high as spring wheat, that 3 percent figure is simply too low, so we still have to account for that," he said.
In the supply and demand projections, USDA didn't make any significant adjustments other than accounting for the 2 MB smaller crop. USDA did lower imports by 1 MB, but also lowered domestic use by 3 MB. So ending stocks are still at the 20 MB level compared to 28 MB in June of this year and 42 MB a year ago.
"Based on those numbers there is definitely support for durum prices where they're at," he said. "Is there support for further increases? It's going to be what the combines tell us as they work through the rest of our harvest and start into the Canadian crop."
Canadian production estimates won't be released until the end of the month, but, Peterson noted, the odds are that Canadian durum yields may come in a little bit better than what the current perception is. But like the U.S., they have also had a fair amount of abandonment for forage production, so that will be an offset.
On the world front, there is some concern regarding some quality issues in the European Union crop, but other than that it's a "pretty stagnant world situation relative to what's happening in North America." The next 2-3 weeks are going to set the stage for where durum values move going forward.
Looking at U.S. durum exports, as expected with the sharp run-up in prices since the first of June, the national average price was about $7.50 a bushel.
"So if you take it up to $13, that's a significant increase and that's obviously going to create some shock with customers," he said, adding that the U.S. has only sold 1.9 MB with most of that, 1.3 MB, going to Italy. Japan has purchased about 500,000 bushels and there have been smaller sales to others including Guatemala, Panama, Spain and Portugal.
"Compared to a year ago when we had sold 14.4 million bushels, we've got some catch-up to do. We're not going to equal a year ago just based on the values and the sheer availability of this year's crop," he said.
Peterson also noted that "Milling and Baking News" reported USDA's most recent estimate of quarterly durum grind in the U.S. and, as anticipated, there was a turn back in grind from the COVID year of 2020 when the industry saw exceptionally strong pasta sales. The April-June quarter of this year was at 15 MB, which is down 11 percent from the January-March quarter and down 21 percent from the April-June quarter a year ago.
"That's going to offset some of the price support we're getting from the smaller crop. We are going to see a smaller demand base going forward, but as of right now, all attention is on the harvest in North Dakota, Montana and Canada, hoping that the quality holds up on the smaller crop," he said.
"I think buyers are hoping the final yields come in slightly better than current expectations, but nonetheless, we're probably not going to move much from the current USDA forecast, which, obviously, is our smallest durum crop in a number of years," he concluded.