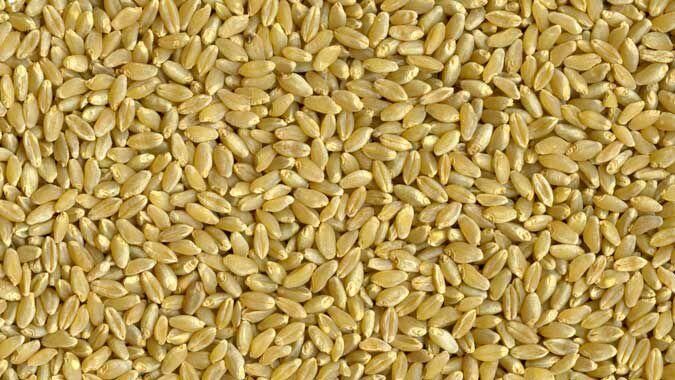 As the end of 2021 draws nearer, durum prices slipped slightly in mid-December, although historically, they remain in the mid-teens.
"We've had a little softening in average durum prices across the region," said Jim Peterson, market director for the North Dakota Wheat Commission. "We've slipped back down to $15 cash bids at some locales, while others are holding in that $16 range.
"I think the market maybe got a little fatigued with the run-up in October/November and even though we didn't take out the previous highs, I think maybe there was enough residual selling from producers, and buyers had gotten enough coverage to get them through," he added. "A lot of analysts feel the real test will come after the first of the year when both U.S. and international buyers will have to get another round of coverage, and supplies haven't gotten bigger."
Peterson also noted that on the domestic front, there's also been a little softening in pasta demand. That's because with some products there's more blending of non-durum wheats due to the price spread. Durum enjoys about a $5 premium to spring wheat.
"That's maybe weakened demand a little, but I still think there's a lot of positive fundamentals going into the first part of the year that will hopefully bring another chance for prices to rebound," he said.
Looking at the National Durum Index, the price was sitting at $15.90 prior to Thanksgiving, but it's now down to $15. Peterson pointed out it's a pretty thin volume, but how much stock to put into that price trend is the question.
As far as new data for the market to work with, this part of the season, prior to and into the holiday season, is a slow part of the year. With the Great Lakes frozen, export shipments through the Lakes are tailing off or non-existent, and domestic mills are making their plans for the Christmas and New Year period with some slowdowns.
The biggest new data item is that Stats Canada came out with an updated production estimate for the 2021 crop and lowered the durum crop more than anticipated. In September the agency had estimated the crop at 129 million bushels (MB), but in December it was lowered to 97 MB, which is extremely low production for Canada, which typically produces between 185-200 MB.
"It continues the point that they're going to need to ration their demand," Peterson said.
Canada's durum export shipments from August through October total 31 MB, which is about 25 percent behind the 40 MB they shipped a year ago. Their shipments to Italy are down 50 percent and to Morocco they're down about 15 percent.
Where Canada is seeing an increase is into the U.S. market. They've shipped in 4 MB to the U.S., which is four times higher than a year ago. It's not a big number, but USDA is projecting a healthy increase in imports this year, including both durum from Canada as well as pasta from other sources. The market will watch to see if that trend continues over winter.
"I think there was a pretty aggressive push by some of the larger U.S. mills to lock up some Canadian supplies earlier. I don't think they have a lot of extended coverage into February forward, so we'll see what happens," he said.
Interestingly, Peterson noted that Canadian prices continue to run a little stronger than U.S. values. Accounting for the exchange rate, some of their bids are at $16.80 a bushel to the producer. Top bids in the U.S. are at $16, which would indicate Canada seems to have a little stronger internal markets.
"And some of their new crop bids for 2022 harvest equate to about $11 (USD), and so that seems like a pretty aggressive push in Canada to lock up some supply from this year, as well as to get some acreage interest for next year," he said.
Looking at U.S. demand, the big challenge is on the export front, according to Peterson. To date, the U.S. has only sold 5.5 MB through the end of November. That compares to 21 MB a year ago at this time. U.S. sales to Italy are down 80 percent.
On a positive note, he said there have been some recent sales to Spain, which will hopefully be a developing trend, especially as we get into the first half of 2022. The U.S. also has some sales on the books to Japan, Guatemala, and Panama.
"Obviously, with our supply situation and pretty tight producer holding, it's a challenge to be aggressive on exports," he said.
Another positive development is that there has been a pretty wide price gap between European prices and North American values, but that seems to be narrowing some, although the U.S is still at a premium.
"If we look at some internal truck bids to millers in Italy, high quality durum, which would be U.S. or Canadian, is still priced at about $16.50-$17 a bushel and is what the mills are able to buy it for yet," he said, adding the durum includes some carryover stocks from the 2020 crop that were still on hand.
"If you add freight rates to that, that backs it up to $15 locally, so we're still at a premium to capture some of that demand. The hope is that European prices will continue to move higher over the next few months and then we'll be able to be more competitive for that demand going into February forward in 2022, and as we approach Lake opening," he said.
He also pointed out that France came out with some early thoughts on their 2022 plantings, and surprisingly, their durum acreage is projected down slightly due largely to very good demand for oilseed crops worldwide and that's competing for acres.
"Other than that, we'll see what happens through the rest of December. It's still kind of a tug of war between producers and domestic manufacturers," he said, adding that USDA will come out with updated numbers in mid-December. "We're not expecting a lot of change, though there may be some adjustment in domestic use. As of right now, USDA has domestic use down 10 percent on the year. In terms of durum/pasta demand, we'll see if they adjust that lower.
"On the export front, we don't expect a lot of changes. They have us at 15 million bushels, currently, which is still attainable, especially if we see a much better export season in the first half of 2022," he added.