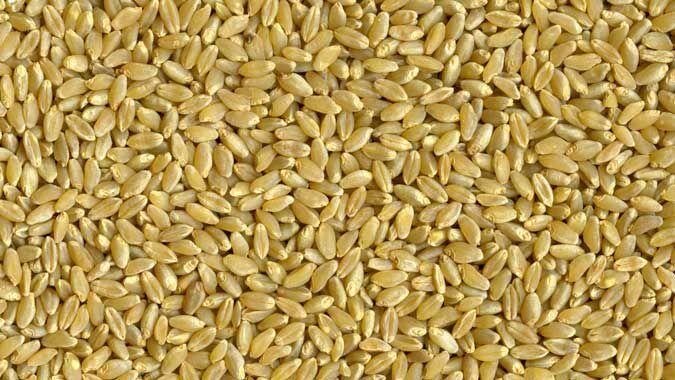 As harvest begins, the durum market continues to show very good strength with bids across the region ranging from $12 to $13 a bushel. That's up close to $5 a bushel from just a month ago.
What's driving the rise in prices is continued stress on the U.S. crop, primarily in Montana and the drier areas of North Dakota and Canada, according to Jim Peterson, marketing director for the North Dakota Wheat Commission.
"The recent heat and dryness continues to cause concern with what the potential production will be," he said.
In the most recent USDA production estimate in July, it showed a national average yield in the low 20s per bushel range for durum. Looking at condition ratings, the Montana crop has really slipped with the most recent rating showing 55 percent of the crop was rated in very poor condition with 39 percent poor and only 2 percent good. The five-year average range is 18 percent poor-to-very poor and close to 45 percent in good-to-excellent condition, so it is certainly well below its more recent levels.
North Dakota's crop is faring a bit better with 37 percent rated in good-to-excellent condition and 45 percent rated poor-to-very poor. But until the combines start rolling no one knows for sure.
Peterson noted that harvest has started, "probably a little too soon" in North Dakota, but producers are trying to get a good read on what's happening. In Montana, 5 percent has been harvested, more so in the Golden Triangle region of north central Montana.
"In the $12-$13 range, there's probably not a lot of trading, if any, going on at those levels," he said. "More or less, speculative bids are trying to figure out where producers might sell. That's going to be the question through harvest – are producers going to try to market some right off the combine?
"Most producers are pretty bullish on prices and I guess we'll see who gives in first – if buyers continue to press higher or if producers start marketing some," he continued. "But until then it's kind of a vacuum. We have stronger prices, but not a lot of deep volume in terms of trading."
Peterson also pointed out that the concern is not just the immediate crop in both the U.S. and Canada, but ending inventories had already come down a little at the start of the year and planted acres did not increase like many in the industry had thought.
"As we go through the year, even if demand is rationed or tightened a bit, based on current production prospects, ending stocks of June 2022 in the U.S. and Canada could be below 20 million bushels in each country," he said. "I think buyers are hoping the final yields will come in better than expected to take some of the pressure off the market. But, if not, there's going to have to be some demand rationing or those buyers who have no viable substitute will have to press the market higher."
Looking north of the border, the Canadian crop is also having to deal with extreme heat and dry conditions, which is impacting potential yield. In Saskatchewan, 50 percent of the crop is rated in poor-to-very poor condition and only 11 percent is rated good. Some of the internal discussions and private analysts in Canada have production down to about 176 million bushels (MB), which is down 30 percent from a year ago and would be the smallest crop in 8 years. More will be known when the next production estimate comes out the end of August.
"That's what has elevated the market in the last month, just the deteriorating crops in North America," Peterson said.
Looking at the world level, the latest numbers from the International Grains Council put world durum production at 20 percent below year ago levels at 1.22 billion bushels. That's a drop of nearly 80 MB from its earlier forecast in June.
"Some of the earlier spring estimates for the world crop were for an increase and now we're looking at about a 2 percent cut in production compared to last year, so certainly a landscape change," he said.
"The trade dynamics will shift a little bit. The U.S. and Canada will be constrained a bit on their ability to export with the higher prices we're currently seeing and just sheer availability," he added. "More of the world durum trade will shift to the European Union (EU), Mexico, Turkey and the Australian crop once it becomes available in December/January. World buyers are having to reassess their planning for the year ahead."
On the demand side, the only U.S. durum sales on the books are for 1.3 MB to Italy and 400,000 bushels to Japan, so total sales of less than 2 MB. That compares to a year ago when sales totaled 14 MB at this time.
"Certainly buyers are in a tough situation trying to figure out at what value producers will market their crop and how hard to push the market higher," he said.
Even though the EU is expected to be more competitive this year for exports, the other caveat that has added some uncertainty to the world durum market is the recent heavy rains in parts of Europe that have lowered the quality in parts of the French durum crop, which is the primary export source for Europe. As a result, the higher quality out of Europe will command a higher value due to some of that deterioration in quality.
Going forward, Peterson said while producers are bullish on prices, historically, they must remember the durum market can have some extreme volatility.
"Just as the market has run up $3 to $5 a bushel in a short while, once buyers find some alternative sources, or if crop yields happen to come in better than anticipated in both the U.S. and Canada, there's no question we could see some slippage in prices," he said.
"It certainly will be an interesting harvest. There are a lot of fundamentals supporting the market, but we need to capture some sales and have some demand to support that market going forward," he continued. "That's kind of the question: At what level do we see buyers come in stronger and at what level are they able to generate some additional coverage?"
Lastly, the U.S. domestic market has seen strong pasta sales over the past couple years and perhaps with more potential for slowdowns with recent elevations in COVID cases, we may see a resumption of more of the in-home purchases of pasta. That's certainly a positive, as well, but it likely won't reach the levels seen during the last two years.
"Also, domestic mill grind may be constrained a bit relative to the last couple years just due to the elevation in prices and the U.S. economy more open than it was a year ago at this time," he said. "Interesting times for sure. A lot of eyes are on the U.S. harvest as it unfolds in August and we see what yields and quality are, and also with the Canadian harvest once it ramps up the middle of the month."