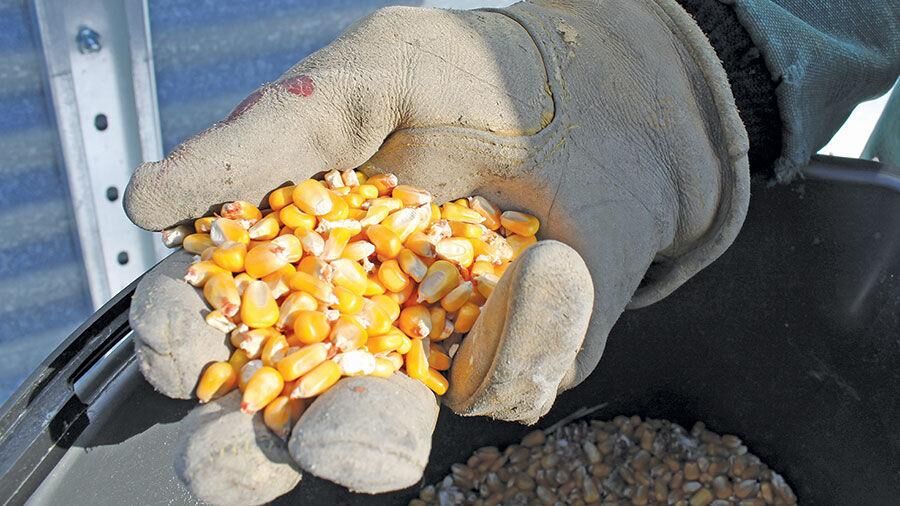 The corn market was anticipating close to 93 million acres of corn to be planted in the U.S. in 2021, so when the Prospective Planting report, released on March 31, came out with a little more than 91 million acres, corn prices responded positively.
"What was interesting is that for corn we wound up with about 91.1 million acres, which was about 320,000 more than last year, but about 2.1 million less than expected," said Randy Martinson, Martinson Ag Risk Management, Fargo, N.D.
He added that continued strong demand for corn, along with the planting intentions report, were "friendly" to the market.
"USDA's report, starting with the acres report coming in with less acres than anticipated, was the first friendly indication for corn that basically we need to add more acres," he said. "Unless we get one tremendously good yield, we could have fairly tight supplies as far as corn is concerned.
The market has responded favorably since the report.
"We set new contract highs the first week in April and flirted with contract highs in the (April 11) session but couldn't quite do it because of losses in the wheat market. That put a damper on corn's ability," he added.
Looking at local prices, at one local elevator in west central Minnesota regularly followed in this column, as of April 12, the April price for corn was $5.52 and basis was -20 cents under. The September 2021 futures price was listed at $5.04 and basis was -4 cents under.
Looking at the planting intentions report, Martinson noted that all of the main Corn Belt states reduced acres. Corn acres in Illinois and Indiana were reduced by 4 percent, while Iowa and Nebraska cut acres by 3 percent. Minnesota corn acres were unchanged.
On the other hand, because of the prevented plant acres last year in the Northern Plains, North Dakota is looking at increasing its corn acres by 69 percent, from 1.95 million acres in 2020 to 3.3 million this year, and South Dakota is increasing its corn acres by about 13 percent.
"The big yield producing states are pulling back their acres and the acres are coming in the fringe areas, which we expected would have to happen, but not to the degree that it needs to," he said. "So corn could actually see another 1-1.5 million acres added and still see somewhat of a friendly scenario playing out."
The planting intentions report was followed up with the crop production report on April 9, which showed lowered stocks than anticipated because of an increase in feed, ethanol and exports.
"We cut our stocks a lot more than was anticipated by the trade, so now we are seeing the results of strong demand and a little bit lower than expected crop last year," he said. "And without adding more acres, it's going to make the (supply and demand) numbers really tight for 2021."
Martinson pointed out that right now, using the supply and demand numbers from the Ag Outlook Forum in February, the U.S. is looking at close to a billion bushels in ending stocks estimated for corn. That may change when USDA comes out with their updated numbers in May.
"(This) means we need to get every acre of corn planted and we need to get trend line or better than trend line yields to make things work," he said.
The near-term weather forecast was calling for cold temperatures, not just for the Northern Plains, but also for the Corn Belt, which will slow down planting and could possibly have an impact on production.
"All of a sudden, what started off as an expectation for early planting is now going to turn into normal planting dates, which will take away some of that ability to see above trend line yields unless all conditions are met," he said. "At least now when you look at it, we're looking at the potential of an average crop for the year, which will put more emphasis on the fact that we need to maintain the acres in corn or add to them.
"I think long-term there's a little bit of friendliness in corn," he continued. "Right now we'll see how the planting season is going to go, but the cold, dry conditions are going to keep planters out of the field. Once they can get started, then that's going to dictate (direction)."
Martinson also pointed out that the safrinha corn crop in South America is seeing extremely dry conditions and the outlook for production is decreasing rapidly on a day-to-day basis.
"That will put that much more emphasis on the need to get the U.S. crop (planted) because of the demand that's coming out of China right now. So, there's some positive outlooks, but we have to be careful with our planting season and gauge how things go there," he said.
On the demand side, Martinson noted that China has slowed down its buying a little lately but now shipments are starting to "kick into gear" and that's important to keep an eye on. Even with the slowdown from China, Martinson feels the U.S. is still in the upper ranges of potential.
"We're like 97-98 percent of expectations, so it's likely USDA is still underestimating exports for corn," he said. "That will help support the market long-term, too, and if the safrinha crop in South America continues to have issues, that's going to put that much more emphasis on corn exports."
Looking at ethanol, that aspect of the corn market is looking favorable right now as gas demand is finally above the five-year low. Also, with more people getting vaccinated against COVID and feeling a little more comfortable, they're starting to go out and travel more, which is increasing the gas demand.
"I actually think we could see ethanol production break above the million barrels a day before too long," he said, adding that current ethanol stocks are down at 20-week lows when normally the U.S. would be in a building timeframe to get ready for the summer driving season.
"We're actually at five-year lows for stocks, which is really friendly to the ethanol market," he said. "It shows that our demand has still been pretty good, that we've been moving the product, whether it be exports or whether it be domestic. I think that could help push this market, especially going through the summer if we continue to see the expansion of (more) driving."
In the near-term, the market will be keeping a close watch on the weather and planting progress to see how that proceeds. Martinson pointed out that with wheat and corn competing for feed rations at this time, that could pose a pull-back in corn acres.
"Wheat is actually winning out over corn a little bit in the feed rations right now, though corn is trying to stay somewhat tied to it. If we have any kind of a hiccup in the planting season, that certainly will help support this market pretty good," he concluded.