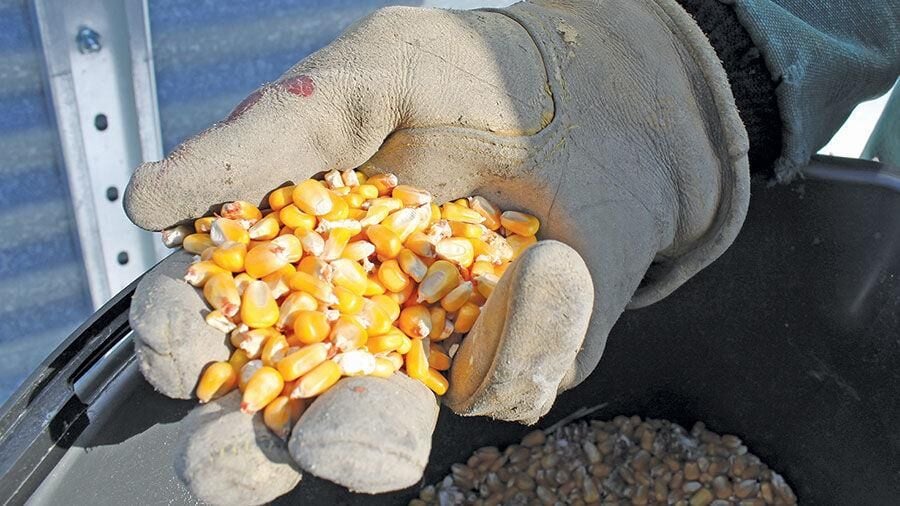 Despite a slight price adjustment downward, corn prices remain very favorable after one month into the new year as demand remains strong.
Corn has been just incredible (in terms of) export sales over the last week, which is good (news) for the corn market," said Ed Usset, professor emeritus and grain marketing economist with the University of Minnesota, to start the month of February.
Usset noted that both corn and soybean prices remain quite high and both markets are strong even though both have seen a slight slip in price, although the situation for corn appears to be in a better position than soybeans.
"March soybeans were off 90 cents over the last two weeks, while March corn is 12 cents off its highs," Usset said. "It's a little bit different. The corn market has picked up quite a bit."
Perhaps Usset was understating the price situation for corn.
"Good grief! Five-dollar cash corn in southern Minnesota, well, frankly $5 plus cash corn throughout Minnesota," he said. "It was $4 in mid-December. It was $3 in early August. It's really breathtaking how fast this market moved."
As with soybeans, the corn market is also inverse and Usset said he's been analyzing inverse markets in both going back 40 years.
"The story in corn is possibly even more remarkable in that you've got an inverse (where) July (old crop) corn is currently trading roughly $5.30 a bushel. The new crop December contract is $4.45, an 85-cent discount," he said. "That, too, is one of the largest inverses we've seen since 1980."
In the past 40 years, Usset noted there have been 13 years with big inverses on Feb. 1, so clearly, it's not uncommon. But in 12 of those 13 years, new crop December price was trading at a lower price at harvest than old crop was trading in February. The only exception, and it's a big exception, was the drought of 2012, he noted.
"I guess from the corn and soybean numbers I've looked at, the issue here is: will there be a drought in 2021? And if you're a fatalist and you're sure that a drought is about to come, you're not going to do anything about what I just told you except buy puts, something that sets a minimum price that can lock you in. If you don't think a drought is in the cards, you just sell it," he said.
Even though in this instance he's using the Feb. 1 price versus the harvest price, there's nothing magical about the Feb. 1 date.
"There were some years where the high came early, but more often than not it probably came a little bit later in the spring or early summer," he said, adding that he's talking about new crop corn issues.
These inverses speak to new crop selling opportunities.
"If I'm a producer I'm getting ready to price that new crop corn. I'm recognizing this is an opportunity to price new crop corn," he continued. "Old crop...good grief! If you have anything left… we're already at $5 corn. I'm not sure what you're waiting for. You think it's going to $6, $7, $8, $9, $10, well, that's your call. I'll let you make that call (because) $5 corn is above and beyond anything I've (seen in years)."
At one local elevator in west central Minnesota regularly followed in this column, as of Feb. 2, the February cash price for corn was $5.04 and basis was -38 cents under. The May 2021 futures price for old crop was listed at $5.42 and basis was -6 cents over and the December 2021 futures price was $4.45 with the basis at -3 cents under.
Whether producers should be looking at selling new crop, Usset said that's a tactical question.
"An awful lot of producers don't want to use a futures contract because it involves margin and accounts and things like that," he said. "I have a preference for futures. They give you the most flexibility and delivery at the end. But I'm seeing some pretty good basis levels in new crop bids and I wouldn't be uncomfortable if someone just forward contracted."
On the demand side, corn exports continue at a good clip. China is a big player in corn and had some "incredible sales" during the last week of January.
"We're starting to worry about how much is left to sell. It's really tightened up the balance sheet," Usset said.
Another item Usset is keeping an eye on is the possibility that African swine flu (ASF) could come back into play. ASF was the headline for a year and a half coming out of China, and then six months ago it just disappeared. But lately he's been reading and hearing little snippets of maybe a new variant of that disease coming back.
"This ASF stuff is pretty frustrating to figure out whether or not you're getting good information or not. Is this real or not?" he asked, adding that if it did resurface it would be bearish for the corn market "because dead pigs don't eat as much as live ones."
"We can talk about the trade war, but when you lose a tremendous amount of your herd, and I heard numbers of anywhere from 30-50 percent, that is going to affect demand," he added. "Luckily though, you can build up a hog herd pretty quick."
With corn prices being high, that has helped to bring wheat prices higher, as well, as the two compete for the feed market.
"High corn prices is a good thing for the price of wheat. Wheat prices are up over the last 5-6 months in an impressive way, but nothing compared to corn and soybeans," Usset said.
"But when you get the corn market running up as high as it does, more wheat is going to be fed. You're not going to feed your high quality hard red spring wheat, but the soft wheats that are a little off-grade, they get might get fed more of that.
"Wheat is a major feed grain worldwide, second to corn. I believe 15-20 percent of the wheat grown in the world is fed. So as corn goes up it becomes a support for wheat. It helps the wheat market go up," he concluded.