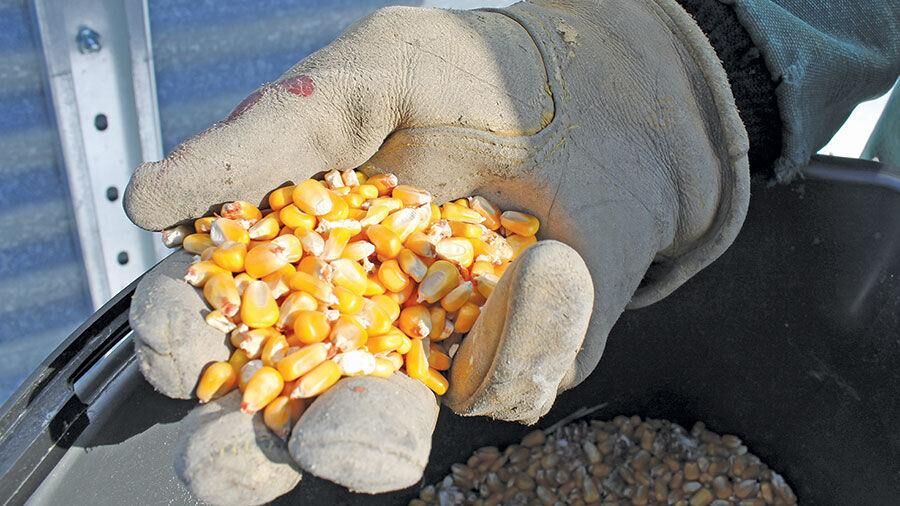 The 2021 U.S. corn harvest is just two months behind us, but producers and the market are already looking ahead to the 2022 crop. And although data would indicate a "normal" corn/soybean rotation for next year, high input costs for corn may limit the amount of acres that get planted.
One of the interesting things the market is watching is the spread between what the futures value of corn is compared to the futures value of soybeans. That information typically indicates where acres are going to flex to, according to Luke Swenson, president of The Money Farm, West Fargo, N.D., on Dec. 6.
"If December soybeans are 2.5 times the price of December corn, that's kind of the middle of the range that (indicates) 'Hey, you're going to plant a normal corn/bean rotation,'" he said. "We're in a really tight way because we're sitting here basically like 2.25 times, which is very tight historically. That means you're generally going to plant a lot more corn acres than beans. The irony is, right now we're sitting at a very tight number, but the inputs are so high on the corn side that you're actually not seeing that swing adjustment anywhere. We can't find people, really anywhere, that are looking to plant more corn acres."
Swenson pointed out that one analyst from the University of Illinois has estimated producers may plant 96-97 million acres of corn because that spread is so tight, but he feels that estimate may be on the high side.
"Even though you're looking at a spread that historically is really tight that favors huge corn acres … we can't really agree with that (estimate) because we don't think the inputs are there to do it," Swenson said, adding that in flexible states like North Dakota, Minnesota, and South Dakota, areas that could really flex those acres higher, "the incentive isn't there."
"Historically looking at it, it's still kind of out of whack. We're actually trading long corn against beans even though we're at a very tight time historically because the market is not incentivizing it," he continued.
"We've still got some work to do. Specialty crops are really pulling acres away from corn, as well," he added. "We could be pulling a little bit, but when you look at it from a fundamental base, we don't see a lot out there that's going to give us a huge corn number, which we think keeps corn pretty supported and firm around where it's at for the time being."
On the demand side, Swenson noted there are two counter-balancing factors to consider – ethanol production/demand and export demand. From an ethanol production demand standpoint, the industry is absolutely crushing it, according to Swenson, adding that the U.S. could crush less than a hundred million bushels a week for the rest of the marketing year through September to meet our needs.
"Even after crude oil fell off basically $20, you look at the crush margins out there (and) they're not going to slow up. Ethanol is going to keep leading domestically," he said. "You look at most places, and I'll say the Northern Plains where we're at and down into Iowa and other areas, you're seeing the processors are winning on the bids by like 20-30-40 cents.
"The export bid is out of the market in general right now. They're not getting anything, so we are losing a little bit of export demand because we're not loading ships as fast and because we don't see a big push for it," he said. "That being said, I think we're picking up every single one of those bushels on the ethanol biofuel side (and that's) going to be supportive in the long haul and the near-term, as well.
"I don't think it does anything to the balance sheet overall, it just robs from Peter to pay Paul and keeps us relatively close to where our current estimates are," he added.
China has been a major player, but they've had more bean shipments recently than corn.
"They bounce in and out. They'll do a bunch of buying of corn. They'll do a bunch of buying of beans," he said. "They're not buying a million tons per week."
Instead, China can buy in spurts, making purchases and then shutting them off for a month before turning them back on.
"There just hasn't been a lot of activity anywhere. We know (China) pulled a couple extra late cargoes out of Brazil on corn and beans, but on the corn side they've been relatively quiet on most fronts," he said.
As the end of 2021 is fast approaching, Swenson said he is a proponent of moving cash forward and paying a little extra tax.
"We know where our tax rates are going to be for this year. We don't know what's going to be happening," he said. "We know we're also in an inflationary environment which, in that case, it probably pays to get some more cash in your hand rather than try and do anything that you want to use and try and monetize off of, because if you roll a million dollars to grain for two years and (with) that liability, well, hey, you're buying power might drop to $800,000 by the time you actually get it used.
"I'd be more cognizant of that this year than in recent years," he continued. "With everyone sitting on a pretty hefty cash position overall, if we have another good year next year, you're going to have some really big rolling incomes issues to deal with, and, like I said, with rates where they are right now, they're not perfect, but they're not terrible either. I'd realize some and just keep moving forward.
"Put some more cash in your pocket, make some upgrades you need, hunt for some land, do a few different things to just keep scaling up production," he concluded.
Looking at local prices, at one local elevator in west central Minnesota regularly followed in this column, as of Dec. 6, the December cash price for corn was $5.74 and basis was -9 cents under. The April 2022 futures price was listed at $5.86 and basis was zero.