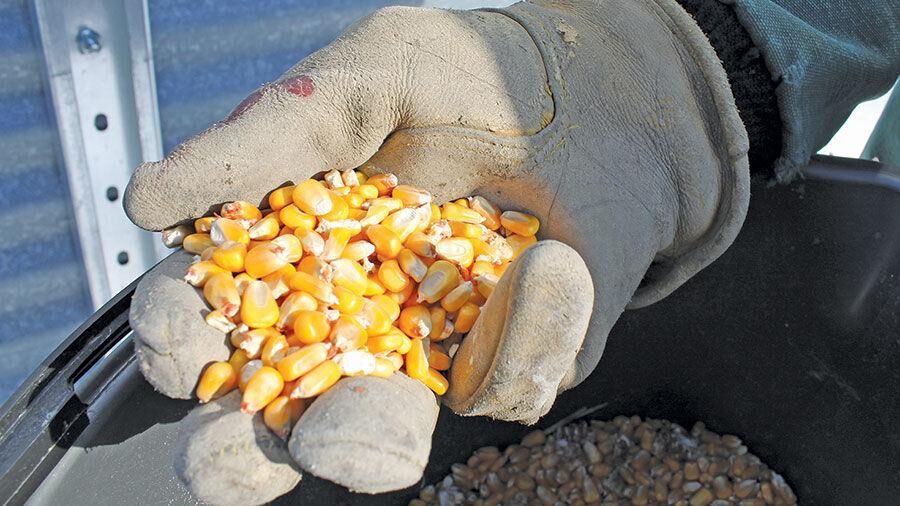 Based on information from the October World Agricultural Supply and Demand Estimates (WASDE) report, this year's U.S. corn crop will be the second-largest ever and it's not that far from the record. That's good news, but the concern is that it's also a lot of bushels to try and market.
The U.S. corn crop was pegged at 15.019 billion bushels (BB) with an average yield of 176.5 bushels per acre, slightly more than earlier projections of 14.973 BB and a yield average of 176 bushels per acre. The latest estimate may come as a surprise, especially to producers in the Northern Plains including North and South Dakota, western Minnesota, and northern Nebraska where drought was a major factor this year. That said, North Dakota is going to produce more bushels of corn this year than last because there was so much prevented plant last year and producers increased corn acreage this year. Also, the eastern Corn Belt – Indiana, Illinois, Iowa and Missouri – benefitted from very good growing conditions and more than offset the differences in the western Corn Belt.
"It's not only planted, but also harvested acres and the yield per acre. We've been so focused on this yield per acre for quite a few months that (we've forgotten) we also increased acres," said Frayne Olson, grain marketing economist at North Dakota State University, adding that market traders and analysts came in the range of what the trade was expecting.
From a big picture sense, Olson noted that U.S. supplies of corn will be strong this year, but the concern comes with marketing those supplies.
"What is going to cause some issues is where these bushels are located because we obviously have much lower production in the western Corn Belt than we do in the eastern Corn Belt," he said. "So part of our challenge now throughout the rest of the marketing year is not only worrying about these base prices in the futures market, but also carefully watching the basis levels." Basis is the difference between the cash and the futures markets.
"What basis signals to farmers is that the market is trying to regulate the flow of grain. It's not only the flow of grain across time – when do we need it delivered – but also across location – where is it being produced versus where is it being consumed," he explained.
Olson pointed out that basis levels for corn locally are very strong. For example, he noted that typically at this time of year it's not uncommon to have basis levels in North Dakota to be at -60 to -70 cents per bushel, so there's about a 60-70 cent discount or price spread between what's happening in the futures versus what's happening at the local elevator or ethanol plant.
"Right now we're at -15 to -25 cents, which is pretty phenomenal given what we normally would see this time of year," he said. "What that's saying is that the cash market really does want farmers to deliver their grain. They're trying to provide these very strong incentives to deliver grain and deliver it soon."
There are a couple reasons for that. While it's true the U.S. has a good crop on hand, its demand base is also strong. The livestock industry continues to consume large volumes of corn, plus ethanol production has been recovering and prices have been going up. People are driving more and consuming more gasoline, and as a result, gasoline and crude oil prices are starting to rise, as well.
"Our economy is starting to gear back up again," he said, adding that feed demand is expected to stay strong because there's a lot of meat being produced in the U.S., and ethanol demand is starting to rebound.
"Ethanol is rebounding to levels we saw before the pandemic and the economic shutdown, which is really good because that means that we're going to chew up more corn in the ethanol plants," he added.
The other thing that the market watches, even though it's a smaller number, is the export number, and that's really important. Of all the corn the U.S. consumes, he said about 15-20 percent goes to exports, so most of the corn is consumed domestically.
"The overseas market is really hard to predict. If there's going to be some shock values, if there are going to be some unknowns, it will likely come from the international market and that's why we spend so much time talking about export sales and who's buying and how much they are buying because, on the margins, it makes a difference," Olson said.
In the last marketing year, U.S. corn exports were at record levels, and although they're expected to be down a little this year, they will still be very strong. The surprise, he noted, is the volume of corn going to China.
The U.S. was expecting China to come in and buy U.S. corn once the 'Phase 1' agreement was signed, but the U.S. underestimated how much, according to Olson. The official numbers from last year show that China is No. 1 buyer of U.S. corn. Historically, Mexico had been No. 1 and Japan No. 2, but last year China was, by far, No. 1.
To put it in perspective, over the last 4-5 years, the U.S. has typically sent about 14-15 million metric tons (MMT) of corn to Mexico, and about 10-12 MMT to Japan. Last year the U.S. shipped 21.4 MMT to China. Prior to that, historically China had been buying less than 1 MMT, so going from about 1 MMT to 21 MMT was phenomenal. As of the WASDE report on Oct. 21, China had already purchased just under 12 MMT this marketing year for delivery of new crop versus about 7.4 MMT to Mexico, which is also very strong.
"Mexico is really an important market for us, so I'm not trying to downplay Mexico, I'm just trying to put this in perspective how important China has suddenly become in the corn market," he said.
Olson explained that because ocean freight costs are so high right now, the cheapest place for China to buy corn is from the Pacific Northwest (PNW). The U.S. can ship it cheaper out of the PNW to Asia than it can from the U.S. Gulf to Asia. A big part of that is because ocean freight costs have doubled since January. That is not to be confused, however, with container freight rates. Those container rates have gone from about $3,500 a container to about $17,000. Containers ship primarily consumer products and those are among the delays the public hears about. And while the U.S does ship some ag products via containers, most of our grain shipments are using bulk ocean freight.
"Logistically, it makes sense to start shipping corn and soybeans out of the PNW, which is one of the reasons why we have strong basis levels locally in North Dakota," Olson said. "We increased our acres for both corn and beans a lot, so our planted acreage went up significantly for (both) in 2021, but because of the drought, yields were not very good.
"So the cash market out of the PNW is having to work a lot harder and having to pay a higher price to try and get more of the grain that was produced in (the Upper Midwest) to move to the PNW instead of hitting the (Mississippi River) and going south to New Orleans and the Gulf," he added.
When looking at the corn industry, Olson said there are a lot of moving parts right now. Right now the market is worried about the logistics issues because the eastern Corn Belt had a really good corn year, as well as a really good soybean year. "They're blowing the top off." But there were some problems in the western Corn Belt.
"We've got the tale of two cities here – east vs. west – but when you combine them and look at the big picture, there's plenty of corn to go around," he said. "It's just how do we get the corn from where it's being produced and stored to where it needs to be consumed?"
Olson noted the concerns the market had about production are starting to dissipate as it's getting a better read on total bushels and what the quality of the corn crop is and the volume it's dealing with. As a result, the market is starting to take some of the risk premium out of the marketplace.
"We don't have the final number, but there isn't a lot of uncertainty," he said.
On the demand side, the question is how quickly are we going to use this corn up? Although prices have come down from their peaks, they have stayed relatively high, so the question is: who needs the corn the most and can they afford to pay for it? Two areas domestically are the ethanol industry and the livestock sector. The ethanol industry is starting to recover as people are driving more and we're consuming more, and gas and ethanol prices are starting to come up.
"That seems like a pretty stable demand base," he said.
On the livestock side, we already have the animals in the supply chain and beef, pork, and poultry prices are still pretty strong. The question is: what about this international demand?
"Given the higher prices of corn, the very high transportation costs, how long will these international buyers continue to buy corn from the U.S.," Olson asked.
"Even though the volume of corn we send into the international market is small compared to feed and ethanol, it carries a lot of weight in pricing," he continued. "That's why we spend so much time talking about exports and what's happening globally in the corn market, because on the margin, where do we send our extra corn? It's into the global market."
Looking at local prices, at one local elevator in west central Minnesota regularly followed in this column, as of Oct. 26, the November cash price for old crop soybeans was $5.26 per bushel and basis was -10 cents under. The April 2022 futures price was listed at $5.49 and basis was -1 cent under.