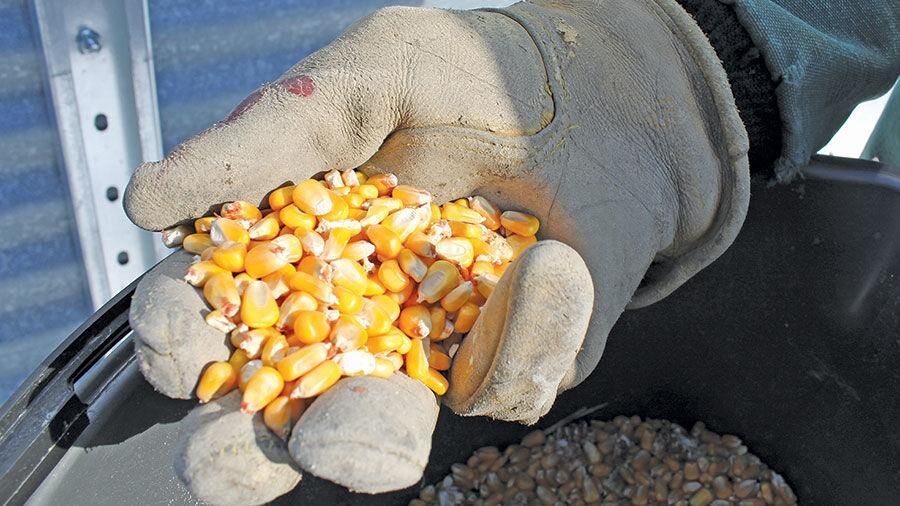 Corn prices overall have remained quite strong, having gained around $1 per bushel since December with many local prices in the upper $4 range to slightly over $5. And there's a feeling it could rally even higher, though that remains to be seen.
"The market has been holding decent, and I don't think we're done yet," said Randy Martinson, Martinson Ag Risk Management, Fargo, N.D.
"We might take a break, but we still have some pretty nice, attractive values out there," he said, adding that competition for acres among corn, soybeans, cotton and wheat has the potential to push prices even higher.
One big reason for the higher prices has been strong demand. Martinson pointed out that export demand has been very good for corn and better than the market anticipated, but it's also part of the trouble.
"For every little break we have in the market, the futures market drops down and we see another country or two come in and then try to buy some more product from the U.S., and so the exports have been aggressive enough that it tells us that price has not done its job to ration supply yet," he said. "We need to get prices up higher to slow down some of the demand."
Martinson said it was surprising that in USDA's February crop production report the agency did not increase the demand as much as was anticipated by the trade. The trade, he noted, was looking for feed demand, ethanol demand and exports all to be increased. Instead, it looked like USDA "punted" and decided not to increase feed.
Not increasing feed demand is something Martinson agreed with, pointing out that the U.S. has seen a reduction in cattle herds, and hog herds are also reducing some.
"I don't think we're going to be seeing more feed demand than last year, and I think USDA is probably okay with that number right now, unless we get this cold spell to last a little longer than we anticipate, then we could bump up a little bit of the demand for feed," he said.
On the other hand, Martinson feels ethanol demand needs to be increased, especially considering the exports to China that have come into play.
"I think they're underestimating the demand for ethanol, and right now we have not dropped below USDA's expectations for ethanol demand for corn use," he said. "I think one week is all we dropped below the needed pace, so for (USDA) to have cut that a month ago I think was a little premature and I do think that number will have to go up."
Martinson pointed out that U.S. corn exports were 87 to almost 90 percent sold of what expectations were. He also noted, however, that shipments have been running behind what he'd like to see in regards to where sales are at.
"That's the one caveat, I think, that kept USDA from increasing exports more for corn than what they did ... because we haven't been shipping as much, which sometimes leads to cancelations," he said. "But, you can't ship 100 million bushels of corn and 100 million bushels of soybeans a week out of our ports. We just don't have the lift capacity to do that. So now what we're starting to see is the soybean shipments are starting to slow down a little.
"But corn is starting to speed up, so big shipments are going to continue to increase for corn and that's going to make that export number a little bit more vulnerable," he continued. "I think we're going to need to see exports increase more going forward as every little break comes into a little bit of buying."
The strong demand also brings into play the current supply of corn and corn ending stocks. In the last USDA supply and demand report, ending stocks came in at 1.5 billion bushels (BB), which was 120 million bushels more than was anticipated by the trade.
"It's probably really closer to 1 billion bushels, which isn't as tight as we've been in years past, but it's still going to mean that we have to get the price up to ration the demand that's out there," Martinson said. "And we need to start getting the December market moving a little more to get everybody to buy more acres. A one million acre increase isn't going to be enough for corn for this next year."
That brings us back to the potential for prices reaching even higher.
"I think we can easily see this thing get to $6 as far as old crop is concerned," he said. "New crop, I think we could see a little bit higher prices."
What Martinson has been telling producers to do is to be patient with corn right now.
"Don't be discouraged if you start to see the market drift here in the short-term because China is on holiday right now (and) we just had a long weekend, so I do think we could see a little bit of a slowdown in the movement and everything here in the short-term," he said. "But once we get into spring, this market should start to rally back up again as the market tries to buy acres and allocate some."
As he alluded to earlier, it's not just corn that needs to rally. Cotton has already rallied up to try to get some acres back again, and soybeans are trying to rally for acres, as well. Wheat, too, he said, is going to have to start participating in this run to hold its acres for winter wheat, as well as try to get some spring wheat acres.
"It's going to be an interesting spring," he said. "Corn right now has an advantage of being able to add a few more cents on before we peak out here, so I'd be patient going into the spring."
Early estimates for corn acres in 2021 have already started coming out. At this time the average trade estimate for corn acres are between 91.5 million and 96 million acres. The average is 93 million, which would be about 2 million above last year.
"We came in at about 90 million acres last year so we are looking at adding two million or so to the average trade guess which would be about what corn needs to do," Martinson said. "The thing is soybeans need to add between seven and eight million acres to make their supply and demand numbers work. And cotton is trying to grab a few acres right now so that's what's going to be interesting going forward – just how much cotton rallies and how much advantage soybeans has."
In fact, at one local elevator in west central Minnesota regularly followed in this column, as of Feb. 16, the February price for corn was $5.05 and basis was -39 cents under. The September 2021 futures price was listed at $4.77 and basis was +5 cents over.
Martinson noted that basis levels for corn have been holding in fairly decent, which shows that there's some good export demand and domestic demand as well, and not just from ethanol.
On a recent trip up from Texas he also noted very few corn piles by ethanol plants, "so the supply isn't as plentiful as what we were thinking."