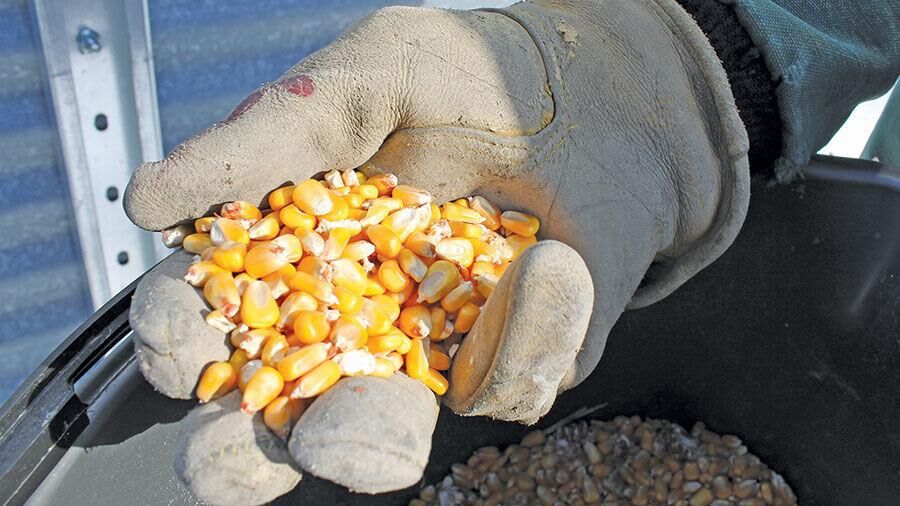 After several weeks of leading commodity prices higher, a number of factors have combined to pressure corn prices.
"Corn has been the price leader of late, unfortunately it's been leading down, instead of up," said Frayne Olson, grain marketing economist at North Dakota State University. "But there's some positive news, too. Last week (week ending May 21) China came in and made about four significant purchases for U.S. corn for new crop corn, not old crop – not for immediate delivery, but for corn to be delivered this next marketing year.
"It was a bit of a surprise. But it's also very, very positive that the Chinese corn buying will continue. They're already booking corn for the 2021 crop, the one we're planting right now.
On the positive side, that was definitely supportive," he added.
The main reason that corn prices dropped so much the last couple weeks of May is two-fold, according to Olson. One is that producers made very rapid planting progress in corn nationwide and when you have early planting progress that usually correlates with pretty good, strong yields.
"At least the yield potential is there. Early planting means that yield potential is good," he said.
The other thing is that most of the Corn Belt has very good soil moisture and has been getting rains on a regular basis.
"One of the challenges we have up here is we get caught in 'the backyard syndrome.' Just because it's really dry in our area and the crop is not looking good and everybody's worried about it, doesn't mean that nationally that's what's going on," he explained, adding that even though it may be dry in the Northern Plains, doesn't mean that's the case everywhere and the market is aware of the situation.
"(The market knows) how dry it is out here, but the yield potential out of the core Corn Belt states is really strong," he said.
The varied weather patterns are going to lead to an exceptionally volatile summer, according to Olson, adding that "prices of corn and beans, and as a result, wheat, are going to be really volatile this summer because our margin for error is not very big."
Also, while there are some reserves for corn, U.S. reserves on beans are paper thin.
"I usually say that soybeans are going to be a lot more sensitive to weather than the corn market is, but the corn market is going to be watching this closely," he said.
Most of the Corn Belt is in good shape, but there are a few areas that are questionable, he noted, and he wants farmers to focus in and think about not only weather in their backyard, but what also is going on in other areas, including central Nebraska, and an area going east and west right along the Minnesota/Iowa border and into Wisconsin where there's a streak that has heavy corn and soybean production that's also getting pretty dry.
"We got some positive news for yield and yield potential, in particular the rapid planting progress and we have had some new export news for old crop corn, but it has been pretty minimal," he said.
Leading up to that, there were also some very strong long positions for the managed hedge funds, the investment community.
"What was happening was as corn prices continued to go high, we had these outside investment folks come in and use corn as part of their investment portfolio, so they kept buying contracts – buy low/sell high," he explained. "They kept buying these contracts as prices increased and they got to a point where they owned a lot of positions. They had purchased a lot of futures market contracts. Well, once the price started to tip over and go down again, they started selling these speculative positions to lock in their profits.
"They wanted to sell them as quickly as possible before corn fell too much," he continued. "Well, what happens when you have a whole bunch of sellers and no buyers? It goes down pretty quickly."
And even though he knows and understands that it's been really difficult for farmers to watch this, his viewpoint is that it is actually healthy.
"We need to try and clean out some of that large speculative investment, in particular in the corn futures, to try and get back to more of a balance with supply and demand," he said. "I'm confident it will start to rebuild from here. We may not go quite to the levels we saw before, we'll have to wait and see, but a lot of that is going to be dependent upon the weather."
Another big factor that has impacted the market is the fact the South American corn crop is looking better than it was a few weeks ago. During the last couple weeks there's been a lot of news coming out of South America that it's been very dry in northern and central Brazil, which is where a lot of safrina corn crop is produced. The safrina corn crop accounts for about 75 percent of their total corn production.
As more and more reports came out that the corn crop in Brazil was suffering, people said 'we'd better put a premium in the marketplace,' not knowing how bad this was going to get," Olson said. "In that region they started getting some rain, not a lot, kind of like North Dakota, we didn't get a lot of rain, but we got enough that people took a breath and said, 'well maybe it's not getting worse anymore.'"
South America hasn't started harvesting its corn crop yet, but that's expected to be the next set of big news that comes: what are the actual yields going to be? Up to this point analysts have been guessing and speculating, conducting tours and taking yield estimates. A better picture is starting to develop, but until the combines start up it's pretty hard to really tell what the crop will really yield.
"A lot of that news hit the market, driving this concern and this risk premium we put in the marketplace," he said.
As the rains came through, Olson said people started to feel a little more comfortable that the yield loss may have been stopped, or that it's not getting any worse.
"Psychologically, some of that risk premium is starting to come out," he said. "There were several things that were going on that I think that lowered corn prices, especially for new crop. So that price differential really does reflect the differences in what people see.
"We're getting pretty tight on old crop supplies. We want to make sure that we have some corn left in the bin, but right now it looks like 2021 corn production is going to be pretty strong," he added.
Going forward, the weather is obviously going to play a critical role all summer long and will be the main driver, but Olson said a couple key reports coming out in June will also be important.
June 10 is when the next World Agricultural Supply and Demand Estimates is updated. Olson doesn't expect huge changes, but the market is really sensitive to anything right now because the margins are so thin.
"Any changes that USDA might see, especially on the demand side, I don't think it's going to be a major market mover, but stranger things have happened," he said.
The other major report he wants producers to watch for comes out June 30 when USDA releases its final actual planted acres report. That's the follow-up survey USDA conducts with farmers and asks them what they actually planted. That's in contrast to the March report when farmers were asked what they intended to plant.
"We are expecting to see some changes. There are, and this is one of the things that are changing psychology, some private companies, some larger agricultural forecasting firms that are coming out with their projections already of what they think the number will be," he said. "The early numbers that I've seen from some of these companies are a pretty substantial increase in corn plantings relative to the March report.
"If we have more corn acres planted than we expect, guess what happens to price? It goes down," he explained. "So all of this is interconnected. We're doing the math and saying, 'Okay, where do we need to be and how aggressive do prices have to get to ration the use of what we think we're going to produce?'"
Looking at local prices, at one local elevator in west central Minnesota regularly followed in this column, as of May 25, the June cash price for corn was $6.53 per bushel and basis was +8 cents over. The September 2021 futures price was listed at $5.34 and the basis was -6 cents under.