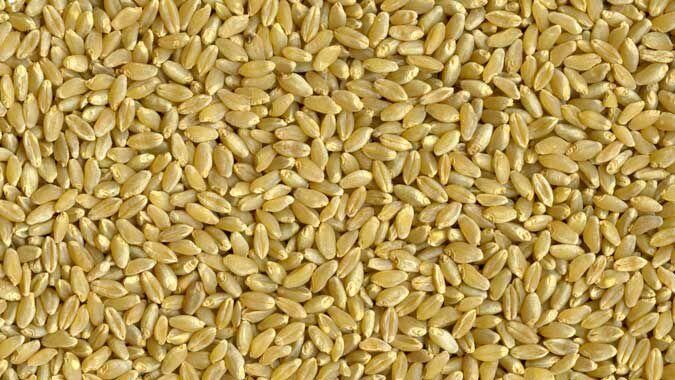 Durum prices continued to slip along with most other commodities as dry areas received some rain.
"With durum, as we approach the end of May, we've seen a slippage in prices for both nearby and old crop," said Jim Peterson, marketing director for the North Dakota Wheat Commission. "I think that could have been predicted to happen once rain began to fall across parts of the region, but at the same time it's a bit frustrating to a lot of producers that it drops as hard as it does when there are still many dry areas, and timely rains will be needed throughout the season."
In regard to the rain, Peterson noted how the weather has been impacting the market.
"The weather pattern has brought a little more rain to the region," he said. "As far as a benefit to the crop, in my mind the perception of how much it has improved the overall crop prospects is still a long way from reality, but we'll see as we go forward."
Nonetheless, he noted that old crop durum values range from $7.25-$7.50, which is down 25-30 cents a bushel from some of the peaks across the region. Looking at new crop or September positions, some have fallen to as low as $6.75 although some are at $7.25. Prices had been around $7.50 a week ago when there were more dry conditions.
"There's no question southwest North Dakota and parts of northwest North Dakota received some pretty good rains the weekend of May 22," he said. "But that was followed by 45 mile per hour winds the following two days along with warmer temperatures.
"We're a long way from having the crop in the bin," he continued. "That's why I think the perception of the benefit of the rain is more than the reality from a lot of market players. The only way that will change is if we get rains on a more consistent basis, and areas that missed the rain finally do get some precipitation."
The current crop status, according to USDA, indicates that 78 percent of the North Dakota durum crop has been planted, which is on pace with the five-year average. However, only 34 percent of the crop has emerged.
"That's an indication of how dry the topsoil was and in a lot of areas the durum was laying in dry topsoil," he said. "Montana was in a similar situation with just 64 percent planted, which is behind the five-year average and a year ago, and only 26 percent of the crop has emerged.
Montana did get some good moisture, as well, and even some snow, so soil temps have also cooled, also slowing crop development.
"So there will be improved germination and emergence, and even though the recent rains are going to stall planting a bit, durum in northeast Montana and northwest North Dakota can still do quite well planted into early June," he added. "We'll see what happens going forward, if by June 5 we're more than 90 percent planted or not."
Looking to the north, Canada also received good moisture recently after they had been critically dry, as well. As of mid-May, about 83 percent of the Canadian durum crop had been planted, which is ahead of average. Producers there had been reporting spotty germination also. However, because parts of the region got too dry to plant canola, there was an expectation that they may have picked up a bit more wheat acres or durum acres at the expense of canola in parts of Saskatchewan, according to Peterson.
"In the near-term, if we look at the Minneapolis Grain Exchange index, the price was $7.70 on May 20. A month ago it was $6.70, so we've had good appreciation in the durum market," he said. "I guess we'll see how far it drifts lower based on the recent rains, or if the weather pattern is beginning to shift."
That said, he noted there's a lot of subsoil moisture to recharge. Also, there was a lot of early-planted durum that's going to have two stages of development and there are still some areas that missed the rains.
On the demand side, U.S. export sales remain quite slow and are about 30 percent behind a year ago. As of mid-May, the U.S. had recorded only 25 million bushels (MB) in sales. That compares to 36 MB a year ago.
"USDA was still projecting 30 million, so it looks like we'll probably come up short from projections, which will add to stocks a bit," he said. "But we still have continued to see very strong domestic mill grind."
Looking at Canada, in their August/March period they had shipped 145 MB, which is up 25 percent from a year ago. Agricultural Canada is projecting they will reach a record high this year of 205 MB, so they have to have a very aggressive marketing program in the coming months, he noted, adding that their crop year runs from Aug. 1, 2021 to July 31, 2022.
"Canada shipped out 145 million bushels through the end of March, so April, May, June and July will still be some pretty aggressive months if they want to reach a record," he said.
Italy and Morocco account for one half of Canadian durum sales. Sales to the U.S. are still running below a year ago, which is certainly a positive for the U.S.
Another thing that's been more supportive for Canadian prices, Peterson pointed out, is that their stocks-to-use ratio is a bit tighter than the U.S. durum stocks-to-use ratio. Their ending stocks are projected to be around 35 MB, which would be down 35 percent from their five-year average.
Going into next year, a lot of the debate is what will be the final planted acres for the U.S. Both North Dakota and Montana are around that two-thirds to 80 percent planted mark.
"With the recent moisture, are producers going to stick with their canola plans if they haven't planted it, or pulse crops? Or are they going to put in some additional durum acres if it looks like the moisture pattern is changing?" he asked.
"I would think with the setback in durum prices that pretty much squelches any incentive to go out and plant additional durum acres. We'll see what happens," he said.
"We've had a very nice run-up in the market, certainly some attractive prices and it's great to see the recent rains because this was a make or break rain for a lot of areas and we're certainly thankful for what we got. But, as we said, we're going to be needing more of these rains more frequently this year because of a lack of subsoil moisture," he concluded.