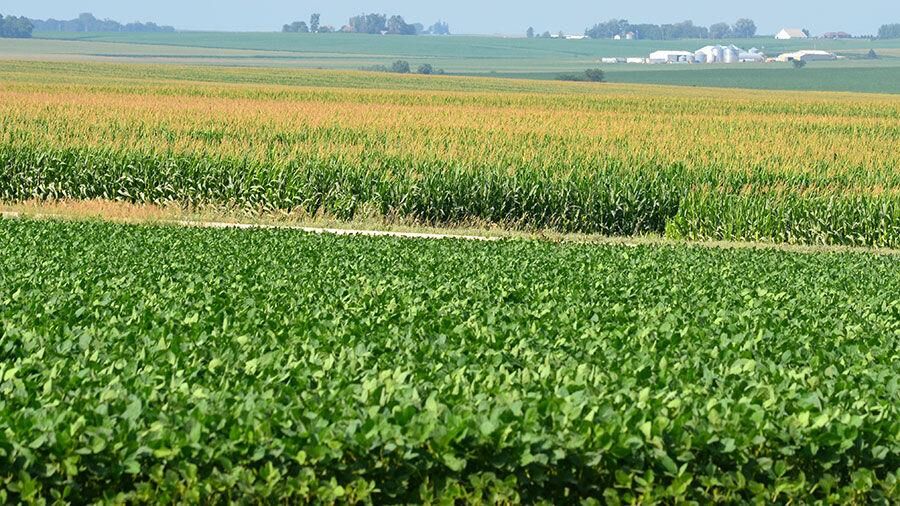 Now that winter has officially begun in the Northern Hemisphere and harvest is behind us, the soybean market has turned its attention to South America where it's summer and the growing season is in full swing.
According to Luke Swenson, president of The Money Farm, West Fargo, N.D., strong demand for dried distillers grains (DDGs) has pushed the corn market, and on the soybean side, good demand for soybean meal, as well as various issues in South America, has influenced the soybean market.
"You look at the corn side, you've got the DDGs calling the market while soybean meal has been strong, too, just because you've got lots of demand," Swenson said. "You've got different issues going on down in South America, as well. You've got oilseed strikes going down there. You've got some port strikes … where they're not really exporting much at the moment. You've got a lot of things there that are keeping our domestic meal prices strong, domestic oil products strong. That doesn't look to be changing in the near term."
That's been one of the main drivers on the cash bean side. Although there haven't been a lot of sales and China has slowed its imports lately, Swenson they are still "sniffing around." It's been a quiet couple weeks on that front, he explained, because this is typically a slower time of year as it's a couple months after the U.S. soybean harvest and we're going into the holidays.
Lately China and the U.S. have been butting heads again regarding trade issues, but Swenson doesn't feel it will bring a halt to trade.
"It's been a quiet month and a half for the most part. If anything, people are watching and losing faith, and the Chinese economy as a whole, when you watch things like the government basically shut down an IPO of one of the biggest financial firms in the world, that did more damage to them I think than some of our tariffs have done in a long time," he said. "Their economy is kind of on edge. I don't see them wanting to fight a lot," adding he feels China is going to reassess and keep going from there.
Looking at local cash prices, at one local elevator in west central Minnesota regularly followed in this column, as of Dec. 22, the January cash price for soybeans was $11.84 and basis was -62 cents. The April 2021 futures price was listed at $12.50 and basis was up 3 cents.
"We didn't think we were going to break out of the $12 range before Christmas, but obviously the run on (Dec. 18) we ran through kind of surprised us a little bit," Swenson said. "We're positioned the same way there as we are in corn, owning a lot of calls and we're out of the cash sales. We cleaned out (at) about $10.80 and said, 'Guys, this has gone wild and it can keep going, but we don't want to take the risk with the premium where it's at, basis where it's at. Let's just jump into calls and go that way.'
"So for the last month or so we've been pretty aggressive on the call side and that's not going to change," he continued. "We just kind of keep rolling up. We took some profits off of specs and we've still got some March calls on for a lot of our growers and that's where we're going to stay."
Swenson said he doesn't see a reason to change in the near term, especially with the outlook the way it is.
"As I touched on with corn, the bean production side of South America is going to be one of the main drivers," he said. "I don't think it's out of line to say they can still get 130 million tons down there because they have the weather that they can do it. They just planted the crop later like us, but their season allows it to be planted later and still be able to finish it. That's the big thing that people are paying attention to."
Another matter in South America is the fact that Argentina has tight stocks and uncooperative weather. Recent rains have been hit or miss. However, if they get some good rains in the Cordoba region and different areas around that region, they can "cement the fact that they're going to have a solid crop." It's wait and see.
But it isn't just in South America where things are dry.
"If you want to get bullish you should pull up a world topsoil drought map right now. The heart of the U.S., basically from central Nebraska going west is completely in the red," he said, adding that a lot of the growing regions in Argentina and southern spots of Brazil are dry, as well.
"Those are the main things we think are going to keep everyone a little on edge. We think estimates are going to start creeping lower for South America," he said.
"You get anywhere below 125 million tons in South America and I think you're going to see markets making new highs into crop insurance setting periods," he added. "I hope that's the scenario because it would be fun to go into this with some great prices and some fun protection going into next year."
As for marketing their soybeans, Swenson is telling producers not to be afraid to take some solid basis for next fall.
"We've got some places in the region where we've had people locking up beans in the -50 (cents) area, which we normally see at harvest. Good early harvest bids are -75 or so and sometimes in the middle of harvest you're seeing $1.10, so don't be afraid to take some of that and lock it up," he said. "You're looking at $10.20 cash this morning in some places. That's a great spot to start some of these sales. Don't be afraid to make good early sales. Get that risk off and call it good."