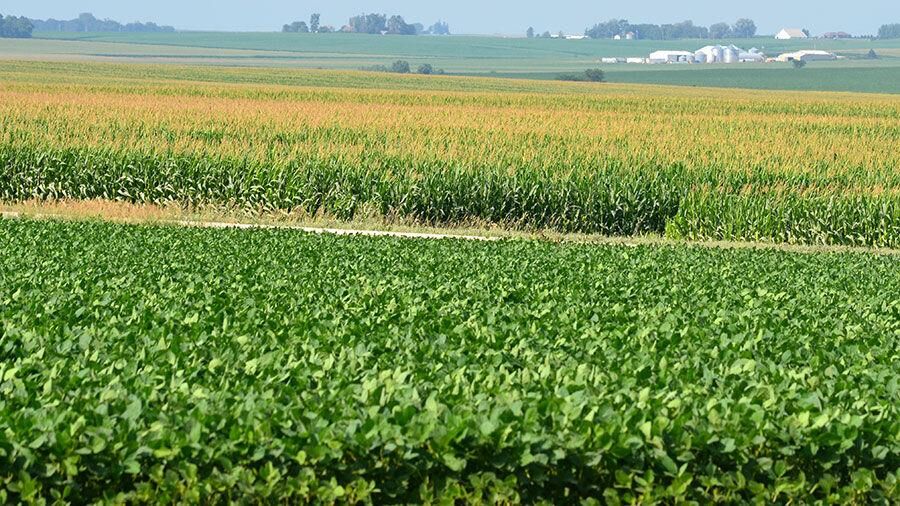 It's said that the month of August or, more specifically, the weather in August, makes or breaks the soybean crop. Well, after a slow start to the month in terms of moisture, the latter half of the month saw some rain events over many areas of the western Corn Belt that may go a long way in helping the crop in that region.
"For soybeans, August weather is very important and (those rains) have got to help," said Ed Usset, professor emeritus and grain marketing economist with the University of Minnesota.
Rains fell across a wide swath of eastern North Dakota, as well as western, central, and southern Minnesota, all to varying degrees. Rains also fell in the eastern Corn Belt, although that region hasn't been suffering through oppressive heat and drought conditions for much of the summer like the western Corn Belt. Also, Hurricane Ida pushed its way into the southern gulf area of the U.S. late in August and it's not known yet how that may or may not impact the market.
"It's a similar story in soybeans as in corn. The bears are making a play on the damages and potential delays caused by Hurricane Ida," he said. "I just don't know how big those problems are or how enduring they will be. But just like corn, those rains we got are very beneficial, particularly to the soybean market."
On the demand side, as in corn, the marketing year, which ended Aug. 31, is ending with a very tight carryout situation.
"Nevertheless, we kind of need a big demand story to emerge. We're talking the same stuff we've been talking about for months, and just like corn, I can't help but look at the change in the new crop for 2021 versus new crop for 2022," he said.
"The soybean 2021 contract hit a high of close to $14.80 and I think that might have been in late May or June," he continued. "We're currently just under $13. We're down $1.80 from the highs. You look at the November 2022 contract...that peaked out at $13.10, and it's currently trading at $12.66. It's not even down 50 cents.
"Again, if you can look far enough out, if you're thinking ahead, if you're being proactive, you have to look at those 2022 pricing opportunities. I don't know if there will be good prices a year from now, I'm not smart enough to know that," he added. "Obviously, if we get another bad crop or this goes on or that goes on, we could see higher prices. But if we don't have another bad crop, maybe we have good ones, that's been known to happen, too, and maybe all this Chinese demand that we're assuming doesn't show up quite as strong, $5 December corn and $12.60 November soybeans could look very good a year from now. So it's not a bad place to think about starting. Get a little bit sold."
The demand for soybeans, particularly from China, has been good all year. But what lies ahead – will China continue its strong buying habits from the past year or will it grow a better crop of its own or source it from other sources, is not known, nor is the amount they will need. That causes Usset to pause.
"I'm looking ahead to 2021-22, which starts (Sept. 1). We're making the assumption that exports to China will be every bit as big as they were this year," he said, but adding that isn't a given.
"It's an incredible number (that they've imported from the U.S.). Well, why are we so certain they're going to be back for more?"
He explained that analysts have laid out some credible reasons why the Chinese could import more corn – the fact that their pork industry is adapting, becoming larger and more modern and feeding less food scraps, but those are reasons for supporting more corn imports. Although soybean meal is another feed source, it's less so than corn and more expensive. Still, China could need soybeans for food and other byproducts. In other words, no one knows for certain how much soybean China will need.
Looking at prices in the region, at one local elevator in west central Minnesota regularly followed in this column, as of Aug. 31, the September cash price for soybeans was $12.73 and basis was -30 cents under. The January 2022 futures price for new crop soybeans was listed at $13.10 and basis was -17 cents under.