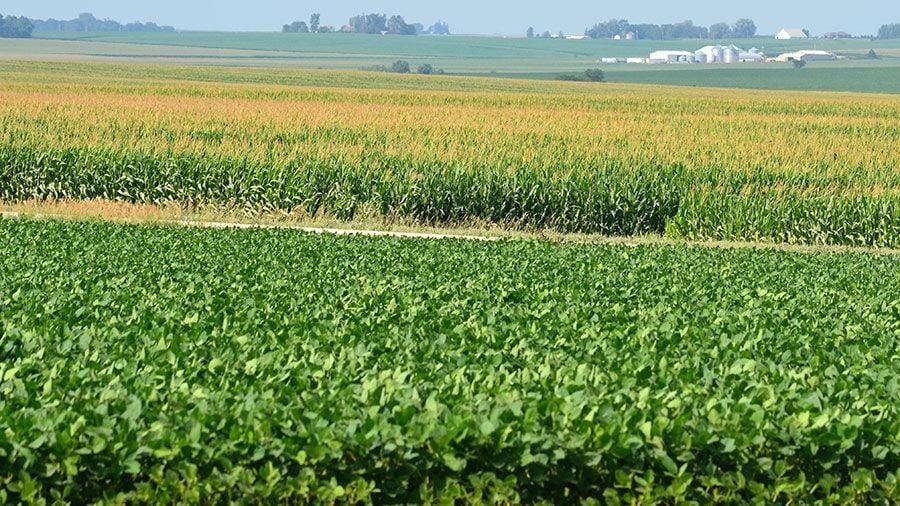 For soybeans, as it is with the corn market, there are basically two different crops being considered – one in the eastern Corn Belt, which is looking good, and the other in the western Corn Belt, which is slowly deteriorating.
"The eastern Corn Belt is very different from the western Corn Belt in terms of the soybean crop in those areas. In the eastern Corn Belt, we're looking at very high yields and some record yields in a few states. The western Corn Belt – we're having some trouble," said Frayne Olson, grain marketing economist at North Dakota State University.
"The difference is that most of the focus is on new crop soybeans, the crop that's growing in the field and producers are going to try and harvest in the next couple months."
In its latest report on Aug. 12, which was based on a survey of producers during the first week of August, USDA did reduce its national average yield for soybeans, but not by much.
"The reduction in the soybean yield was not as large as it was proportionally in the corn yield," Olson said.
In its July report, using trend line yields, which is the average yield adjusted for improved farming practices, USDA estimated the average yield at 50.8 bushels per acre. At that time, the trade was estimating yield at 50.4 bushels per acre. USDA's August estimate is 50.0 bushels per acre.
Using the latest numbers, that would put total bushels produced at 4.339 billion bushels (BB). In July, USDA estimated total soybean production at 4.4 BB, while the trade was anticipating a 4.375 BB crop. Not dramatic changes, but there was a slight reduction.
The report was the first time USDA combined information from a farmer survey, as well as satellite imagery, to try and update and get more of a condition-based yield estimate rather than just an average.
"Part of my story is don't put a lot of weight on these numbers, but it is influencing people's perceptions and that's why market prices change," he said. "It's all about what do (we) think is going to happen in the future.
"The moral of the story is we didn't get a lot of unexpected news in the soybean market. The report was considered neutral for prices on the soybean side, but positive for corn and positive for wheat," he added.
August is a critical period for crop development and to try and estimate what the final yield is going to be in August "is really tough."
"So many things can happen between now and harvest. We don't know what will happen with the weather. We just don't know how that might play out," he said. "We're going to have a lot of debate about yield until harvest and we actually get harvest yield reports."
Olson also pointed out that USDA is still making some minor adjustments to old crop soybeans that are still in bins. The reason that's important is because whatever is left over from last year can be brought forward and used this coming year.
On the demand side, U.S. export sales, as well as some crushing demand, is dropping off faster at the end of the marketing year than was expected.
"Over the summer our export sales and our crush demand have slowed faster than we expected and a lot of that is because prices have really come up," he said. "We're going to end this year with a little more soybean in reserve than we first thought and, again, that can be carried forward."
The other wild cards in soybeans are Brazil and China, although they likely won't become a focal point until after harvest because yields are overshadowing all the other things going on in the market.
"We have to remember that Brazil had a very good crop this year. When they look at all the bushels that Brazil produced, they're having a record year," he said. "There were areas and pockets that had poor yields, but there were also areas that had very good yields. When you look at aggregate and the big picture of how many bushels Brazil produced, they had another record production, mainly because they expanded planted acres."
The other wild card is what's happening with the hog industry in China, which is by far the largest buyer of whole soybeans in the world. Last year China was trying to rebuild from the African swine fever, but now that rebuilding has stabilized and their feed demand is starting to slow or flatten out.
As are crushing margins.
"Those people that are buying soybeans off the global market and crushing it and re-selling the soybean oil or soybean meal in China, their profit margins have been hurt pretty hard because the demand base is starting to slow," Olson explained.
"And soybean prices have increased in both the U.S. and Brazil. Ocean freight rates have also increased, so the cost to the Chinese buyer has gone up and gone up pretty significantly," he continued. "And, of course, higher prices reduce demand and reduce that consumption rate and we're starting to see that in China. Now it's not dropping much, but it's not growing anymore either."
Olson noted there are starting to be more whispers and questions about how many soybeans China really needs to buy from the U.S. Will U.S. soybeans be competitive with Brazilian soybeans? When will China start coming in and start buying larger volumes of U.S. soybeans?
"We tend to see this pendulum swing where during the Brazilian harvest the world buyers go to Brazil and during our U.S. harvest they start to come to the U.S. and buy a lot of U.S. soybeans," he said. "The question is, when will that shift happen and how aggressive will the buyers be, in particular China? We do sell soybeans to other countries, but they're pretty small in comparison to China."
Olson explained that just before harvest starts and into harvest is usually when the Chinese start to buy from the U.S. pretty heavily and booking deliveries for 2-4 and sometimes 6 months into the future.
"But prices tend to be lower at harvest, so they buy them at harvest and then they say deliver it in January," he said. "The market will start paying attention really closely to see how aggressively the Chinese are buying. Are they having a lot of orders? Are they big orders? Small orders? There's just a lot of uncertainty as to what that's going to look like.
"They will buy from us. It's just a matter of how much and when," he concluded.
Looking at local prices, at one local elevator in west central Minnesota regularly followed in this column, as of Aug. 16, the August cash price for old crop soybeans was $13.35 per bushel and basis was -35 cents under. The December 2021 futures price was listed at $13.73 and basis was +4 cents over.