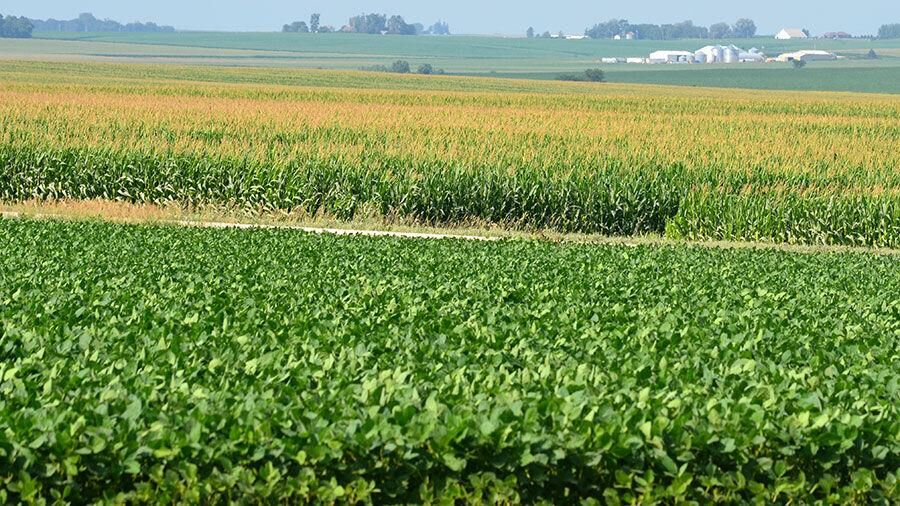 The soybean market during the summer growing season oftentimes takes its direction from the weather, and the way this summer is shaping up it looks like this could be a very volatile one.
"In my area of northwest Minnesota, several elevators have stopped bidding for old crop soybeans," said Betsy Jensen, Northland Farm Business Management and a producer/marketer from Stephen, Minn. "They're using November futures at this time. They are not using July futures. There have been crush plants in Minnesota that have shut down, as well.
"If you have old crop soybeans you need to talk to your grain buyer to find out what the plan is and what they anticipate because your local market could change significantly," she continued. "There will be a good price for soybeans somewhere, you just might have to truck it a couple hundred miles and I don't know that anyone really wants to do that.
"So for old crop soybeans, definitely look at your market, talk to your grain buyer and find out if they're going to continue to bid off of the July futures or if they're going to be switching to November because that's a huge difference," she added.
On June 7, USDA released its first soybean condition report, which indicated that this year's crop is already 5 percentage points under last year's rating at this point in time. This year's crop is rated 67 percent in good-to-excellent condition.
"It's not a bad crop, but last year we were at 72 percent good-to-excellent and once again we need every bushel of beans we can find, so it is a little bit of a concern," she said.
One of the big concerns is North Dakota, which is a big soybean grower. According to the crop condition rating report, only 25 percent of North Dakota's soybean crop is rated in good-to-excellent condition.
"So that makes everyone a little bit nervous. It's very dry in North Dakota and so there is concern about soybean conditions," she said. "It's summer, we're going to be volatile, and I know I say this every year, but this year it's going to be exceptionally volatile just because of how tight old crop stocks are.
"We really do need every bushel of beans. When the first condition report is 5 percent worse than a year ago, it makes everyone edgy," she added.
On the demand side, Jensen noted that demand for soybeans is still going well. While China has been the major buyer over the past several months, the biggest buyer the first week in June was Mexico. Meanwhile, China has backed off a little bit, according to Jensen, adding that they should be moving into South America as well to buy their beans.
"We don't know if that will actually happen though," she said.
Also, Argentina is continuing their port strikes and has had problems getting their beans shipped.
"That's probably not a long-term problem, but they are striking because of those low vaccination rates, so that does have a little bit of an impact," she said.
But overall, soybean exports are still going well. There's still a quarter of the marketing year left to go, but the U.S. is on track to meet USDA's target.
"But it doesn't look like we're going to exceed it. We do think export sales are going to start slowing down, especially because of the high prices, as well," she said.
Although in the coming weeks it's going to be the weather that's driving the markets, Jensen pointed out that farmers should also be paying attention to old and new crop beans, as well as futures.
"If you do have old crop soybeans … you're going to have to work a little harder to find a home for those," she said. "Maybe your best bet is to sell them and buy a call option if you still want to stay in the markets. But the old crop is what concerns me. I know a whole lot of farmers have old crop beans left and that's going to be hard to find. In some areas it's going to be hard to find a home for those old crop soybeans."
Besides keeping a close watch on this year, Jensen said it's also important for producers to look ahead to next year, as well.
"I want to remind guys that beans are in the teens for 2022. We have $13 soybean futures for November of 2022. That's an amazing opportunity in my mind," she said. "So take a look and plan ahead a little, as well. If your worst sale is $13 – that's something we can't say 90 percent of the time.
"Beans in the teens. We joke about it, and there it is for 2022," she added.
Another plus for beans is that they don't take a lot of fertilizer and aren't subject to big fertilizer price swings like corn is, or as much.
"I think soybeans for 2022 is definitely worth looking at and I hope farmers will peak ahead and look at that," she said.
At one local elevator in west central Minnesota regularly followed in this column, as of June 8, June cash soybean prices were $15.04 and basis was -25 cents under. October 2021 soybean futures were $14.47 and basis was +7 cents over.
In the near-term, she advises farmers to keep watching the crop condition reports, which come out on Monday afternoons. Those reports are going to have "big information" that farmers need to pay attention to, as well as the June 30 stocks and acreage report.
"Pencil that day in on your schedules. There will probably be a large market move as that's when USDA comes out with the final planted acreage number and also the grain stocks," she said. "We'll get an idea whether or not export sales are on track or not, so that will be another big mover on June 30."