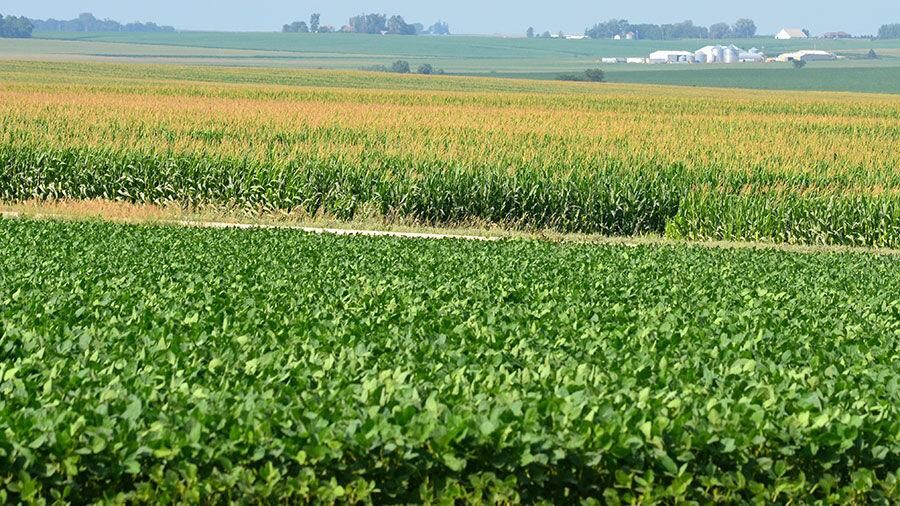 The soybean market has turned the page on 2021 and is now focusing its attention on South America as 2022 begins.
The U.S. soybean crop was harvested last fall and put into bins or onto rail cars and ships for sale. This time of year, with much of the U.S soybean crop sold and soybean harvest underway in South America, the market is turning its attention to the Southern Hemisphere.
"We're watching South America. Brazil is a huge country, (and) they're starting harvest and the market will talk about that harvest for the next two months," said Ed Usset, professor emeritus and grain marketing economist with the University of Minnesota."
South America, mainly Brazil but also Argentina, is expecting a large, perhaps record crop this year due in part to increased planted acreage.
"(The South American soybean) harvest has started, and the prices, I'm hearing, are cheaper than U.S. prices on the world market," he said. "We'll see how that South American crop comes in."
Besides harvest, the market will also be keeping a close watch on weather patterns in Brazil and Argentina and how that may impact the crops.
"We're keeping all eyes on South American weather and prospects," he said.
Right now, South America is looking at a large crop and Brazil's prices are less than in the U.S., which may temper the U.S. soybean market. But this situation is not atypical as the world market usually turns toward South America once the new year and harvest begins there.
"If there's a somewhat bearish case to be made out there right now, it's with soybeans. It's less than bullish, let's put it that way," Usset said.
Looking at local prices, Usset noted that in southwestern Minnesota soybean prices were $13-plus for January delivery.
"Over $13. That's good stuff," he said. "In August of 2020, local prices were in the $8 range, so this has been a very good year for soybean producers."
At one local elevator in west central Minnesota regularly followed in this column, as of Jan. 5, the January cash price for soybeans was $13.62 and basis was -35 cents under. The June 2022 futures price for new crop soybeans was listed at $14.09 and basis was +7 cents over.
Although the region is in the midst of winter, producers are already beginning to look ahead to spring and planning their rotations. In many cases, good soybean prices at this time of year would be an enticement for producers to increase acreage in spring, but that's not necessarily the case this year as many other grains are also seeing good prices. Because of that, Usset doesn't have a strong opinion on whether these good prices will have a big impact on planted acreage this spring.
"I don't see a big enough difference in corn and soybean prices that producers are going to make a big shift between corn and soybeans. That's my own sense," he said. "Both markets are good. Both markets are profitable, and if they're both doing well you're going to stick to your rotation.
"The question I have is around wheat," he continued. "Wheat prices are great and no one has any, and I wonder if in the Dakotas there might be a swing. There's been a big, strong move for three decades for more corn and bean acres and less wheat acres in the Dakotas, and I just wonder if spring wheat won't steal a few acres back. It probably will.
"People are going to look at corn and soybean values – and wheat – and make a judgment. I don't see a big enough difference between corn and soybeans to knock people off their rotations to make them change," he concluded.