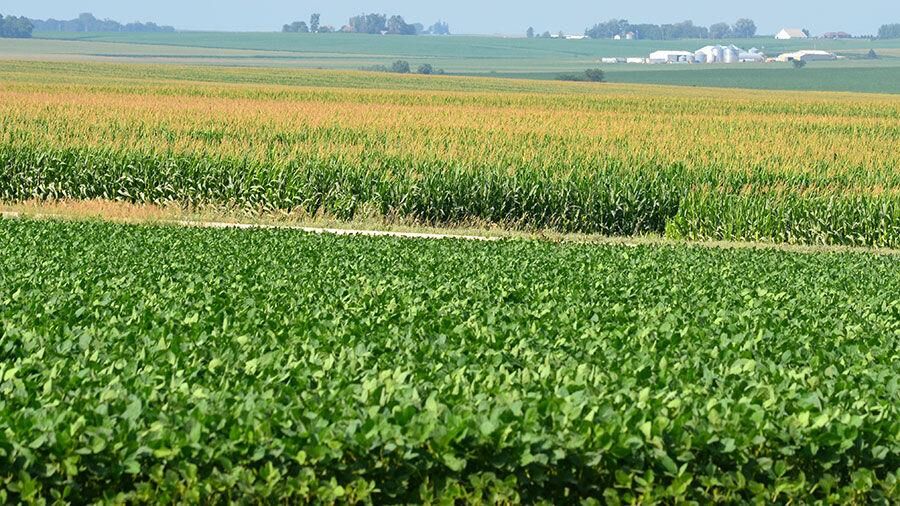 The soybean market has been kind of volatile lately, but prices for old crop beans have still been averaging slightly over $13 per bushel, and there's the potential to go higher if a number of crops get aggressive in bidding for acres this spring. If that happens and by how much remains to be seen, however.
At this time there are a few reasons why the market has been volatile and soybean prices have remained high. One is that demand has remained strong and steady. However, when USDA came out with its supply and demand report in February the market was perhaps a little perplexed, according to Randy Martinson, president of Martinson Ag Risk Management, Fargo, N.D.
Martinson noted that when USDA released its latest crop production estimates in February they came in about as expected by the trade, although there was some disappointment with some of the numbers.
"(The market was) a little disappointed that we didn't see crush increased as we've seen record crush estimates for the last four months," he said. "Everybody was expecting to see USDA increase the crush estimate and we were expecting to see exports increased more than what they were," which was about 20 million bushels (MB) for soybeans and 30 MB for corn. "So not much."
Even with that increase with export sales numbers in the Feb. 11 report, Martinson pointed out that USDA is already back to 97 percent of what the U.S. was expecting to sell for soybeans.
"So with 97 percent of what we expected to sell already done and shipments sitting at well over 75, almost 80 percent, what we've sold we've shipped for the most part, so there's not a lot of leeway as far as the soybean market is concerned," he said.
The U.S. has continued to ship about a million metric ton a week and shipments have been holding up, so sales and shipments for soybeans are "very, very strong," he continued.
"So that tells us that not only has the demand been there, but we've also been shipping it," he said. "We've been able to continue to see sales clip ahead at about 20 million a week, which we only need to sell two million a week to make USDA's pace, so USDA has to increase exports further.
"The problem is that we're at 120 million bushels ending stocks estimate and USDA doesn't want to show their true hand at where stocks are sitting at this early," he said. "They don't want to get it below 100 million this early because it would cause a big panic as far as soybeans are concerned."
Martinson said demand would slow down for a short time as China was going to be absent from the market due the Chinese New Year holiday period.
"That is going to cause a little bit of a slowdown for soybean exports for the time they're going to be on holiday," he said.
Looking at South America, in particular Brazil, at some point soon they are expected to get harvest going in full swing. Once that starts getting into full gear that will likely take some of the export demand away from the U.S.
"The trouble is, the last forecast that came out in mid-February was showing more rains coming into Brazil which will further delay harvest, which will further delay planting of the Safrina corn crop," he said. "So there is some friendly news out there to keep watching as far as beans are concerned."
Looking at prices, Martinson feels soybeans are going to hold most of this current premium.
"I wouldn't be surprised to see both corn and soybeans come down and test their recent support lines which, for soybeans, is about $13," he said. "But at that point I think then we'd start to see a bunch of new buyers come in and push the market."
At one local elevator in west central Minnesota regularly followed in this column, as of Feb. 16, the February cash price for soybeans was $13.18 and basis was -60 cents under. The September 2021 futures price was listed at $11.80 and basis was +7 cents over.
With spring just a few weeks away on the calendar, producers are already planning for spring planting. Martinson feels that soybeans will need to add seven to eight million acres just to get their supply and demand numbers to work.
"Right now, it looks like they probably got the seven million (acres), but they need to get a little bit more," he said. "Cotton and corn are trying to bid against them to get acres, as well. I think by the time we get into this spring we're going to see a lot more aggressive bidding for acres from those three markets."
As far as prices, Martinson thinks that with demand where it's at and how much the U.S. needs to ration that prices could go even higher.
"We should be looking at the ability for soybean prices to get maybe to the $15 range for old crop. We should be able to get up into the $13 range for new crop if USDA comes in and cuts demand like they should, because right now we really should be seeing a 50-75 million bushel more ending stocks estimate," he said. "Now that does mean we're going to import more beans into the U.S., but it should mean that we need to get our price up high enough to ration the supply. And if there continues to be trouble in Brazil, then we really could be looking at a much bigger potential than that."
At this time most of the estimates for Brazil's soybean production are coming in at that 133-133.5 million metric ton (MMT) level and those numbers have already been factored into the market.
"We've got the 133 MMT worked into the market. If it falls below 133 MMT or comes in at that, that also will add a little bit of support into the U.S. market," he said.
At this time Martinson recommends that if producers need to move product, this goes for corn too, just to get cash flow to clean up notes or whatever, look at moving a little bit. He also noted that basis levels have widened out a little for beans because the U.S. export market has slowed down a little.
"But if you need to move the product, move it but re-own with call options for in July," he said. "You can do bull call spreads and so I'd want ownership at least going through the spring where it looks like we're going to have an acres race, and if you can't do it by physical ownership then do it on paper."