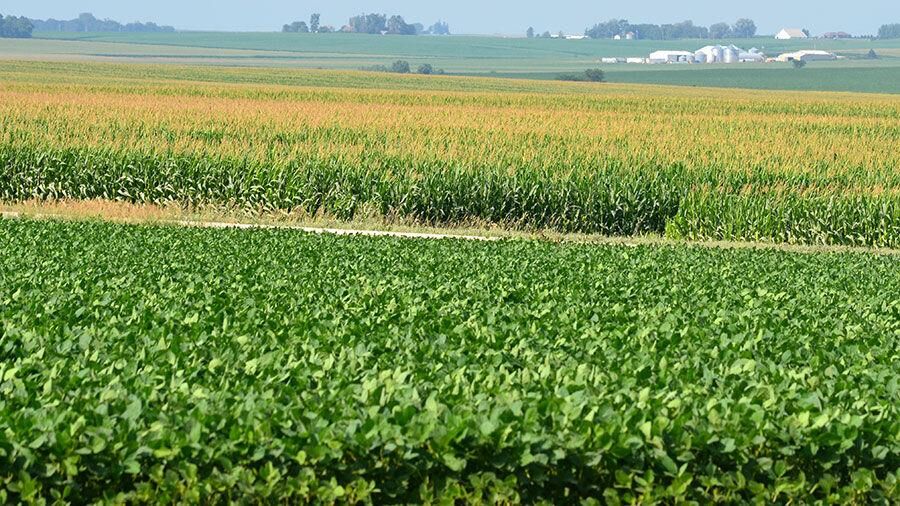 One usually doesn't consider a "weather market" once the crop has been harvested and there's snow on the ground, but that's the case this year as 2021 comes to an end. The difference is that the weather being watched is in South America, not North America.
"We're in a weather market for soybeans. I know farmers up here don't see that, but we are watching the South American weather very closely," said Betsy Jensen, Northland Farm Business Management and a producer/marketer from Stephen, Minn. "It was very dry to start the growing season (in South America), now they're getting some rain, and now the forecast is dry again. So most of these large movements that you're seeing in soybeans are because of South American weather.
"We do not have a (supply) cushion (in the U.S.) to have a bad South American crop," she continued. "We have tight stocks of soybeans the way it is and so we really need South America to produce a crop, and so we're really watching that South American crop to see what the forecast looks like."
As the end of the year approaches and a new one begins, Jensen noted that many producers are already looking at marketing strategies and plans for planting in 2022.
"Traditionally, at the end of the year there's not a lot of volume on the markets, so it is a time to sit down and figure out your marketing plan for 2022," she said. "I know it's hard to make a plan when you don't know all of your input costs, but this is really an exciting time.
"If I would have told you a year ago that your first sale for 2022 was going to be $12 something you probably would have laughed at me, but that's where we're sitting right now," she continued. "So I really do encourage farmers to take some time and figure out their marketing plan for 2022.
"When it comes to old crop, we're really looking at South American weather for decisions about when to make sales, but when it comes to 2022, you're looking at over $12.50 futures, so it's time to start with a plan and start acting on that plan," she added.
Local cash prices are maintaining their strength, and although the basis has weakened a little bit for soybeans, it's still relatively strong. Jensen noted that old crop cash beans on Dec. 21, when she gave this report, were $12.75.
"New crop you could probably get over $12 eventually because your elevator probably doesn't have a very good basis offer for new crop soybeans right now. But if you sell the futures, maybe at some point we can lock in a better basis down the road," she said. "It's hard to pass up $12 cash beans."
At one local elevator in west central Minnesota regularly followed in this column, as of Dec. 21, cash soybean prices for January delivery were posted at $12.84 and basis was -27 cents under. February 2022 soybean futures prices were listed at $13.23 and basis was -35 cents under.
On the demand side, U.S. soybean export sales are projected to run below last year's level and that's where they are at this time – behind. The U.S. isn't exporting beans like it was a year ago, but USDA has already announced that and it has been factored into the market.
"That is something that was expected. We do not have the robust export sales that we had a year ago," she said. "That's largely because you have over $12.75 cash beans. People just aren't buying them. The high prices do curb demand and we are seeing that this year. It really does work in the markets."
And although this is typically a slow time of year for sales, for now the U.S. is still the one country with the only reliable supply of soybeans. That will change soon enough when foreign customers will probably move to South America to source beans in the next two months when that crop is available.
The next big thing, for both the corn and soybean markets, is the next USDA report that will come out on Jan. 12.
"That is a huge day that every year causes major moves in the market in January. This is one of the biggest reports that we have," Jensen said. "My concern is if farmers have a price that they like on Jan. 12, it might not be there. And so if you have a marketing plan you want to put into action and you think prices are respectable, Jan. 12 might be a deadline for you."
Looking ahead to the 2022 planting season, Jensen said corn and beans will again be battling for acres, and despite the high prices for beans, they might have to go even higher to garner more interest as current economics tend to favor corn.
"It's surprising, but when we run our numbers in farm management, corn is still winning the battle for acres," she said. "I know fertilizer prices could potentially come in and have a bigger impact on this, but corn still seems to be the more profitable crop.
"There is a traditional corn-to-soybean ratio, (although) that might change a little as fertilizer prices change, but right now it's still favoring corn. So soybeans need to do some catch-up if they want to grab some acres for 2022," she continued. "I know that seems strange, but if farmers run the numbers they might find that on their own farm, as well that it does better with corn than it does for soybeans.
"We have $5.50 new crop corn futures. That's pretty favorable. So soybean prices would have to go even higher relative to corn to attract more interest," she concluded.