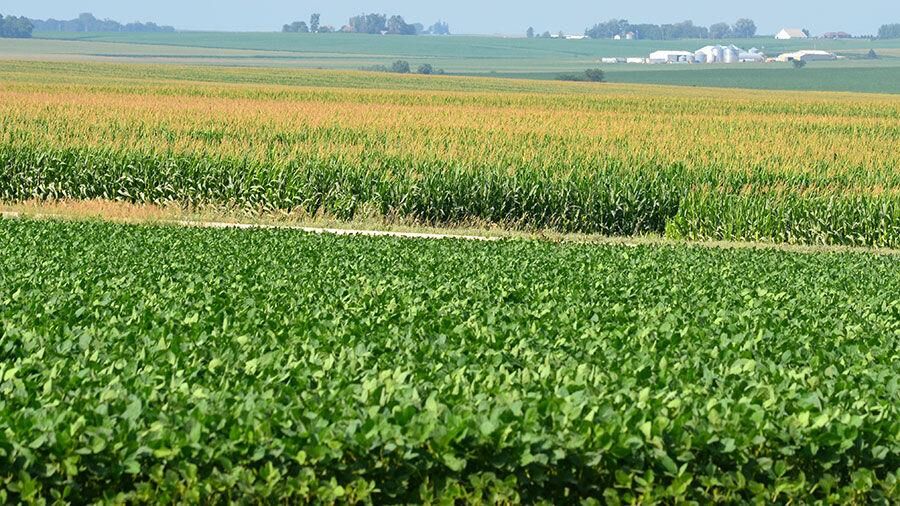 The soybean market responded in a positive way following USDA's updated WASDE report (World Agricultural Supply and Demand Estimate) on Nov. 9.
Prior to the report, the soybean market was "on its tail," and everything indicated soybeans were on a downward trend or at least looking that way on a chart, according to Ed Usset, professor emeritus and grain marketing economist with the University of Minnesota. But shortly after the report came out, soybean prices went up.
At mid-session in the market following the report, January soybean futures were 35 cents higher at $12.24, March soybean futures were 34 cents higher at $12.35, and May soybean futures were 35 cents higher at $12.47.
The report provided a little boost for producers. Prior to the report, the market had been on a bit of a downtrend and was "defensive."
"Look at a chart of January soybeans, it's on a downtrend and has been since it peaked out almost $3 higher in early June," Usset said prior to the report. "It was up around $14.80 and now, today (Nov. 9), we're under $12 in the January contract at around $11.90. You've got to go way back to the end of March to find numbers like that."
Hours later the report came out. Looking at prices in the region, at one local elevator in west central Minnesota regularly followed in this column, shortly after the report, the November cash price for soybeans was $11.87 and basis was -25 cents under. The April 2022 futures price for new crop soybeans was listed at $12.35 and basis was +23 cents over.
Looking at areas in southwestern Minnesota, Usset said nearby basis levels were "good" at -23 cents under in November. He also noted the 2022 November contract was trading around $12.
"You've got a new crop opportunity for next year around $11.35-$11.40," he said. "I guess that all doesn't sound very impressive if you think of where spot prices have been in the last six months. However, that $11.40 new crop bid for next year, that would be the best that anyone has looked at during this time of year since 2014.
"Those are pretty good numbers," he continued. "The only thing that makes it seem so darn unimpressive is the fact that cash beans got to $14 or something like that at its peak last summer. So you start to look at $11.40 as chump change compared to that."
According to the USDA report, soybean production was down 1 percent from the previous report in October. Soybean production is now forecast at 4.42 billion bushels, down 1 percent from the previous forecast, but up 5 percent from last year. Based on conditions as of Nov. 1, yields are expected to average 51.2 bushels per acre, down 0.3 bushel from the previous forecast but up 0.2 bushel from 2020. Soybean area harvested in the U.S. is forecast at 86.4 million acres, unchanged from the October report but up 5 percent from last year.
Prior to the Nov. 9 report, soybeans looked to be in a downward trend and corn had slipped into a sideways trading pattern and didn't have much direction. Wheat, on the other hand, Usset noted, seems to be on an uptrend, even though it lost about 70 cents in early November on the nearby contract.
"New crop bids that wheat producers would look at today are the best they've seen at this time of year since 2013. And now, following the report, things are looking slightly better," he said. "There's a common theme here, that new crop opportunities for next year look awfully good."