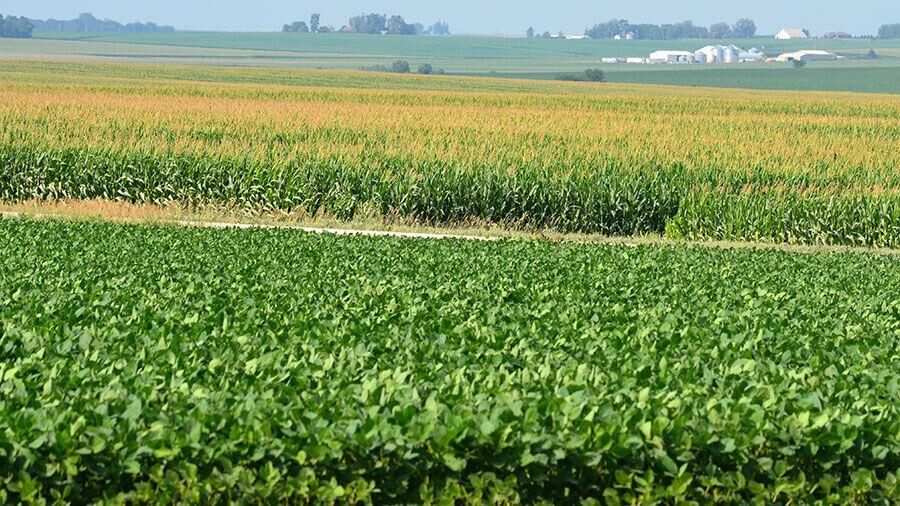 The soybean market rang in the New Year with prices that were over $4 higher than they were a year ago at the beginning of the year. That's a pretty good way to turn the page on 2020 and get 2021 off to a much better start.
At one local elevator in west central Minnesota regularly followed in this column, as of Jan. 5, the January cash price for soybeans was $12.91 and basis was -70 cents under. The May 2021 future price was listed at $13.59 and basis was a positive 48 cents.
"I don't know that anyone knows what's going on with soybeans right now. We have a few crazy things going on," said Betsy Jensen, Northland Farm Business Management and a producer/marketer from Stephen, Minn., in trying to explain the rally.
"Probably the biggest concern is South America's production," she continued. "Starting in late summer we knew that U.S. stocks were going to start tightening up, but that was okay because South America was going to produce this huge crop. Well, now their crop is being called into question. And so (the market) is watching South American weather like a hawk, trying to figure out how bad the drought is going to be, if it's going to rain. They're watching every rain cloud, every drought map. We're really trying to figure out what South America is going to produce for soybeans this year.
"They keep reducing the size of the crop. It's not a disaster yet. There is still time for rains to come and make it an average crop, but the clock is ticking on that," she said.
Jensen pointed out that corn isn't in quite the same position as soybeans. She explained that in the U.S., when it comes to late summer for corn and soybean production, producers could have a corn crop that's mostly made. Pollination is done and things are fine, but the soybean crop still has a long way to go for setting pods and it needs moisture. That's kind of the situation that South America is in right now.
The South American weather issues, plus a couple other factors are helping to rally the market.
"Take the South American problems and then you add the weakening U.S. dollar, which makes our soybeans even cheaper, and then, one of the weirdest things that has happened, USDA came back and said, 'Oops, we were wrong on export sales last week and they actually had to increase export sales by 20 million bushels," she said.
"We don't have 20 million extra bushels laying around in soybeans. And so it's kind of been the perfect storm for the soybean market – export sales running significantly ahead of schedule, unexpected export sales and then South American weather problems," she said.
Besides the weather, Argentina is having problems with their ports. A recent strike by port and grain workers has caused some problems for soybean exports and could be one factor in the strong U.S. export pace.
"Brazil and Argentina tend to have labor strikes, so I don't know that it's anything unexpected, things like that typically happen, but that could be one of the reasons why our export sales have been so strong, as well," she said. "It's very difficult right now to ship out of Argentina because their port workers are currently on strike."
Most U.S. soybean exports, she noted, are still destined for China, which has also been buying a lot of pork from the U.S., as well.
"So we either have to feed the pigs here, or we ship the soybeans there where they get fed, but China's appetite right now is back and it's very strong, so most of our beans just keep heading west," she said.
Getting back to local soybean prices, Jensen noted that basis has weakened, but it shouldn't be a surprise given how far the market has come.
"You're looking at cash prices at $12.50-$12.75 depending on the day. We don't have cash prices in the teens that I've seen, but those could be not too far away given how fast the market has been moving," she said. "It's crazy."
Looking ahead to 2021 harvest, Jensen pointed out that producers are looking at harvest prices around $10.75, meaning the market is inverted, and that old crop beans are selling higher than new crop beans.
"You could sell soybeans off the combine for $10.75 cash and so that's very unexpected," she said. "It's hard to sell $10.75 cash when we have local prices at $12.75, but it certainly does make a pretty strong case to plant soybeans this spring and maybe get a few of those contracted, as well."
She noted that a lot of farmers are asking if the inverse is here to stay, and the answer is yes, unless we get problems with the 2021 crop, she says.
"I really don't see this inverse narrowing from now until the spring," she said.
"I would absolutely never recommend to a farmer to try to trade the spread, that is a dangerous, dangerous trade to make, but it is logical right now with old crop beans higher than 2021 beans. Those are the fundamentals of the market," she added.
Given the current state of affairs in the soybean market, Jensen said this provides producers with opportunities.
"Generally you get out of the way of a moving train, and the soybean market right now is a moving train," she said. "The difficult thing is, can you sell on the way down? When you have big rallies like this they tend to spike higher, and I don't know where it's going to spike, but it will spike higher, and you probably need to sell (perhaps) after the market has lost 75 cents."
Farmers need to set up a marketing plan.
"If soybeans go 75 cents off the highs, (if) they go a dollar off the highs, that's where I'm going to sell because that's probably how quickly this market will move," she said. "If you don't think you can do that, then you have to keep your targets, set your targets at $13 cash, $13.75 cash, wherever you want to price those targets. But if you think you can sell on the way down, it's a good opportunity."
One thing about strong prices is that they typically entice producers to plant more of that crop in the spring, but Jensen said it's too early to have thoughts about spring planting just yet.
"We still have a long way to go for us to decide acres," she said, adding that USDA won't come out with its first estimate until the end of March. "But we need corn and we need soybean acres. We don't necessarily need wheat acres, but we do need corn and soybean acres, so they're going to be battling it out this spring."