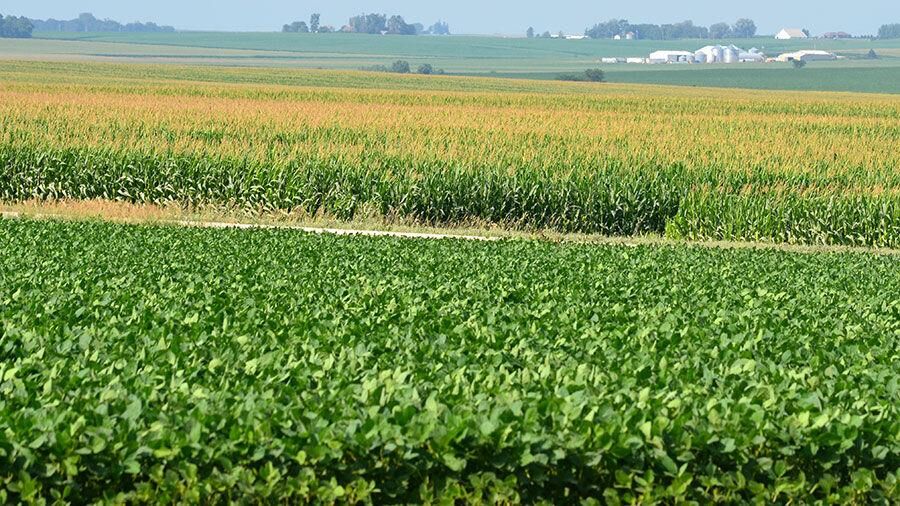 Historically speaking, soybean prices are still very good, however they have come down off of their highs in January. On Feb. 2, local prices started the day 20 cents down and were at $12.75 per bushel.
"I think of the two (markets) – corn and soybeans – the soybean story has been less illustrious in recent days," said Ed Usset, professor emeritus and grain marketing economist with the University of Minnesota.
One of the reasons the soybean market has adjusted is because there has been some rain in South America, in particular Brazil, and they've had some favorable conditions for growing beans, according to Usset.
"Brazil is such a big country. The length of the harvest is very long based on the north/south nature of the whole country," he said. "(Harvest is) getting going there. The market has backed off some. It's not a bear market, but it has backed off some."
Usset was looking at March futures that were listed at $13.45 when he gave this report on Feb. 2. That's off 90 cents from their highs of just a couple weeks ago.
"But it's hard to call that a bear market," he added.
Usset said he's done some analysis of markets when they are inverted, meaning the spread between old and new crop futures prices.
For example, the inverse spread between July old crop soybeans and November new crop soybeans has been running $1.80 to $2 plus per bushel.
"That's a big inverse. That is the old crop July, today as we speak it's about $13.25, and new crop November is about $11.43. That's $1.80 less. That's a big inverse," he said.
Usset noted that inverses are very interesting for a couple reasons. Having looked inverse markets over the last 40 years, he said the current spread is the biggest inverse he's ever seen as of early February.
But what does that mean and what's the significance? He explained it this way: Big inverses go hand in hand with high prices, and high prices over time can dampen demand or at least slow the growth. And it can also encourage more soybean plantings, and more acres and more supply.
"I looked at 14 years during the past 40 years since 1980 when there was a sizable inverse from July to November, and of those 14 years, 12 of them were trading lower at harvest than they were in early February," he said. "I'm not talking about the nearby price, I'm talking about the new crop price. I'm focused on this November at $11.45 today. I'm telling you that in those 14 years where we've had that condition, that $11.45 went lower."
The only two exceptions were in 2003 when there was a drought with late-season dry weather that really hurt the soybean crop and prices went higher. The other exception was in 1996, which was the year of just really good demand for soybeans and a tight carryout, he explained.
"Other than that, 12 other years went lower," he said. "I'm looking at that and thinking about producers and what they should be thinking about.
"I get you all excited and thinking maybe I should look at new crop sales right now in early February, and I want to say 'hold on,' because I've also looked at those 14 years and the timing of the high is very mixed, and in fact, a few times came early like in January or February, but more often than not it came later (in) May/June/July," he said. "So on the one hand I'm thinking 'boy, it looks like prices could be lower by harvest,' but on the other hand I'm thinking 'hold on a second before you make that sale.'
"Just be patient and look for your best opportunity in the next few months. Spread it out. Make a number of sales over time and shoot for a good average," he added.
Looking at prices in the region, at one local elevator in west central Minnesota regularly followed in this column, as of Feb. 2, the February cash price for soybeans was $12.75 and basis was -70 cents under. The May 2021 futures price for old crop corn was listed at $13.43 and basis was -20 cents under, while the December 2021 futures price for new crop was listed at $11.36 and basis was -11 cents under.
Other than favorable weather in South America, there are other factors impacting the market including drought conditions across much of the U.S., although a good amount of moisture in the form of snow in the last week or so has alleviated some of those concerns.
One other thing that Usset said he has his eye on, which isn't getting much press, is the African swine flu in China.
"It has disappeared off the map as a topic and yet I'm reading and hearing little snippets of maybe a new variant of that disease coming back which would be bearish, of course, because dead pigs don't eat as much as live ones," he said. "But I'm not hearing a lot about that. I'm not getting a sense about how serious that is."
Meanwhile, export demand for U.S. soybeans has been "very good," and there are a lot of sales on the books.