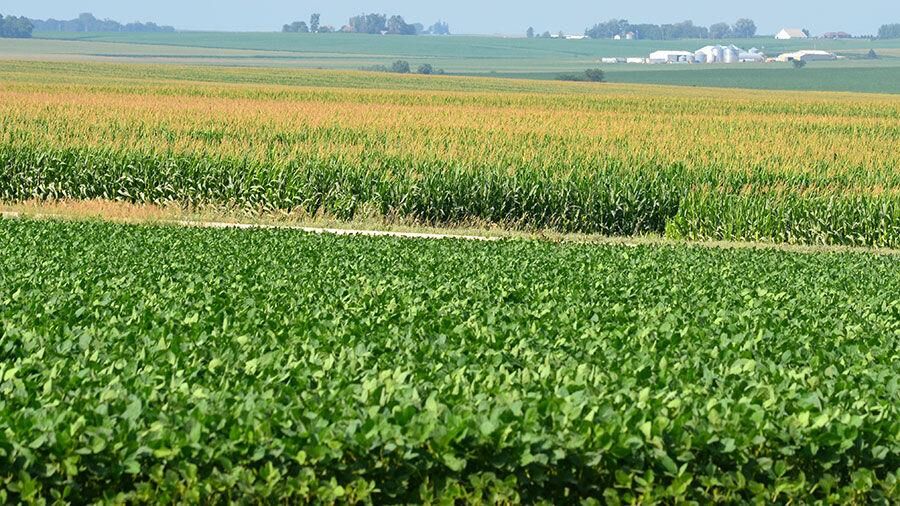 Although soybean prices have slipped a little from the highs earlier in May, relatively speaking, prices are still very good.
"Soybean prices have softened a bit for both old and new crop. But they haven't come down like they did for corn," said Frayne Olson, grain marketing economist at North Dakota State University.
Looking at local prices, at one local elevator in west central Minnesota regularly followed in this column, as of May 25, the June cash price for soybeans was $14.75 per bushel and basis was -55 cents under. The October 2021 futures price was listed at $13.66 and basis was +4 cents over.
The reason for the price softening is attributable to a couple factors, number one being the U.S. is very short on soybean supplies for old crop and even new crop.
"Based on everyone's forecast for the future, we're going to be tight on soybeans, unless we have a massive yield," he said. "If we get a little more seeding than we expect and we have really big yields, well, then things could change.
"However, given everything we've seen, the main part of the Corn Belt is in good shape weather-wise and planting progress has been a bit ahead of average. When you get seed in the ground early and you've got good moisture, the odds for above average yields are there," he added.
There's an area of southern Minnesota and northern Iowa that's been very dry and the market is watching very closely to see if that area of dryness will continue to grow or if it gets rains and starts to get better.
Olson pointed out there are two reasons soybean prices didn't drop as drastically as they did in corn. One is that the supply and demand situation for beans is much tighter than it is in corn.
"We don't have that margin for error, so everybody is still really nervous about soybeans. And we didn't get that big speculative investment (as we saw in the corn market)," he said.
"I think most people have realized that the soybean market has probably rallied to a point where we're going to stabilize for a little bit," he continued. "It's still going to be very volatile, we're still going to get big ups and downs throughout the summer, but at least short-term it looks like we've kind of stabilized. We've reached a point where people feel the price is in the right range given what we think will happen."
Olson explained that the outside investment community, the people who are managing portfolios of money, have been watching and have participated in this big soybean rally, but the soybean rally had been going on for much longer, and so the surprise, or "quick money," was more in the corn crop.
"So the rising prices we saw in corn were much stronger than the price rise we had in soybeans.
There was a lot more interest on the corn side and, of course, when prices turned the corn crashed faster," he said.
On the demand side, at this time there's not much talk about with U.S. soybean exports. That's because South America is typically the leading exporter as their crop gets harvested and this year the Brazilian soybean crop was very good. Although there were problems in their big producing region in the northern part of Brazil where they had drier weather and below average yields, the central and southern part of Brazil had really good production and they more than offset whatever was below average in the north.
"Brazil had a very good soybean crop. Right now, seasonally, this is normal that China buys all its soybeans from Brazil and Argentina, so you're not hearing any big news about export sales (from the U.S.), which is typical," he said.
In Argentina, both the corn and soybean crops were below average and the country continues to deal with other problems, as well. For example, the Parana River is used for shipping and usually runs very deep, but it has been dry and the river is shallower, making it difficult for getting ocean vessels loaded like they typically do.
There have also been some port strikes with dock workers and others that work with their shipping industry because they're concerned about COVID vaccinations and staying healthy.
"Fortunately that has been resolved now, but there have been some hiccups," Olson said. "There have been some problems in Argentina's ability to be able to ship and fulfill their commitments."
Argentina intends to release some water from some of their dams to try and increase the water flow and make it easier for customers. "But how much of that can they do? I think that will be temporary, but we are watching that river level pretty closely," he said.
Looking ahead, Olson pointed to two key dates, June 10 and June 30, when USDA releases two important reports – the June WASDE report (World Agricultural Supply and Demand Estimates) on June 10, and the planted acreage report on June 30.
"People are already talking about the acreage report because they're trying to guess what changes we will see," he said. "Several private forecasting companies have said that they see a pretty significant increase in corn plantings, but also an increase in soybean plantings from what they saw in the USDA report in March. All this information influences peoples' perceptions.
"So these new pieces of information, as they come into the market, are influencing what people think is going to happen. Or, their view of the future is being adjusted because of this new information and that's why you see the changes (in price) and the volatility," he added.
Locally, another piece of information that got the interest of producers was an announcement by ADM that they intend to put a crushing plant in Spiritwood, N.D. And while positive, Olson issued a word of caution that until they actually commit to it and start construction, there are still some people that are going to hold off before they celebrate too much.
"Announcements are one thing, but moving dirt and pouring concrete, that's when they've fully committed. It's still very positive news," he said.