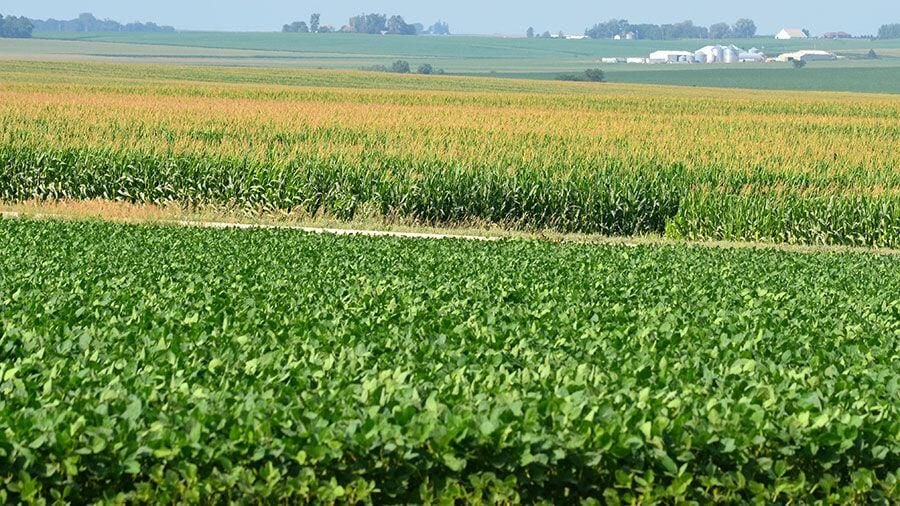 Soybeans, once again has an inverse in the market with old crop soybeans being worth more than new crop.
"Old crop soybeans are still being influenced right now by South America," said Betsy Jensen, Northland Farm Business Management and a producer/marketer from Stephen, Minn. "South America did have a crop problem. They do not have the crop we anticipated, but it's not looking as gloom and doom as we thought it would. Their harvest pace is back on track (and) it looks like South America is kind of a known variable at this time.
"The market rallies when things are unknown and it appears that right now we know what the size of the South American crop is going to be," she continued. "So we pulled out one variable of the markets and now this soybean market is looking ahead to see what exactly we are going to get done for 2021 in terms of acres."
Jensen explained that at this time soybean prices are definitely attractive and that will definitely play a part in taking some of the marginal acres in spring wheat country – Minnesota, North Dakota, South Dakota – and planting soybeans instead.
"They definitely can switch those (acres) to soybeans very easily," she said. "But when it comes to the Corn Belt, corn still looks like an attractive commodity next year for over $4. I'll be interested to see how many acres soybeans take."
Jensen said producers should keep in mind that the March 31 report is where the bar gets set and it's the market's job to make the adjustments from there.
"This (report) isn't the final chapter of the story, but this is the opening page of the 2021 book and it's the market's job to change the direction of where the book is headed," she said. "So if we need more soybean acres the market is going to have to do its job over the next couple weeks (and raise prices). And if we have too many soybean acres the market is going to have to do its job and drive prices lower."
Prior to the release of the planting intentions report, the average trade estimate for 2021 soybean acres was at 89.996 million acres. The Ag Outlook Forum projected 90 million back in January, so 90 million is not out of the question.
"There is a pretty big range right now. The traders think anywhere from 86 to 91.5 million acres, so there is a lot of uncertainty about the reports," she said. "But like I said, this is step one and the market is going to have to do its job to either buy acres or get rid of acres after the report comes out."
On the demand side, although South American soybeans are coming on the market as they typically do at this time of year, the U.S. is still doing "okay" in terms of exports. The last two weeks of March were less than a year ago as far as a weekly basis is concerned, but overall the U.S. is selling quite a bit of beans, Jensen noted.
"We're almost to 2 billion bushels already and USDA is calling for 2.25 billion, so we only have 250 million bushels left to sell over the next couple of months, so we're pretty close to being on track for soybean export sales," she said.
"Once again, South America has a huge impact on that, but we're almost there and our grain stocks report will certainly help indicate if we are using more for crushing or for feed, as well," she added.
The South American harvest is progressing, but the market has been kind of quiet.
"It's stopped being bullish because we are caught up. The South American harvest is within a couple points of its five-year average," she explained. "The South American harvest has stopped being bullish at this point. It's not necessarily bearish, but it's definitely not bullish anymore. We were pretty bullish when South America was having its crop issues. They're no longer having those issues, but we understand what they are. It stopped being a bull market, unfortunately."
Meanwhile, Jensen said she doesn't feel that spread between old and new crop soybeans is going to go significantly wider.
At one local elevator in west central Minnesota regularly followed in this column, as of March 29, April cash soybean prices were $13.30 and basis was -35 cents under. September 2021 soybean futures were $11.86 and basis was -19 cents under.
Over the next few weeks the market will take direction from the (recently) released USDA reports and watch the weather patterns during planting season.