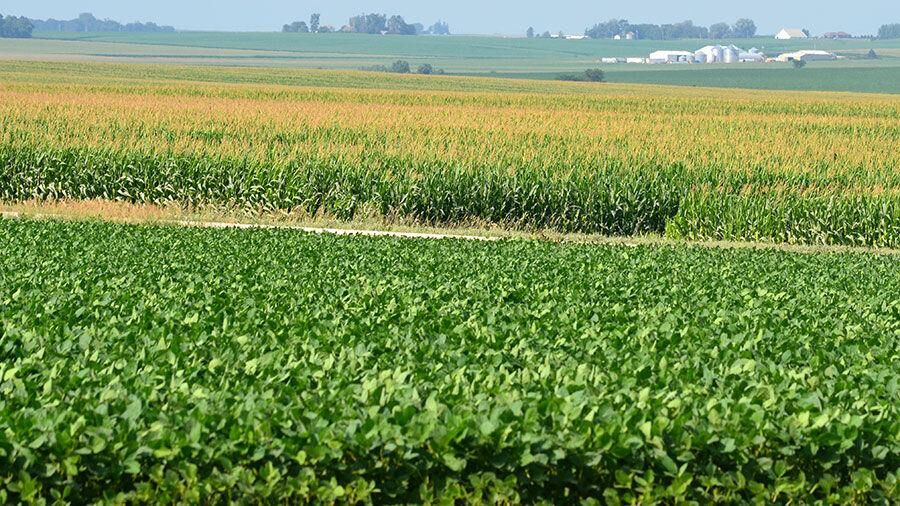 For soybeans, this season is a tale of two crops, one in the western Corn Belt and one in the eastern Corn Belt. One is doing well – the east – and the other not so much. And in early August the east was having a bit more of an impact, pressuring prices.
"Soybean crop condition improved this week. Nobody saw that one coming," said Betsy Jensen, Northland Farm Business Management and a producer/marketer from Stephen, Minn. "That's why the market was going down this morning.
"Just like corn, it's the (eastern Corn Belt versus western Corn Belt). The western crop conditions are not good and the eastern crop conditions are much better," she continued. "And so the market is trying to watch to see if South Dakota, North Dakota, Nebraska and Minnesota can get any rain in the next week or two."
At this time the overall improvement in the crop condition rating is based off of what's happening in the eastern Corn Belt rather than the western Corn Belt. Thus far this growing season the eastern crop has benefited from more rains and somewhat milder temperatures, while the western crop has had to deal with drought and excessive heat, potentially limiting crop yields. But August is the month that makes the soybean crop and on Aug. 12 USDA is going to release a new soybean yield estimate, which is likely to have a big impact on the market.
"(USDA's) corn yield estimate will probably be relatively close, but the soybean estimate can still change dramatically," she said. "We know the pods get filled in August and rain in August is a huge issue. August crop conditions for soybeans are a huge issue and this week they increased and so the market is reacting to that this morning.
"Still, local prices for soybeans are still amazingly strong," she added. "It's hard to believe we have basis offers this good for soybeans."
One thing Jensen would like farmers to do is to think back to when China put on their export restrictions. Then, basis was -$1.40 under and the market completely collapsed. At this time locally, basis is at -28 cents under for harvest delivery.
"We have 'beans in the teens' right off the combine and that is not something we can say very often," she said.
At one local elevator in west central Minnesota regularly followed in this column, as of Aug. 3, August cash soybean prices were $12.97 and basis was -30 cents under. October 2021 soybean futures prices were listed at $13.28 and basis was -26 cents under.
"I've been encouraging (farmers) to potentially deliver at harvest and maybe look at re-owning with futures if that's an option," Jensen said. "I hope everyone is well aware of the cost of putting soybeans in the bin and taking them out of the bin. There is definitely a cost to storing grain. This year's market seems pretty content to pay you guys to deliver right off the combine, especially in the soybean market."
Jensen advises producers to work with their elevator managers and their brokers to come up with some strategies.
"If there's no lines at harvest, it sure would make life easier to deliver beans in the teens right off the combine. That might be something we tell our grandkids about," she said.
On the demand side, most of the demand is still coming from China. Regarding soybean export sales, USDA had estimated old crop export sales at 2.27 billion bushels and the U.S. is currently 26 million bushels ahead of schedule.
"Keep in mind there are only a couple weeks left of the export year, which ends Sept. 1, so that will change," she said.
Once again, most U.S. soybean sales are going to China. By the time you potentially switch a few sales to new crop, as typically happens toward the end of the year, USDA is going to be pretty close on their old crop soybean estimates. Jensen doesn't anticipate large changes in these upcoming reports.
"USDA does see a tiny bit of a decrease for next year, but it's still pretty early to make an export sales estimate," she said.
Elsewhere in the world, South America still has some beans to harvest and they're doing well for export sales, as well.
"This is probably one of the better years that South America has had for exporting," she said.
"They're aggressive at selling their soybeans and I don't really see any major changes in the upcoming USDA report for world soybean production."
In the near-term, producers and the market will be watching the weather and how the crop develops in August and whether the eastern crop continues to do well and if the western crop can catch a few rains and improve, or not. In the meantime, thinking about good prices at harvest has Jensen excited.
"Beans in the teens off the combine. I just want everyone to think about how often that happens," she said. "Beans in the teens don't happen very often. Beans in the teens off the combine, that is even more unusual – to be able to not even put them in a bin. So I do hope farmers take a hard look at that.
"There are strategies to keep yourself in the market. There are things you can do – buy some options, buy futures, whatever you need. But it's hard to turn down beans in the teens off the combine," she concluded.