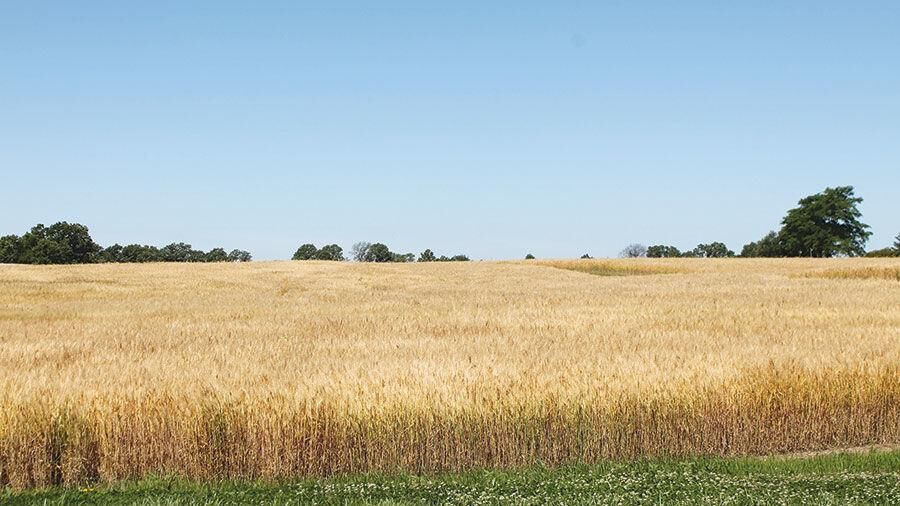 After hitting a high of nearly $6.50 a bushel in mid-January, spring wheat futures over the past couple weeks have been hovering in the $6.15 to $6.35 range. Although futures prices have slipped some, historically speaking they're still relatively strong.
"Wheat obviously benefitted from the price strength in corn and soybeans, and also from some weather related concerns and decent export demand," said Erica Olson, market development and research manager for the North Dakota Wheat Commission. "But now there's just been nothing new for the market to run off with."
Cash prices across the region are in the $5.50-$5.85 range, which hasn't changed much from the previous report.
Similar to durum, the spring wheat market is looking at planting projections for 2021.
"Obviously, with the price strength in corn and soybeans at these prices, it's going to be really tough for spring wheat to gain a lot of acreage increase," she said. "Of course, a lot depends on what happens in the next couple of months, but we're not expecting an increase in spring wheat acres.
"For spring wheat, the elephant in the room has been our ending stock levels," she continued. "At one point they were projected to be almost historically high. However, in this month's WASDE report (World Agricultural Supply and Demand Estimate) they were lowered by 20 million bushels from last month down to 258 million. It's not historically lower, but obviously moving in the right direction. We definitely need to eat through some of those ending stock supply levels."
Also in the WASDE report, USDA lowered the U.S. import projection by 3 million bushels (MB) and increased domestic use by 3 MB, as well.
U.S. spring wheat exports were bumped up by 15 MB, putting the new estimate at 285 MB, which would be the highest in four years. Current export sales stand at 254 MB, which is up about 9 percent over last year.
"We still are seeing really strong demand for spring wheat," she said.
Also in the WASDE report, USDA made no overall changes to the U.S. supply and demand sheet, but rather just some changes by class.
For world numbers, USDA did lower ending stocks by about 331 MB.
"This was primarily due to a projected increase in feed use, because as corn prices come up some users, especially China, are going to switch over to wheat," Olson explained. "That ending stocks level is still at a record, but again, the more we can chip away at it, the better price wise."
Olson noted that the numbers ended up being a bit disappointing for corn.
"They were expecting some higher use numbers for corn and we didn't see them, so that limited the price reaction from that report," she said.
Another issue that has been in the news for the past couple months is the export tax situation in Russia. An export tariff of about $30 a ton is officially in place at this time and Olson said that it will double next month.
"It's tough to say just exactly how much it will affect the world market, but they've now announced that starting in June it will be replaced by a different tariff system," she said. "Basically they'll be expanding and extending it and so that likely will have some implications for the 2021-22 crop year. The fact that they are extending it is interesting."
Other factors in the market include the fact there are some concerns with the cold temperatures in the U.S. hard red winter wheat region. A recent forecast also includes some snow, which could actually help protect the crop, Olson pointed out.
"We have seen crop condition ratings drop a bit in some of those states. Of course, if there are any ill effects from the cold, we won't know that until spring time anyway. But again, the market is following that," she said.
Olson pointed out that weather has been an obvious big market mover, although right now there are minimal concerns. A lot of the European Union producing countries have received moisture and producers in South America where drought has been a concern have also gotten some rain.
"The wheat crop (in South America) is already harvested, so it doesn't affect that, but it's been beneficial to the soybean crop, which again, tempers down any price upside there," she said.
Regarding the upcoming 2021 planting season, already there's a lot of competition among a number of crops. The market will be watching for that March 31 prospective plantings report very closely.
"We could see some price movement after that report," Olson said. "Obviously, if we do show a projected increase in corn and soybeans and a decline in wheat there could be some price movement then."
Will spring wheat be able to compete with corn and soybeans, which are looking at near record high prices, for acres? Olson doesn't think so at this time.
"If you look at the numbers, no. But then, surprisingly, many producers we have visited with have said that they don't really expect much of a change in crop rotation. Where it might come from is we did have some prevent plant last year of three million acres, so I think that is what's going to go to corn and soybeans. That's why I don't see us gaining much in terms of acreage," she concluded.