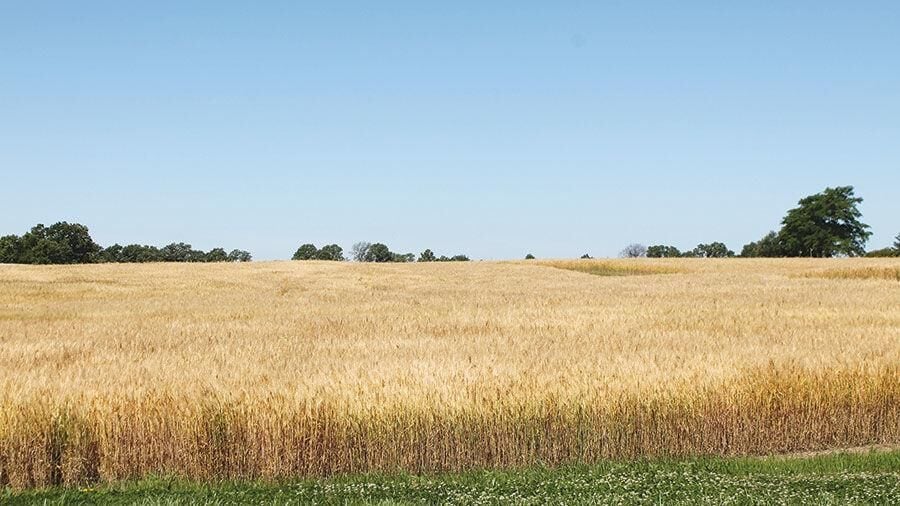 With the holiday season fast approaching, the spring wheat market has continued to be "a little range-bound."
"We've had some periodic tough days and then we catch a bounce as the market tries to balance between some of the unexpected strength we've seen in corn and soybeans during the fall, as well as other crops including canola, flax, pulse crops and the reality that world wheat supplies are still fairly plentiful," said Jim Peterson, marketing director with the North Dakota Wheat Commission. "Although, as you segment the market, there are some types of wheat that are tighter than others."
Peterson noted that more pressure in the wheat market recently is coming from the fact that Australia and Argentina are both into their harvests, and while Argentina's harvest is below expectations in some regions, the Australian crop is "phenomenal," and likely their second largest crop on record. Also, Australia hasn't had any significant quality issues other than some lower proteins, and generally they've had good harvest weather in most areas.
"So they're expected to ramp up the pressure on U.S. export opportunities in South Asia where they have a logistical advantage," he said. "Currently they have a trade dispute with China, which probably does help us out a little bit up in that market."
Looking at current Minneapolis wheat futures, Peterson noted that all of the cash trade has moved off of December to the March futures, which are now in that $5.45 range. The October high for the March futures was $5.95, so current levels are down 50 cents.
Cash price levels locally range from $4.80 to $5.15 and are also down in that 40-50 cent per bushel range from their fall highs. As has been case since mid-October, Peterson pointed out that Minneapolis futures continue to trade at a discount to hard red winter wheat and a more significant discount to Chicago.
"The one advantage it does have is there's more carry in the market for Minneapolis spring wheat, meaning deferred price levels are stronger. So for producers who are storing wheat, waiting for some higher prices, there is some potential there with the carry we have in the market," he said.
Some other new news for the wheat market in general is that Stats Canada recently updated its wheat production estimates, increasing projected production from the September estimate, and probably more importantly, their second largest wheat crop overall on record, which would be up nearly 8 percent from 2019. Overall, Peterson thinks this could possibly be construed as a little bearish.
Breaking it down by class, Canada's hard red spring wheat production is actually a little lower than 2019, down 1 percent. Of their total wheat crop, only about 805 million bushels (MB) are hard red spring wheat, which is down from 825 MB in 2019.
"While the size of their overall crop might be a little bit bearish, one thing that's been positive is we haven't seen much pressure from the Canadian crop into the U.S. market," he said. "Part of that is internally wheat prices are supported by a pretty strong feed wheat demand in Canada. For a period in November, feed wheat was even higher priced than No. 1 milling wheat.
"Of course, a lot of that is driven by a relative tranquil market for milling wheat and a pretty robust market for feed driven by the higher U.S. corn values. Now we are starting to see more U.S. corn exported into Canada, so that might take a little bit of pressure off," he added.
In the U.S. market, what's catching the news from a production standpoint is expanding drought conditions in the hard red winter wheat region. How dry it's getting in some of the spring wheat areas is also starting to get some market attention. Although there's a ways to go to get into the 2021 crop, each week that passes without significant shifts in the moisture pattern, the more critical it's going to get for springtime moisture. And some of those crops in the winter wheat region may reach a point where it's going to come a little too late.
That continues to support the market.
From a demand standpoint, the U.S. has seen export sales trip back a bit from their earlier strength in September-October. Part of that is due to the Black Sea region having more wheat to export than anticipated and also the Australian crop coming on line.
Currently, U.S. exports total 679 MB in total wheat sold, which is 12 percent higher than a year ago and are running ahead of U.S. projections for the year. The U.S. is projected to export 975 MB this marketing year, up from 965 MB. That's largely driven by hard red winter, soft white and hard red spring wheat sales.
Hard red winter wheat exports stand at 238 MB, which is 6 percent higher than last year, but they are starting to slip behind projections, which were expected to be 8 percent higher.
"We'll see what happens going forward. I think some of the strength in winter wheat prices sort of priced them out of some export demand over the last 3-4 weeks," Peterson said.
Hard red spring wheat sales currently stand at 188 MB, which is 13 percent higher than last year. The full year projection calls for a 1 percent increase.
"That's still a positive support for prices and I think, going forward, we'll see that play out a bit more in the spring wheat market," he said, adding that sales on the books are running 15-20 percent higher than a year ago. "So we are going to have some ships to load over the coming months and hopefully that leads to a little more pull on the local market to bring in producers' supplies."
By country, the Philippines continues to be the dominant market for U.S. spring wheat followed by Japan and Taiwan, but also Mexico and China are running higher.
"It's certainly good to see that considering expected increased pressure in South Asia for demand and also the recent announcement of retaliatory tariffs put on by the EU, which puts a 25 percent tariff on all non-durum wheat into the EU market," he said.
Peterson explained that was driven by U.S. subsidies for Boeing aircraft where the U.S. had "rightly put tariffs on airbus subsidies from Europe." The World Trade Organization upheld those tariffs, he said, but the EU in retaliation has picked some U.S. products to put tariffs on.
"Unfortunately, even though we've been fighting very hard on it for over a year, even with the EU milling sector supportive of still allowing U.S. imports with no tariffs, as of right now it looks like spring wheat sales to Europe might be curtailed for the interim," he said.
In the meantime, the market will continue to monitor what happens with the corn and soybean markets, which has been a big support for wheat, and also watch if the weather pattern shifts in the winter wheat region.
"I think another positive for spring wheat going into the winter months is we are starting to see some U.S. domestic mills switch out of some hard red winter wheat and are looking more at spring wheat for domestic mill grind," Peterson said. "Hopefully that leads to stronger basis at the local level, too.
"Other than that the market has been kind of in a range-bound pattern with some volatility and just trying to sort itself out. Of course as we hit the end of the month markets, go into a little bit of a lull so we're not expecting any big breakouts one way or the other until we get into 2021," he concluded.