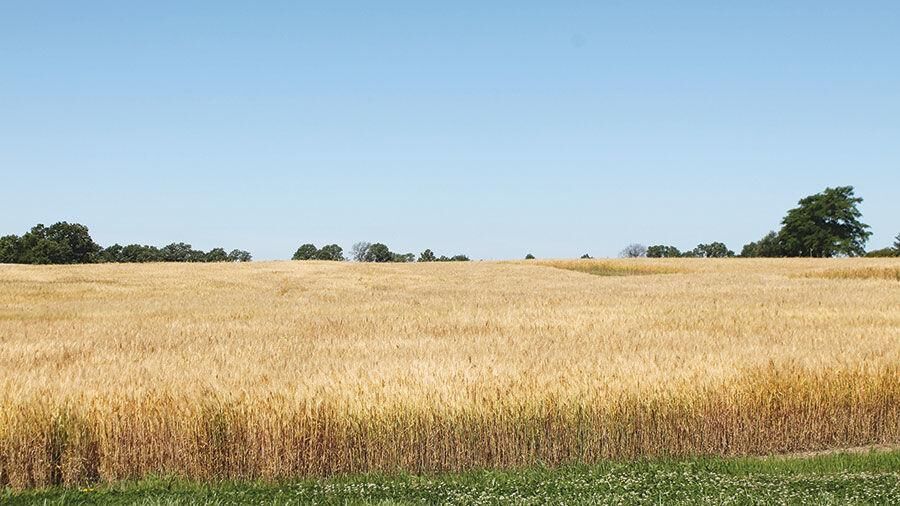 Commodity markets are generally slower over the holidays and prices generally reflect that, but this is a new year and spring wheat prices are actually showing some strength.
"Spring wheat continues to see some strength. The Minneapolis March futures today (Jan. 4) were trading around $6, so that would be up about 30 cents from the last market report," said Erica Olson, market development and research manager for the North Dakota Wheat Commission, adding that altogether, since the beginning of December, prices are up about 50 cents. That puts cash prices between $5.20 and $5.65.
"There's not really one specific reason for the price increase. I still think one of the big things is that we are seeing some spillover support from other commodities, specifically soybeans and corn have really seen prices advance recently due to strong demand and that has continued to provide support to wheat, as well," she said.
"One of the reasons for that is because as we look toward planting time, wheat needs to stay competitive with the other commodities to compete for acres," she continued. "There is some concern right now that wheat is not as competitive as some of the other crops, so I also think that's helping to hold up wheat prices a little bit."
Olson noted there is already starting to be a lot of talk and guesses in terms of acreage in 2021.
"We've seen wheat make some gains recently, but I would still say some of the oilseeds and specialty crops are going to be more competitive price-wise. That and the moisture conditions as we get into planting will be pretty important," she said.
The other piece of news that's still out there in the market is the Russian issue. Russia announced last month that it was going to put on an export tax starting in mid-February that would run through the end of the year.
"Honestly, it's tough to say what the actual effect of this will be," Olson said. "We've seen them do this many times before and so it's tough to say if it will actually affect their exports and prices. But at the same time, in the last couple weeks we have seen wheat prices increase in Russia, so that could start to affect their exports.
"Some feel that the U.S. could benefit and pick up some of the lost sales from Russia," she continued. "We're not normally overly competitive with them, but because of the possible export restrictions and also the fact the U.S. dollar continues to fall, I do think that is a possibility."
On the demand side, as stated earlier, the time period between Christmas and the New Year is typically slow for commodity sales. Looking at the sales report from Dec. 24, one might form a different opinion.
"We did actually see some decent spring wheat sales of 9.5 million bushels (MB), which accounted for about half of total U.S. wheat sales," she said. "That was actually one of our largest single weeks of sales for spring wheat since early in the marketing year. So for what is normally a slow time, actually ended up being fairly good for spring wheat."
Big spring wheat buyers were China, Vietnam, the Philippines and there was also an unknown destination listing, as well. Total spring wheat sales have now reached 212 MB, up 9 percent on the year and also slightly ahead of the five-year average.
"We're not seeing record sales by any means, but we are seeing fairly strong, consistent sales and hopefully that will continue into the second half of the marketing year," she said.
Olson noted that as 2021 begins, the market is keeping its eye on the Southern Hemisphere wheat harvest, which is nearing completion. Australian producers continue to see good results and production is expected to double compared to last year when they had a drought-affected crop.
In Argentina, dry conditions are expected to bring their production levels down.
"However, even though the Argentina crop is smaller, the harvest progress in the Southern Hemisphere could pressure prices a little just due to the significantly larger Australian crop that will come on board," she said.
In Argentina, in addition to the drought conditions they've had to deal with, Olson pointed out that at the end of December there was a strike with their port and grain union workers. That strike has since been resolved, but it did obviously delay some shipments and caused some logistical issues and that also caused a bit of market disruption.
Here in the U.S., a lot of attention has been on the hard red winter wheat region, which is still dry.
"Obviously, the winter wheat crop is dormant right now, but that will continue to be watched," she said. "Those drought conditions do extend into the spring wheat region, and in some areas, especially the western areas, some portions are classified as being in severe drought. The dry conditions across the U.S. will be watched going into spring," she added.