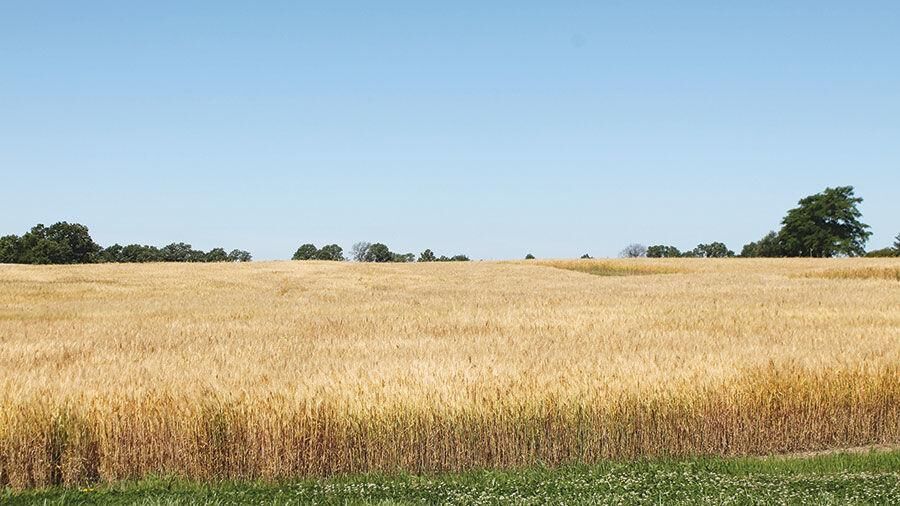 At the time 2020 came to an end, wheat prices were on an uptrend and they have continued upward, giving producers something to smile about as the new year began.
"Going back to the beginning of December, wheat prices have continued to trend upward. In fact, in that time period, spring wheat prices have increased almost a dollar," said Erica Olson, market development and research manager for the North Dakota Wheat Commission.
"For example, on Jan. 19, the Minneapolis March futures were trading at just under $6.50. That put cash prices around the region between $5.75 and $6.25.
"Obviously those prices are starting to look more attractive, but the downside is that other commodities are extremely price competitive, as well, especially the oilseeds and pulses," she said. "One of the reasons we are continuing to see wheat prices increase is to keep up with the other commodities."
Adding to that momentum was the release of a number of reports on Jan. 12 from USDA that did contain some bullish news.
Olson pointed out that corn and soybeans have been the main drivers in the market. In the case of soybeans, USDA reduced production and stocks, both of which were mostly expected, but it did confirm the tight soybean situation.
"USDA also lowered the production estimate for corn, which was a pretty big surprise. Obviously, we saw the markets respond there," she said. "The wheat numbers actually had a few surprises, as well. USDA increased the feed and residual number by 25 million bushels (MB), and that was not expected at all."
As a result, ending stocks declined and are now estimated at 836 MB, which is down almost 20 percent on the year.
Looking at spring wheat in the WASDE (World Agricultural Supply and Demand Estimate) report, which was also released Jan. 12, USDA increased U.S. domestic use by 4 MB, bringing the new estimate to 321 MB. The export projection for the U.S. was left at 270 MB, but it lowered ending stocks to 279 MB, which is similar to a year ago.
A couple other things to note, according to Olson, is that on the world numbers USDA increased Russian production to 3.1 billion bushels (BB), which would be a new record. And in Argentina, production was lowered to 643 MB, which was not unexpected because of the drought issues there. That represents the lowest production figure in five years.
"Add in a couple other changes to the world situation and this month we finally saw a decline in the world ending stocks number, which is good, but we're still at a record high at 11.5 BB."
USDA also released the Dec. 1 stocks report, which put U.S. wheat stocks at just under 1.7 BB, down 9 percent from a year ago. Disappearance for the September-November time period was 4 percent lower than a year ago.
The final report from USDA was the winter wheat seeding projection, which estimated winter wheat acres at 32 million acres – up 5 percent from last year.
"It's important to note that in 2020 the U.S. had its lowest winter wheat acreage in more than 100 years, so historically speaking, this year's number is still quite low," she said.
"That's a lot of numbers to digest, but to summarize, the wheat stocks actually came in below expectations, although we are still looking at fairly comfortable supply levels. But the tighter soybean supplies and the lower corn production provided additional support," she added.
Another supportive factor for wheat is that Russia recently announced it will double its proposed wheat export tax from 25 euros to 50 euros per ton.
"They're also indicating that the export tax may continue longer than expected. Again, it's tough to say what effects this will end up having, but either way it got a pretty big reaction out of the market," she said.
On the demand side, the U.S. didn't see any substantial sales for the week ending Jan. 15. Sales, however, are still ahead of last year and the five-year average. Looking at spring wheat specifically, total sales are at 225 MB, up 10 percent from a year ago. Total U.S. wheat sales of all classes are up 8 percent.
Olson noted they are already getting questions on planting projections for wheat this year.
"Given the current price situation, the obvious answer would be higher soybean acres and lower wheat acres. However, it is only January. Prices can change a lot before planting, and of course, weather is an unknown," she said. "I do think the wheat market realizes it needs to keep up to remain competitive with the other commodities. The other big question is if the plantings report does show a potential decline in wheat acres that could have a positive impact on prices later on, as well. Time will tell."