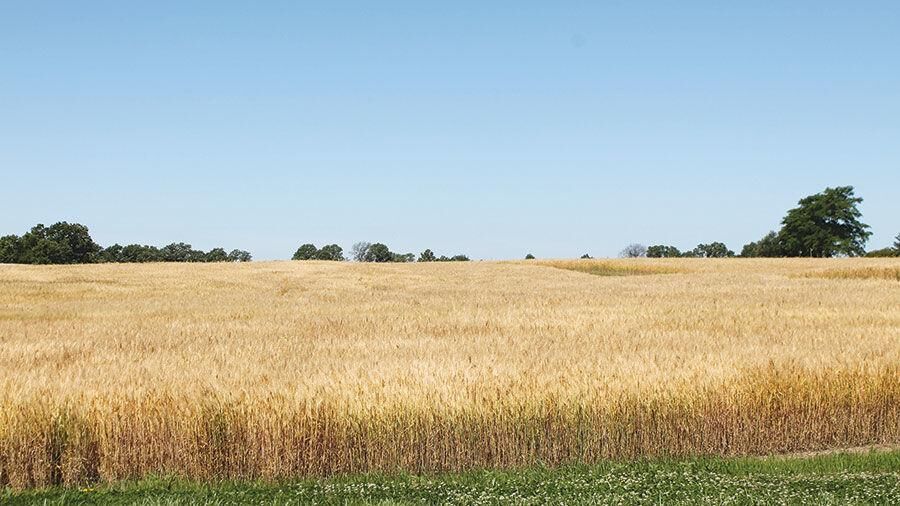 Spring wheat prices were in rarified air nearing $8 during the first week of May before sliding back somewhat. Still, as of May 10, prices were still hovering around $7.50.
"We had been seeing spring wheat futures continue to rise. The July futures fell just short of $8 at its high," said Erica Olson, market development and research manager for the North Dakota Wheat Commission. "But then today (May 10) we went down hard – about 45 cents. That makes you start to wonder just how long that increase can keep going.
"Basically this has been a weather-driven market," she continued. "Some areas that had major dry conditions did receive some precipitation over the Mother's Day weekend, and today we're seeing the market react to that."
The Minneapolis July futures closed down on May 10, but was still at $7.53. That puts cash prices between $6.85 and $7.10 around the region.
This market has really been following the weather. Besides the rain in parts of the Northern Plains, another thing over the weekend was that most of the major Corn Belt received fairly widespread precipitation and that negatively impacted the corn market, which wheat has been following. Also, areas of the winter wheat region and the spring wheat region got some moisture, as well.
"If we look at how the market reacted today, some might think the drought is over and that's definitely not the case," she said.
Looking at North Dakota in particular, most of the precipitation fell in the southwest part of the state, which was great because that area had missed pretty much every moisture event this spring. Precipitation amounts ranged anywhere from a half-inch to almost 1.5 inches in that area and then some snow on top of that.
"That will definitely help get the crop going. They really needed moisture," she said. "But in the northwestern part of the state where it's dry, they got very little moisture over the weekend. In the central part of the state some areas got a quarter-inch of rain while other areas got none."
Producers in parts of Montana also got some moisture. It didn't cover the entire state or the entire spring wheat region, but producers will take what they can get.
"We're definitely going to need to continue to see additional moisture to keep the crop growing," Olson said.
With a conducive weather pattern the week prior to Mother's Day, producers were able to make good progress with their planting. According to USDA's weekly crop progress report, spring wheat planting was about two-thirds complete in North Dakota, which is ahead of last year, as well as the five-year average. Planting in both Minnesota and South Dakota was over 90 percent complete, so there has definitely been some good progress and good opportunities for fieldwork.
Emergence of the crop has been a little slow because of the dry conditions and also cooler than normal temperatures. About a third of the U.S. spring wheat crop has emerged. North Dakota is at about 20 percent.
"I think we'll start to see this progress a bit better with warmer temps projected for the week following Mother's Day, and especially for those areas that did get moisture, we might see that crop take off," she said. "But we're certainly hearing from producers regarding emergence issues, uneven crop stands, and then some crop that is not emerging at all."
North of the border, Canadian producers are facing a similar situation with fairly dry conditions, as well, although not as severe as the U.S. situation with drier than normal conditions and cooler temperatures. In both Manitoba and Saskatchewan, their crop reports indicate that planting progress is close to average. But similar to the U.S., it's been going slow and it's slow to emerge, as well.
At the end of April, Stats Canada released its planting intentions report, which indicated just 16.3 million acres of spring wheat, a decline of 9 percent from last year. And, similar to the U.S., it was not surprising that they're projecting more canola, barley, soybeans and corn.
Other than keeping a close watch on the weather and planting progress, Olson said it's been pretty quiet elsewhere around the world. There are still some dry areas in Europe, so that's still a bit concerning in terms of wheat production.
"In Russia there were some earlier concerns about winterkill, and also very cold temperatures that were slowing down spring planting. However, recently we've seen their production estimate actually rise, so not a real big concern for Russia," she said. "Ukraine also has been having favorable growing conditions for its wheat crop.
"So definitely, there appears to be some good production prospects for the Northern Hemisphere wheat crop right now, but obviously, time will tell," she added.
On the demand side, Olson noted the sales report for the first week in May actually showed negative sales, but that's not real unusual for this time of year.
"For wheat the marketing year ends May 31, and sometimes we see those sales. If they're not going to get shipped in time, they will be moved to the next marketing year. Some of those might be cancellations, as well," she explained.
Total U.S. wheat export sales currently stand at 937 million bushels (MB), which is behind last year. USDA's estimate was 985 MB, so it's likely the U.S. is going to fall short of that.
Specifically for spring wheat, U.S. sales are at 281 MB, which is close to USDA's estimate of 285 MB. Again, some of those have not been shipped yet, so they could end up being put into next year's values.
For spring wheat, the biggest year on year increase for exports was to China and Mexico.
"Other than that, it's been pretty quiet outside of watching the weather, and I think those are still going to be the things to watch for in the market – the weather conditions and the planting progress," she concluded.