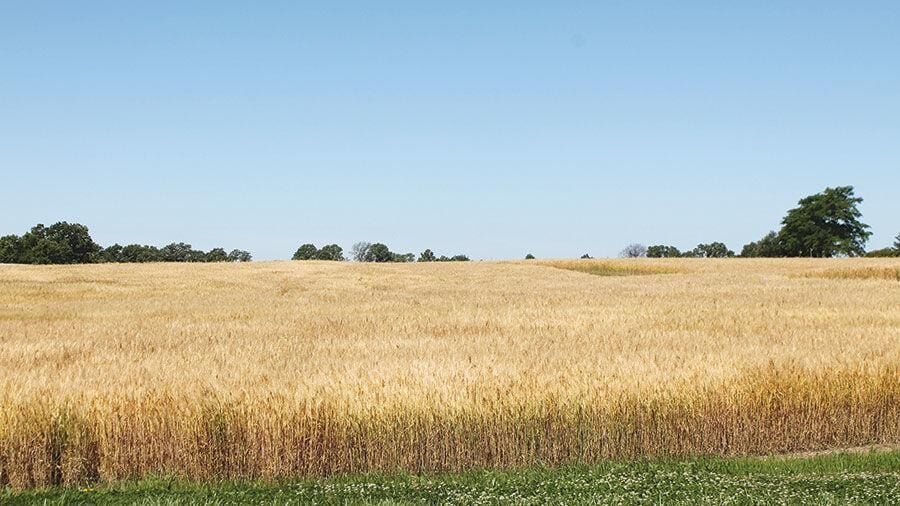 While producers are watching the weather and making limited headway with spring planting, they're also watching spring wheat prices climb up and up.
"We've really seen some impressive price movement in the spring wheat market compared to two weeks ago," said Erica Olson, market development and research manager for the North Dakota Wheat Commission. "The nearby spring wheat futures are up about 80 cents and we've seen some big daily movement. Even today (April 26) we closed 25 cents higher. So from April 1, we're up over $1. That puts cash prices around (the region) at $6.80 to $7.10. That's about $1 higher than when I talked to you two weeks ago."
One of the main factors for this current rally is that corn and soybean prices are very strong and wheat needs to keep up with those prices to get acres, according to Olson.
"Corn prices, we've seen them rise primarily on concerns of tight supplies. If we look at the South American corn crop, mainly in Brazil, they've been very dry and that is affecting their second corn crop," he said. "Higher soybean prices are primarily due to strong demand."
For both corn and soybeans, USDA's March 31 Prospective Planting report showed potential acreage that was lower than expected, so those crops, and wheat, are trying to buy some of those acres.
The other thing still pushing the market higher is the weather.
"It's been fairly cold, and not just up here (in the Northern Plains). That's delayed planting in the row crops and for wheat," she said. "There is some concern about winterkill in areas of the hard red winter wheat region because they too got cold."
Olson was expecting to see conditions warm up in early May and for producers to be able to get back into the fields to make further planting progress.
In the April 26 crop progress report, USDA has U.S. spring wheat planting at 28 percent complete, which is higher than average. The bulk of that is in South Dakota, which is reporting about two-thirds of their spring wheat is planted. The other states are around 20 percent complete. In North Dakota, for the week ending April 23, producers went from 13 to 22 percent planted.
"That seems a little optimistic since the weather was not at all conducive to planting. However, I think if the temperatures warm up like they're expected to, producers can plant a lot in a short amount of time, so I think we'll see some good progress," she said.
Other world issues have been popping up and have had an impact on the market, including the fact it's been dry in portions of Europe and that is starting to stress the wheat crop there a bit.
In Russia, Olson noted there are expectations that winterkill looks to be higher than in previous years.
"It's tough to say how that will affect the market, but those are a couple things to watch," she said.
"Another one that has risen recently is that in Argentina the government has announced it is exploring increasing their export tax on commodities," she continued. "Right now it's 12 percent on wheat and they're looking at increasing those export taxes, which would affect the wheat exports out of that country if they do that."
Yet another big news item is the increasing use of wheat for feed, partly because of higher corn prices. The biggest increase is expected in China, and in fact, they're expecting to see record feed use this year, Olson noted. China recently bought 18 million bushels (MB) of French wheat, which they plan to use for feed purposes.
"Out of Brazil we're hearing talk from the meat packers there that they're also exploring wheat for feed," she said. "We're hearing more and more about this. It'll be interesting to see how this shakes out. If wheat prices continue to increase, as well, there's a delicate balance on the price situation as far as which is going to be more profitable to use."
On the demand side, for the week ending April 23, the U.S. had about 23 MB in wheat sales. About 14 MB of that was actually for new crop wheat.
"We do have just a month left of the marketing year, so we do start to see a lot of those sales shift to new crop, so that's not unusual," she said. "Total U.S. wheat sales are at 932 MB, which is similar to a year ago. But it does look like we could potentially fall short of the USDA estimate, which is 985 MB. We'll see."
Looking at spring wheat specifically, the U.S. is fairly close to meeting USDA's estimate. To date the U.S. has sold 282 MB of spring wheat. USDA's estimate is 285 MB, so if the U.S. gets most of those shipped it should reach that estimate.
"We've seen some good market movement and I think it's important to keep in mind how much steam that market still has in it, especially if we do see the weather shape up across the U.S. and we see planting pick up. We might run out of a bit of steam, but right now it's weather dependent at this point," she concluded.