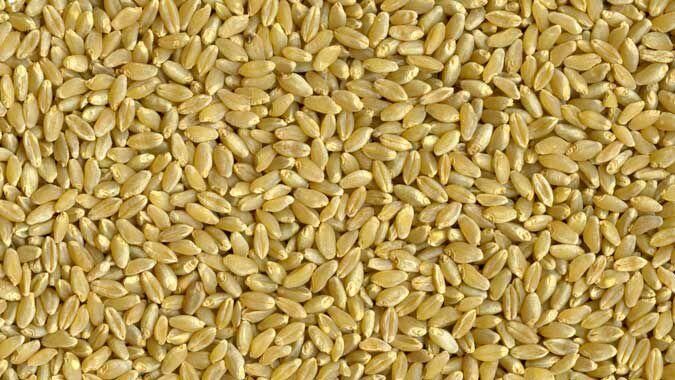 Across the U.S. people have continued to eat a lot of pasta, which has led to strong domestic demand, which in turn, is helping to support durum prices.
"We still continue to see very strong domestic pasta demand, which continues to drive U.S. domestic durum milling needs and keep prices supported here in the U.S.," said Jim Peterson, marketing director with the North Dakota Wheat Commission. "That's probably made it a little more difficult to compete on the international market. We're not doing as well on exports as we did a year ago."
Nonetheless, he noted that local bids are ranging anywhere from $6 up to $6.50. The Minneapolis Cash Index was at $5.90 during the first part of the year and is now up to $6.30, so there's certainly been some strengthening in the durum market.
"Part of that is due to very strong domestic mill demand," he said. "Producer selling has been somewhat slack, not due to quality issues this year, but because of optimism on prices. A lot of other crops have had stronger price gains, so producers have been selling more of those other crops."
Peterson also noted that in Canada, prices have been strengthening and some have started to hit that $6.50 level, as well.
Looking at current exports between the U.S. and Canada, Canada's export shipments through the end of December total 92 million bushels (MB), which is up 25 percent from a year ago. Canada has had huge sales to Italy, which are up 94 percent compared to last year, as well as to Morocco where sales are up 66 percent.
Canadian durum sales into the U.S. market are actually running lower and are down about 30 percent from a year ago. Through the end of December the U.S. has brought in a little over 2.5 MB of durum from Canada.
"The railroads in Canada have been trying to keep the durum moving east/west, and as I said, they've had some very good export sales on the books," he said. "And we've had very good quality and really no shortage of supplies here in the U.S."
Looking at the current U.S. durum export pace, the U.S. has 24 MB of sales on the books compared to 30 MB a year ago. That's not really surprising considering USDA is projecting U.S. durum sales will be down about 30 percent from a year ago.
The top market for U.S. durum is Italy, by far, which accounts for about two-thirds of our demand. However, even sales to Italy are down about 15 percent from last year.
The U.S. is still lacking in sales into North Africa. Canada seems to have been quite aggressive on sales to Algeria and Morocco, Peterson explained. The U.S. has some sales on the books to Tunisia. Also, Portugal and Belgium have been larger markets for the U.S., as well. More locally, Venezuela and Guatemala have had purchases of U.S. durum and there has been an increase in sales to Mexico, as well.
Going forward with durum, Peterson said he's not expecting a lot of changes in the February USDA report, however they will continue to monitor if domestic mills try to press the market to get more producer sales.
He said the general consensus is that U.S. domestic pasta companies are about two-thirds covered for the March through May quarter and about a third covered for their needs for June through August.
"There certainly is going to come a time, especially if producer sales get slower, where we see a ratchet up in export demand and domestic mills will have to step forward and try to cover some more," he said.
Another big question, of course, is what happens with 2021 plantings. At this time Canada is projecting about a 5-6 percent increase in durum plantings this year.
"U.S. durum plantings are expected to be higher as well, especially if prices start pushing the upper $6 level, maybe even $7 by planting time, a lot of that in areas where producers can switch between durum and spring wheat," Peterson noted, adding that durum has gone back to more of its premium to hard red spring wheat. "I think the ending stocks for durum are maybe a little more bullish for prices relative to spring wheat."
Certainly the big variables in the market, according to Peterson, still continue to be what happens with the corn and soybean markets because spring wheat and durum both have to compete with other crops and a lot of those crops are seeing higher prices because they're trying to pull acres from corn and soybeans, as well as tight inventories individually by commodity.
"It has been positive to see the rally the first part of the year and hopefully it's not short-lived," he said. "I think a lot of producers, in addition to stable prices, would welcome some pretty good precipitation from now until planting because that will become the big news story if we continue as dry as we are until spring planting."