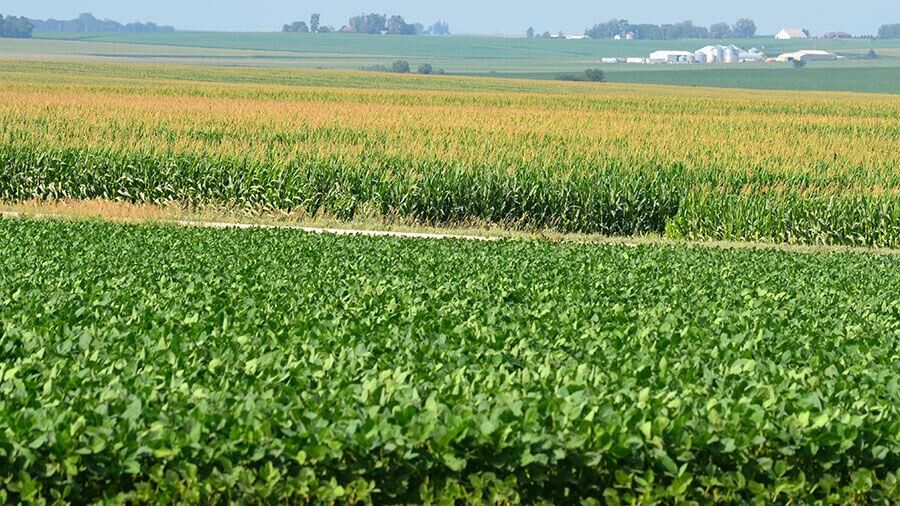 Prior to the release of the 2021 Prospective Planting report, many analysts felt that soybean acres would increase and were anticipating that producers would plant around 90 million acres. When the report came out on March 31, the market saw that soybean acres did increase, but not to the degree most were expecting.
"If you take a step back and look at that acres report, we came in with a lot less acres than anticipated," said Randy Martinson, president of Martinson Ag Risk Management, Fargo, N.D. "Just like corn, we did increase acres for 2021 by 4.5 million above last year, putting them at 87.6 million, but it was 2.4 million less than anticipated by the trade."
The scenario that played out in corn, with the main producing states cutting back on corn acres, actually helped increase soybean acres for this year, just not to the extent analysts were predicting, according to Martinson.
"Those states that dropped their corn acres are adding soybean acres," he said.
In Illinois, soybean acres were increased by 4 percent while corn acres were reduced by 4 percent. Indiana producers intend to increase soybean acres by 2 percent while reducing corn acres by 4 percent, and Iowa's soybean acres will increase 4 percent while corn acres are reduced by 3 percent. Nebraska intends to increase soybean acres by 6 percent while also cutting corn acres by 3 percent.
In Minnesota, producers increased their intended soybean acres by 5 percent, coming in at 7.8 million acres compared to 7.4 million last year. Corn acres were left unchanged. Meanwhile, North Dakota is at 7 million soybean acres in 2021 compared to 5.75 million last year, an increase of 22 percent.
"Beans had a good chance of seeing a good recovery because of needing to add those acres," he said. "(Those were) big increases, but not enough from what we were hoping for or expecting because of how tight the stocks are."
Looking at the Ag Outlook Forum's demand numbers that came out in February and putting those together with the number of acres that came out in the planting intentions report, it shows that 2021 stocks will probably come in below that 50 million bushel area, Martinson explained.
"That is extremely bullish to the bean market and that's why we went up 70 cents the day of the report," he said. "But, since then, when we had April crop production estimates come out, we didn't see any changes. We saw exports increase, (and I was) surprised to see crush decrease in that report because of the strong crush numbers that we've been seeing, but our exports did increase and our residual went down."
Looking at local prices, at one local elevator in west central Minnesota regularly followed in this column, as of April 12, the April cash price for soybeans was $13.52 and basis was -30 cents under. The October 2021 futures price was listed at $12.46 and basis was -17 cents under.
On the flip side, Martinson pointed out that USDA increased South America's production by 2 million metric tons, which is kind of offsetting what U.S. producers are going to decrease.
"The idea here, of course, is that the U.S. isn't going to have as many acres, but because of the higher production in South America, we don't need to have those acres added in again, so they kind of offset each other," he said.
Looking at South America, Martinson noted that the dry conditions in South America that are impacting the corn crop are not having much impact on the soybean crop, which is about 78 percent harvested. If anything, he added, the dry conditions are helping the soybean harvest there and helping the producers get the last of the bean crop off and taking them out of the soybean season in decent shape.
"It's certainly hurting the corn, but it's not having as much impact on the soybeans," he said.
On the demand side, the U.S. has seen a real slowdown in exports, according to Martinson.
"Part of the negative in soybeans is that we had a negative export sales estimate," he said. "It didn't help the markets."
He noted that in recent weeks China canceled some purchases, but on the day he gave this report they actually came in and bought 132,000 metric tons (MT), and Bangladesh bought 110,000 MT.
"So we're starting to see exports again in soybeans, which is friendly. It's helpful," he said.
Going forward, the market will be keeping a close watch on the weather and planting progress, but also on exports.
"(We want) to see if demand comes back to the U.S. once Brazil is done (with harvest) and their marketing in about that June timeframe and to see if demand will come back toward the U.S., and then that will really help push things," he said.