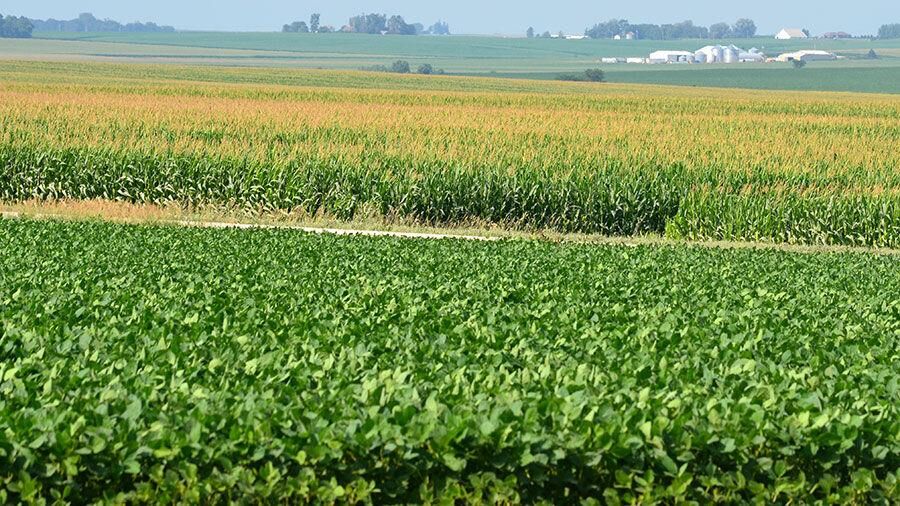 A number of reports released by USDA on Jan. 12 gave rise to prices for a number of commodities, perhaps most notably for soybeans.
"The data we got out of USDA on Jan. 12 really did hit the reset button on the grain markets," said Frayne Olson, grain marketing economist at North Dakota State University. "Those series of reports come out the middle of January every year and they typically are something we pay attention to, but this time around they really put some life back into the marketplace. The numbers for supplies, but especially for the production side, were much lower than expected."
USDA estimated the domestic soybean ending stocks at 140 million bushels (MB), down 35 MB from its December forecast of 175 MB. Soybean production was pegged at 4.135 billion bushels.
Olson emphasized that new data gets processed very quickly by analysts and producers who then make their mental adjustments on what they think it means moving forward.
"The marketplace chews up new information really quickly. It's a very hungry arena," he said. "But those USDA numbers now do become a base or reference point. That's why they're so important.
"Whether farmers agree with the numbers or not is irrelevant," he continued. "Those become the reference point for a lot of the traders and analysts who say, 'Okay, what's our base point? And from that baseline, what do we think is going to happen up or down?'"
While a lot of attention has been on the strong demand for soybeans and the importance of exports, Olson said the market is really focused on what's happening in South America at this time, starting with Brazil, which is just now beginning their soybean harvest. The last report indicated that about .5 of a percent of soybean harvest was complete in Brazil, which is behind average.
It was a really slow planting season because conditions were so dry, which means now the harvest is a bit delayed, Olson explained. The region did get some widespread rain across most of the growing region in Brazil in mid-January, even in the southern part where it's not fully mature yet, so this last shot of rain will certainly help fill out the pods and hopefully add some test weight to the crop, he noted, adding that Argentina is a little further behind.
"In very southern Brazil and Argentina, they're in that flowering or pod set stage, so the weather in the south in Brazil and Argentina is still pretty critical," he said. "But again, the market feeds off of news … and that's the reason we were down 30 cents today. Most of that was because of the rain, but they are starting to harvest out of Brazil, which means very soon now some of the buyers in the global market will start shifting to the South American crop."
While much of the focus of the market is on Brazil production, it's still important to note that the Chinese are also still buying, including a recent purchase of small to medium size.
"So China is still coming in and buying a little bit of U.S. soybeans. They haven't totally switched to the South American supply chain yet," he said. "There's still a lot of excitement (for U.S. exports). We're still looking at some pretty big numbers for both corn and beans."
Olson explained that the margin for error in soybeans is very thin. Based on the current forecast by USDA, the supply of U.S. soybeans will be 140 MB.
"So there's going to be a lot of pressure on the marketplace to send the right signals to say 'Guys, we need to increase soybean acres from last year.' The market right now is pretty aggressively bidding to make sure we have some of those increased acres as part of farmers' plans moving into 2021," he said.
Another thing Olson pointed out is that part of the price seen in the futures today is a risk premium that's been bid in the market because of the uncertainty over the South American yields, mainly in Brazil, and just how big that Brazilian crop ends up being.
As harvest in South America progresses, in Brazil specifically, there will be more and more information about the prospects. Will it be better or worse than what the market thought?
"Even if yields are similar to what the market was expecting, I do think we're going to start to take some of the top end off the old crop soybeans – not new crop, but off of old crop," he said.
Looking at local prices, at one local elevator in west central Minnesota regularly followed in this column, as of Jan. 19, the February cash price for soybeans was $13.21 per bushel and basis was -70 cents under. The May 2021 futures price was listed at $13.89 and basis was -25 cents under.
"When you look at the price spread between old crop soybeans from 2020 and new crop soybeans to be planted in 2021, there's a $2 a bushel difference, which is substantial," he said. "Some of that premium for old crop is going to start to slip out of the marketplace as we get more information about the size of the Brazilian crop."
He explained that the March 2021 futures for old crop soybeans in Carrington, N.D., on Jan. 19, closed at $13.86 and basis was at -80 cents which put the cash price at $13.06. For new crop soybeans, the November 2021 futures was at $11.89 and basis was -70 cents, putting the cash price at $11.19, which he said is the number farmers would use for budgeting for next year.
"You can see the difference – $11.19 versus $13.06. That's quite a difference between old crop and new crop," he said.
With that, Olson offered some suggestions for producers, noting that he's not infallible.
"I've said this before and I've been wrong, but I'm going to say it again because I still think it," he said. "It just seems to me like old crop soybeans is getting kind of top heavy. It's feeling more and more like they have peaked out here for a little bit.
"There's going to be a lot of downward pressure on prices," he continued. "I don't think the bottom will fall out of the soybean market, but I do think we're going to see a bit of a correction, and again, some of that risk premium because of South America starting to work its way out of the old crop soybeans."