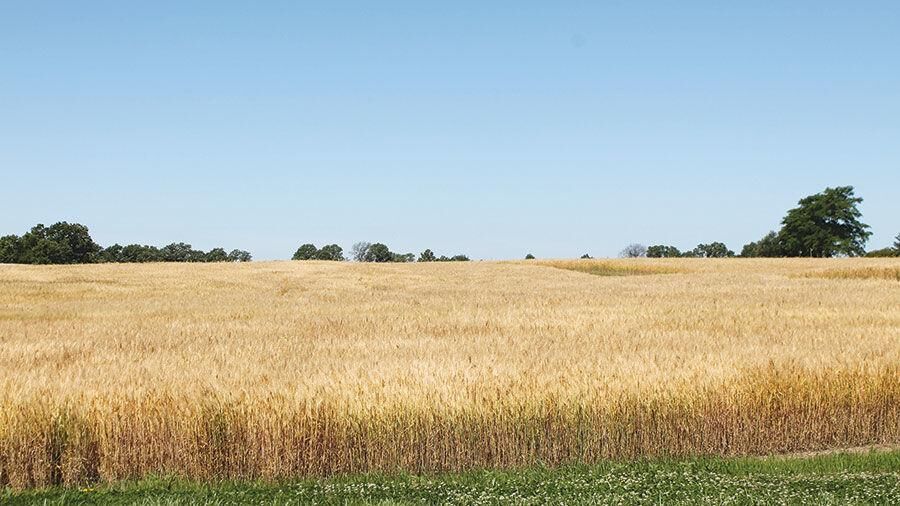 During the month of August, spring wheat prices have kept moving higher, and ass the ongoing drought continues to take its toll on this year's spring wheat crop, it has also helped to push prices higher.
"We've seen all three futures markets for wheat push toward new contract highs, but as we approached the middle part of August we've seen a little bit of consolidation, and that's to be expected as the market is trying to work higher on a shorter crop, " said Jim Peterson, market director for the North Dakota Wheat Commission. "When it gets the perception that things are worse than they realize, they get a pretty sharp run-up and then you get some reality set in that maybe things aren't quite as severe as they thought and set back.
"Nonetheless, all three futures markets haven't held at the new contract levels," he continued. "For Minneapolis wheat, $9.44 was the previous high. For September futures, we broke the $9.50 range, but now we've slipped back below that. The test will be if we can take it to that next level higher."
What's driving the market is that in early August USDA came out with its August production report, as well as its supply and demand report, which had bullish U.S. numbers. But probably even more bullish or price supportive were numbers from the world front, namely a 24 percent reduction in the Canadian crop and about a 15 percent reduction in the Russian crop since July, according to Peterson.
"While the market was anticipating some cuts, I think they were surprised by the level of reduction that USDA made," he said.
Looking at the world crop, the 2021 wheat crop in Canada will be the smallest since 2010 and is down 280 million bushels (MB) from the July report. Russia's crop, primarily winter wheat, is down 460 MB from the July report.
Putting that in perspective, Peterson explained that a typical North Dakota crop is 300-320 MB.
"In just one month's time, USDA essentially took out 2-2.5 North Dakota crops in one report, so that certainly tightened up the world situation," he said.
Canada is up against a situation that is similar to what we're facing here with pretty intense drought conditions since the end of June. Some of the wheat crop is being baled up for forage there and grasshoppers are a problem, as well.
In Russia, the reduction in the production estimate is a recognition of an April freeze/thaw event that impacted the yields on their winter wheat crop. Offsetting that a little bit is the European Union (EU) crop, which was raised slightly, as well as the Australian and Ukrainian crops, according to Peterson.
"In the EU crop, they've got some quality issues to contend with due to some rain on the French crop, so the market has garnered some support from that," he said. "But with that we need to see some export demand shift back to the U.S. because of some problems with Russia and Canada. Until that's confirmed, we may continue to consolidate here a little, or work lower, as we work through harvest and sort out the start of the Canadian harvest."
Looking at demand, U.S. hard red spring wheat exports stand at 91 MB. That compares to 117 MB a year ago. That's down 22 percent, which is close to USDA's projection of a 21 percent cut for the 2021 marketing year.
"We're seeing a pretty cautious and below average buying pace by some of our major customers, including Japan, Taiwan, Thailand and the Philippines," he said. "Again, it's a little bit of sticker shock with the sharp run-up in prices, and customers are probably waiting to see what happens with the Canadian crop and some further confirmed losses in that crop. I think once we start getting customers back in at their normal buying pattern, that will certainly be a boost to exports."
The U.S. export pace for hard red winter wheat is down 21 percent. That sits in contrast to the fact USDA is projecting a 6 percent year-on-year increase.
"We really need to see an increase in hard red winter wheat exports going forward. Part of that will be driven by the very strong price premium for spring wheat," he said. "We'll see some of the more price conscious customers switch to hard red winter. There were some pockets of quality issues and the crop is lower in protein, but overall quality and availability will draw interest from customers. We are starting to see an acceleration in some customers of hard red winter wheat buys."
Overall U.S. wheat exports are 17 percent behind a year ago. USDA is projecting that the U.S. should only be 12 percent behind.
"We'll see as we work through September if we're able to pick up the pace," he said.
As far as other USDA supply and demand adjustments, for overall U.S. wheat in the Aug. 12 report there were no changes in the U.S. export projection. USDA's only significant change was in lowering U.S. production by 50 MB from the July report. USDA also lowered feed use by 10 MB, which was a bit of a surprise.
"Nonetheless, they continue to tighten ending stock projections and raise the average price forecast nationally for all types of wheat. Hard red spring is going to do better, but the all wheat average is projected at $6.70 a bushel, which is up from $5 a year ago," he said.
For hard red spring wheat, on the supply and demand report, USDA didn't change production, but it did raise exports by 5 MB and lowered domestic use by 2 MB, so the net effect is ending stocks went down 3 MB. That's not significant, but by June of 2022, the U.S. could have one of the tightest hard red spring situations in a number of years.
On the production side, USDA kept production at 305 MB. USDA lowered the Montana yield from 25 bushels per acre in July to 20 bushels per acre in August. That was due largely to the oppressive heat and grasshoppers. South Dakota's yield was lowered from 25 bushels to 24 bushels per acre. In North Dakota, USDA actually raised the expected yield from 28 bushels to 30 bushels per acre, and in Minnesota they raised it from 40 bushels to 42 bushels per acre.
"As we've gotten some early harvest reports from producers, the eastern third of the region had been pulling off better than expected yields," Peterson explained. "That would parallel North Dakota and Minnesota, but there are some pretty devastating yields as you get further west."
Harvest progress in the U.S. is well ahead of normal pace with 58 percent harvested as of Aug. 15. That compares to 36 percent on average. South Dakota and Minnesota are essentially on the last stretch of harvest. Montana and North Dakota are at the halfway point.
Peterson noted that samples are being analyzed as they come into the lab at NDSU and as reports from producers are fielded.
"The one concern going into this harvest was on test weights/kernel size because of the extreme heat we've had of late," he said. "Based on 20 percent of the harvest, test weights were still holding near 62 pounds per bushel, protein was averaging 15.4 percent, and the color is much improved over a year ago, so even though we've got a smaller crop, at least the early stages of harvest is producing some pretty good quality," he said.
"Hopefully we'll continue to see those quality reports as the rest of the harvest unfolds and then it's going to be up to customers to determine what value they are going to put on the spring wheat crop, realizing that Canadian supplies are much tighter than they were a month ago and even on the world scale things are tightening up," he added. "So definitely supportive news from that front, but again, we'll need demand confirmation to hold those prices as we get through harvest."