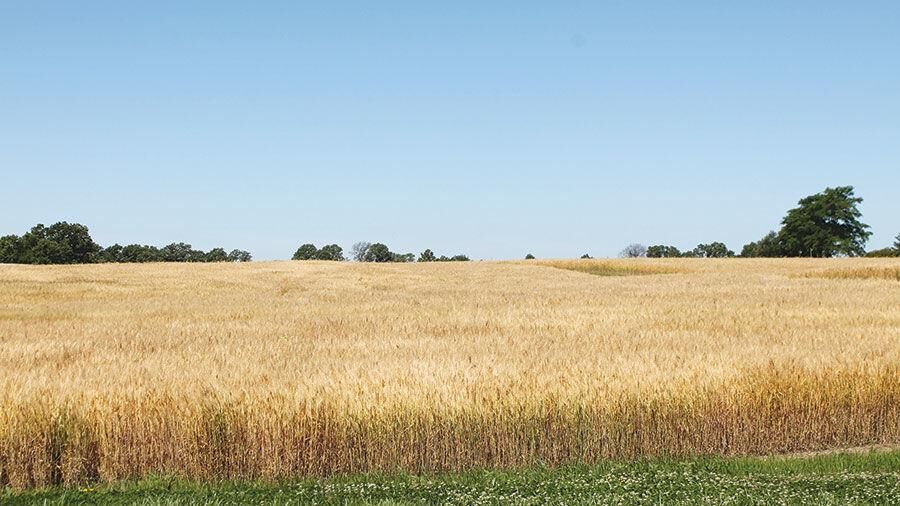 The spring wheat market was hitting the end of the year doldrums in late December, as it typically does during the holiday season and with the Great Lakes frozen and export shipments slowing.
"It's not that prices aren't changing, but the market is a little lackluster, so we seem stuck in a trading range," said Jim Peterson, market director for the North Dakota Wheat Commission. "We have some down days and then some up days and we'll see a little more strength. Hopefully those up days can continue to win out."
In the weeks before Christmas, Peterson noted global fears of the new Omicron variant of COVID were putting a little negative sentiment in the markets. That was evident with more shutdowns internationally, especially in Europe where some countries were initiating lockdowns for periods of 2-3 weeks.
"That changes the psyche of the market," he said. "Obviously, here in the U.S. that's a concern too, even though it's now just conjecture and not a reality yet. We'll see how deep an impact that has on the market or if we begin to shake off some of those concerns. Nonetheless, the market is seeing a bit of weakness."
That said, Peterson feels that globally there are still a lot of very positive fundamentals. For example, in USDA's updated December supply and demand reports, the numbers show record world wheat usage and trade, indicating there's definitely a lot of demand there.
"It's a matter of who will meet that demand," he said. "Through the first half of the 2021 marketing year, which ended at the end of November, the U.S. has been the highest priced wheat in world markets, so our export sales have been sluggish. But Russia's export tax continues to increase, and there's talk that they're going to lower their quota on exports a bit more after the first of the year."
He also pointed out that Argentina has a quota in place on some of their exports to control domestic food inflation and that the European market has been strengthened by a lot of unexpected sales to China. Algeria has also stepped in and made some big tenders, as well, and Iran is expected to make some big purchases.
"So there's plenty of demand (and) U.S. prices are getting more competitive in the world market and, hopefully, after the first of the year we'll see that come to fruition," he said.
The one big factor that will have an impact on the world market is what Australia does with its crop and what the final quality of that crop will be. Harvest is taking place there now. In its report, USDA raised its estimate for the Australian crop up to 1.25 billion bushels (BB) from 1.15 BB previously. Some private forecasts in Australia have it even higher than that and are projecting a record crop.
"They're definitely going to have a big crop to market. The question is, what segment of the market will they be competitive in?" he asked, noting that Australia has had some rain at harvest and there is a lot of low protein. Peterson feels it will compete more with some of the European wheats, and some of the lower to mid-protein U.S. winter wheats, but probably not so much U.S. or Canadian hard red spring wheat.
"Those markets show some optimism," he said.
The challenge is demand. In USDA's December report they did lower U.S. hard red spring wheat export projections again by another 10 million bushels (MB), going from 215 MB in November down to 205 MB. That's down 28 percent compared to a year ago.
Current export sales for hard red spring wheat are at 147 MB through mid-December, which is off 26 percent from last year. On a positive note, Peterson said the U.S. continues to see some improvement in sales to the Philippines, Japan, and some of the north Asian markets. However, the U.S. continues to struggle in south Asia, Indonesia, and Vietnam.
"I think some of those buyers are waiting to see what the final quality of the Australian crop is. I think we'll pick up demand in parts of south Asia, but it may take another month or so," he said. "Nonetheless, we've definitely experienced some very slow sales to some key markets through the fall of 2021, although Mexico continues to run slightly ahead of a year ago."
For hard red winter, those sales are running 12 percent behind, so that class is seeing some pickup in export demand, which Peterson feels is a positive for all classes.
Local cash bids are in the $9.40-$9.83 range. Looking at the National Hard Red Spring Wheat Index, which covers the four-state region (the Dakotas, Montana, and Minnesota), the price was $9.90 a bushel. In early December, it had been $10.10, so that's off 20 cents. Peterson also noted that in early November it had been $10.35, so the cash markets have certainly set back a little, but they seem to be holding at those levels.
"We have seen very strong basis appreciation for hard red winter and hard red spring at the domestic mill point or the export point, but part of that is being driven by a slowdown in railroad velocity, as well as a sharp increase in railroad freight costs," he explained. "So not much of that basis improvement is translating back to the producer level on spring wheat. If anything, we're seeing some locales show a weaker basis to offset the higher rail freight costs.
"We'll see what happens going forward. I think demand will be better and hopefully that will help reverse some of the slide in the market," he added.
On another positive note, USDA raised the projected average farm price to $7.05. Although it's not a record high, it's $2 higher than the $5.05 a year ago. In 2011, the average farm price was $7.24, and in 2012 it was $7.77, so still below the record.
"That includes all classes of wheat, so hard red spring wheat and durum will average higher than that," he said. "So even though we've struggled on the export end, the tightness of stocks and the elevated improvement on world values have all helped to keep the average farm prices strong."
As the end of the year approaches, Peterson said one of the typical nemesis to the market is year-end fund selling where they try to even up their books.
"If index funds are typically long, you have some selling and you have some negative pressure on the market," he said. "Hopefully after the first of the year they come back in and buy."
Also as the end of the year approaches and the new year is on the horizon, there's a question of whether there will be a slowdown in domestic mill demand, either due to just traditionally shorter work weeks or the underlying concern with the Omicron variant and whether there will be more production line slowdowns because of worker sickness.
"But those are going to be offset by that improving world wheat demand," he said. "I think the market is still overlooking it, but the U.S. winter wheat crop continues to be in very tough shape and the weather patterns have not been beneficial.
"There have been some very strong winds of late and no really big moisture patterns, and then we've got colder temperatures in the forecast and I guess if those colder temps dip far enough south, I think we'll start to see some concerns there," he continued.
Going forward, Peterson isn't expecting a lot of dramatic movements as the market has just been stuck in this trading range the last few weeks.